• Desserts • Eggs • Milk • On_slider • Sugar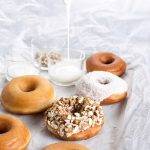 Donuts from the oven Redaktion Donuts From The Oven Rezepte Donuts From The Oven European Print This Serves: For about 8 donuts (Ø 8 cm) Prep Time: 30 minutes + 2 hours for the dough to rise Nutrition facts: 200 calories 20 grams fat Rating: 5.0/5 ( 1 voted ) Ingredients 120 ml of lukewarm milk 12 g of fresh yeast (or 6 g of dry yeast) 500 g of flour 200 g of sour cream 30% fat 60 g of sugar 2 eggs (room temperature) 1 pinch of salt For the glaze: 100 g of powdered sugar 1-2 tbsp...
---
• Desserts • EasyRecipes • Family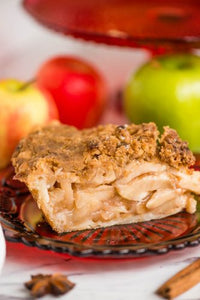 Dutch Apple Pie is the best version of apple pie! Instead of a top crust, you enjoy a sweet crumble topping over a mound of delicious apples. Everyone will agree that this is the best apple pie they've ever had. Use your own homemade pie crust or save some time and use a pre-made store bought crust. Either way, this pie will knock your socks off! Add this recipe to your holiday baking menu along with my Best Ever Pecan Pie Bars or some Pumpkin Pie Sheet Cake. Dutch Apple Pie Hi! This is Krissy from Self Proclaimed Foodie here to...