• Business • Entrepreneurship • Musings • Parenthood • Parenting
My Latest Snag: The Old Sippy Cup Game. We were a little late in weaning micro off the bottle for milk. He's been drinking water out of straw/sippy cups for a long time, but we were deeply ingrained in the milk-in-a-bottle habit. With mini, we went cold turkey to sippy cups around 15 months (maybe earlier, I can't quite remember), but with micro, I tried a few times — maybe once a month for several months in a row — and he would wail for his bottle and I would cave. It was always vaguely stressful to me, because he...
---
• Parenting • SecondHandSeptember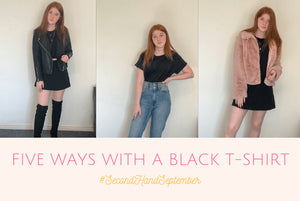 Last week I mentioned in our mini charity shop haul that we'd found a bargain 99p t-shirt and today, I've enlisted the help of Miss Frugal who's volunteered to show us all the different ways you can style the t-shirt so it's perfect for all occasions. The t-shirt she's using today is a H&M oversized black t-shirt which is the perfect length as it's just long enough to pass as a dress as well as be worn as a t-shirt.  The best thing about it for me is that it cost just 99p from the sale rack in the Age...