• American • Gluten • MemorialDay • Rubs • Vegetarian
A little loveliness that's perfect for when you just can't resist buying those slightly undderripe or overripe berries. Adapted from Heidi Swanson | Super Natural Every Day | Ten Speed Press, 2011 How many times has your heart sunk a little over not-quite-right strawberries? Maybe it was after not being able to resist woefully unripe strawberries at the market, the newfound impostors ruby red outside yet white and deplorably insipid inside. Or perhaps you left perfectly ripe berries on the counter a day or three too long. Or maybe you simply lost your senses and bought too many brilliantly, lip-smackingly,...
---
• American • Entree • Gluten • Pork • Recipes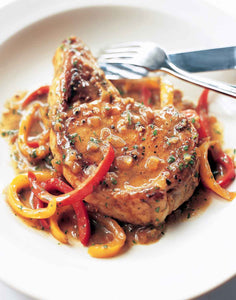 The pork chops stay tender because they're brined. Bell peppers add sweetness to the pork chops, while vinegar adds tang. Adapted from Cook's Illustrated | Cooking at Home with America's Test Kitchen | ATK, 2005 These pork chops with vinegar and sweet peppers shows exactly how simple and inspired one-skillet cooking can be with its tangy pan sauce loveliness that also serves as a side dish.–Renee Schettler Rossi Pork Chops with Vinegar and Sweet Peppers Quick Glance 45 M 1 H, 45 M Serves 4 5/5 - 1 reviews Print Recipe Want it? Click it. Ingredients 1 cup granulated sugar...