• Appetizers • Sides • Snacks • StoveTop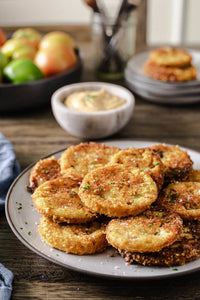 THIS POST INCLUDES AFFILIATE LINKS TO SHARE THE THINGS I LOVE. Jump to Recipe      Print Recipe I love backyard gardening. This year my garden is doing well and not only am I up to my ears in fresh zucchini but my tomato plants are exploding with fruit. Unfortunately, some late spring storms threatened to damage my plants. I picked the largest of the green tomatoes in an effort to prevent damage. What does one do with a bowl of unripened tomatoes? One makes homemade green tomato salsa verde (link when recipe is live), and lots of fried green...
---
• Appetizers • AsianRecipes • pupswithchopsticks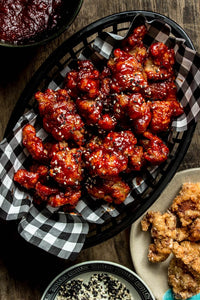 Please visit my blog there to read it all! A simple and easy recipe for crispy bite-sized popcorn turkey tossed in a spicy, sweet and sticky gochujang sauce! Great as a snack or appetizer. Thank you to Turkey Farmers of Canada for supporting this Korean Fried Popcorn Turkey recipe post. I always appreciate and am thankful for the support, which helps keep this little blog running! All opinions expressed, recipes and photos are my own. I'm a sucker for deep fried crispy foods, especially when it's coated with a spicy, sweet and sticky sauce. That being said, you can enjoy...