• Chocolate • Cupcakes • PBchocSat • PeanutButter • Snickers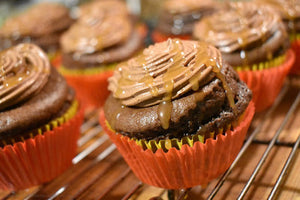 I run #PBchocSat throughout the college football season (GO BUCKS) so I thought it would be fun for others to join me - whether you are a fan or not." So. Many. Possibilites. Here's the line-up of peanut butter-y, chocolate-y goodness... Buckeye Trail Mix by The Spiffy Cookie  A #PBChocSat Twofer: Dangerous Cupcakes and Homemade Snickers by Culinary Adventures with Camilla  Buckeye Crunch Popcorn by Palatable Pastime  Vegan Dark Chocolate Peanut Butter Swirl Cupcakes by The Baking Fairy  Muddy Buddy Rice Krispie Treats by Kate's Recipe Box  Peanut Butter and Chocolate Strudel by A Day in the Life on the...
---
• Breakfast • Chocolate • KidFriendly
This recipe for tasty, homemade, chocolate chip pancakes is about to become your favorite! Easy to make, fluffy and light, and drizzled in a rich chocolate syrup. These are the perfect weekend breakfast or brunch treat, and ensures perfectly cooked pancakes every time! I love lazy weekend breakfasts with the whole family, and these pancakes are a real treat to serve everyone! Super easy to make, but everyone will think you've spent hours slaving over these!  How to Make Chocolate Chip Pancakes Heat oven to 200°Place a oven-safe, metal rack over a baking sheet to place the pancakes on to...