• Blueberries • Blueberry • Recipes • Summer • SummerRecipes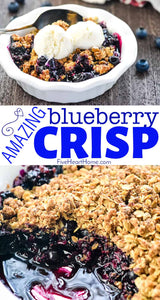 And it's even better served warm with a scoop of vanilla ice cream on top! Yikes…it's hard to believe that August is halfway over! My kids headed back to school on Monday so I decided to make a special dessert last weekend in fond farewell to a very fun and busy summer. Say hello to this amazing, scrumptious Blueberry Crisp! I have to admit that when I make a cobbler or crisp, I'm most likely going to use peaches or blackberries. However, in recent weeks, my local grocery store has been selling gigantic cartons of blueberries for a ridiculously low...
---
• bakedblueberrydonuts • Blueberries • Donuts • healthysnacks • Lemon • LemonGlaze • norefinedsugars • organic • Recipes • toddlereating • toddlersnacks • whatnoaheats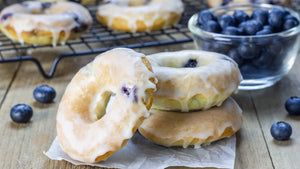 If you've got a donut pan and some basic ingredients, you're just a few minutes of prep time away from fresh blueberry donuts that will start the day off right. One of the best things about this simple blueberry donut recipe is that you can use either fresh blueberries or frozen blueberries. First, while you preheat the oven, combine the wet ingredients (the milk, egg, oil, lemon juice, and vanilla extract) in a large mixing bowl. Then, mix the dry ingredients (all-purpose flour, baking powder, salt, and sugar) together in a separate bowl. Add the dry ingredients to the large bowl with the wet ingredients...