• Challenges • Covid • COVID19 • Motherhood • Musings
My sister and brother-in-law came over for Easter Sunday dinner. They had declined to attend Thanksgiving with us just a few months back because we were too skittish about the spike in COVID cases at the time to share a single meal. We have been in and out of Manhattan a couple of times in the last few weeks viewing potential homes in D.C. after spending nearly a full sixteen months in the city, with only a one-week reprieve on Long Island last July. We have seen my parents and Mr. Magpie's parents several times thanks to those brief visits...
---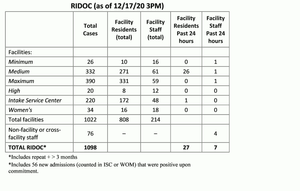 A second inmate has died from COVID-19 at the Adult Correctional Institution (ACI), according to a statement from the RI Department of Corrections (DoC) on the afternoon of Friday, December 25. Motif previously reported the first inmate death on Saturday, December 19, and the first staff death on Monday, December 14. "The inmate requested 'Comfort Measures Only' and that no extraordinary measures be taken to keep him alive. He was 79 years old," the DoC said. "The inmate had other serious complicating health conditions that contributed to his death. He was being treated at Rhode Island Hospital for complications of...