• Amazon • BuyingGuides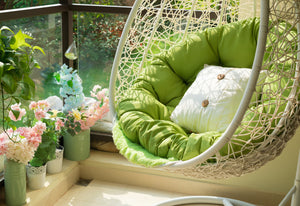 There's something truly amazing about feeling the gentle breeze on your skin from time to time and enjoying the natural sunlight. Patio swings add to all of that a fun touch while also putting lots of emphasis on comfort. Top Picks Best with Sun Protection: Hanging Curved Steel Chaise Lounge Chair Designed with a canvas top that helps shield you from the sun, this is a swing chair that one could definitely use on hot summer days. Best for Multiple People: 3-Seater Outdoor Adjustable Canopy Swing Glider When you're looking to spend some time outside with your family and friends,...
---
• BuyingGuides • Impact

Thanks to the roof overhead, having a porch on your home means that you can still enjoy the outdoors if a summer shower passes through. It's also a welcome oasis from the hot summer sun. The seating you choose is very important: Sitting is the main thing anyone does on a porch! If the porch is in the front of the house, it has to complement the design of the home and be a welcoming spot for visitors. If the porch is in the back, it's more of a private space, ideal for whiling away the hours outdoors undercover. Before...
---
• BuyingGuides • Gazebo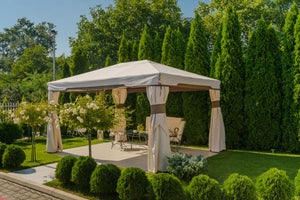 One can't imagine spending the summer without a gazebo that lets you enjoy the fresh air while protecting you from the sun. Some gazebos offer more than just shade. Hardtop gazebos, for example, will also offer you shelter from the rain as well as the sun.  All in all, a permanent gazebo is a cozy oasis in the middle of your garden or yard. So if you have enough space for it, why not invest in one and enjoy the outdoors in comfort? Naturally, there are many considerations to take into account before you buy a gazebo.  We tested the...
---
• BestPatioSetsWithFirePit • BuyingGuides • PatioSetsWithFirePit
No matter the season of the year, there's nothing like lighting a warm crackling fire in the evening as you gather around the patio with delicious food and amazing conversation. If you've always wanted to have an outdoor entertaining area, getting a patio set with a fire pit would definitely help get you started. If you're not sure where to start when it comes to purchasing a patio set with fire pit, we've gone ahead and listed some of the 5 best options below. Before diving into them, let's get started by talking a little bit about some factors you...