Sharing our experience on the Disney Magic from Miami to the Bahamas and Castaway Cay.
Hi friends! Happy Monday! How was the weekend? I hope you had a great one. We've been enjoying Tucson's spring-like weather and spending lots of time outside. We spent Saturday afternoon at the petting zoo and headed to Trail Dust Town to ride the rides before tacos and margaritas at Calle Tepa. Sunday, the girls had a birthday party and I also finally made our way through the epic mountain of unpacking + laundry from last week. I feel like I can *kinda* start the week caught up a bit on life.
For today's post, I wanted to share a recap of our cruise!! It was our second Disney cruise and it didn't disappoint. Disney just does so many things right: the experiences, dining, staff, cleanliness, everything is just top notch. I didn't think we'd ever be "cruise people" – as a person with anxiety the very thought of being stuck in a boat in the middle of the ocean scares the sh*t out of me – and we're officially obsessed. It's our favorite way to travel right now. We get to see new places as a family, all while enjoying shows, characters, incredible dining and amenities, and even get some couple time since the kids LOVE kids club.
Here's a recap of our trip!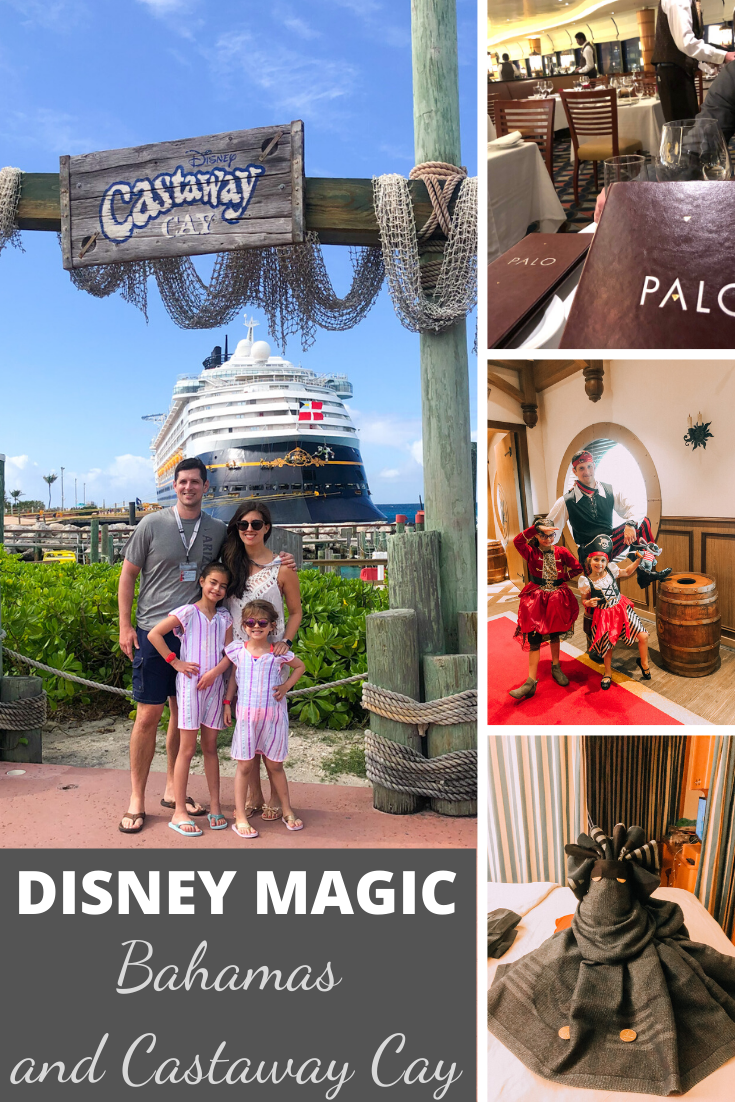 Disney Magic: Miami to Bahamas and Castaway Cay
The Disney Cruise experience
We flew to Miami for this cruise and the entire boarding process was seamless. Since it was our second cruise, we were able to board the boat early, so we went straight to the pool. This was the quietest time at the pool during the entire cruise. (Pro tip: keep your swimsuits and a change of clothes in your backpack since you check your luggage at the port and don't get it until a few hours later, when it's waiting at your room.)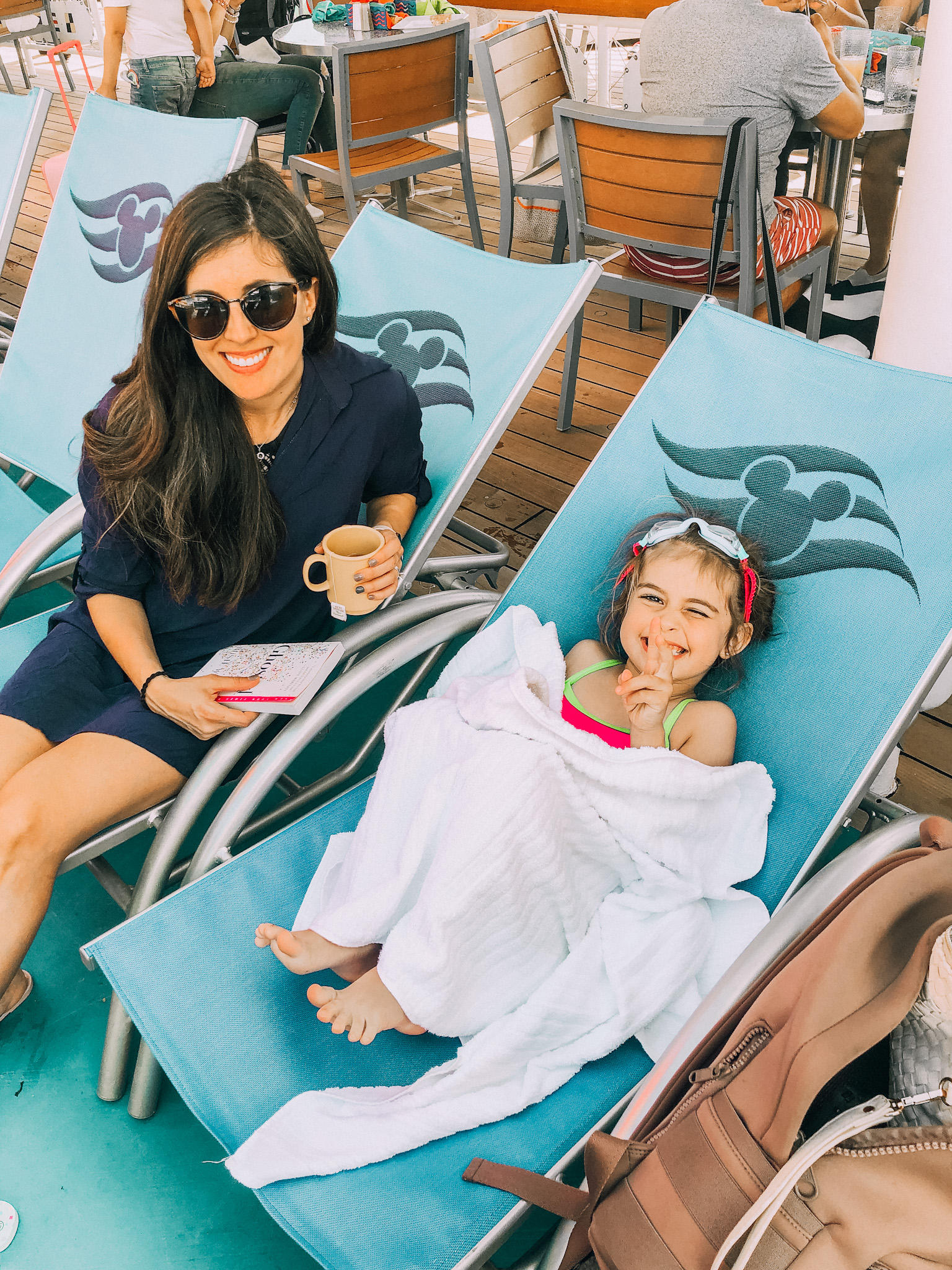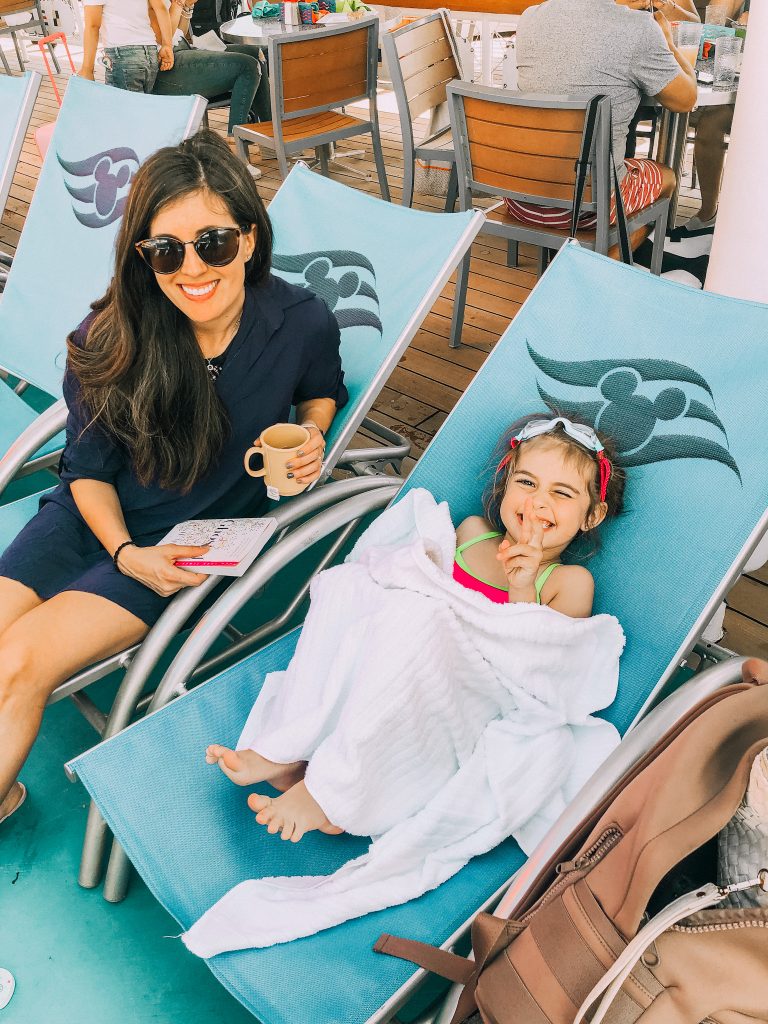 We previously cruised on the Disney Wonder and the Magic is the sister ship. The layout is almost exactly the same – the names of some of the lounges and restaurants are different – and it was nice to get on board and already know where everything was. After our swim, we grabbed lunch from Cabana's and the girls at ice cream on the top deck until we checked into our rooms.
The rooms are pretty small, but I feel like they really maximize the space you do have. (We opted for a Deluxe Oceanview room which has a large porthole and split bathrooms.) The couch in the room transforms to a bunk bed for the kids – the stateroom host sets it up each night and puts everything back in the morning – and you can slide your suitcases under the bed. While the rooms are smaller, the beds are extremely comfortable and you have everything you need.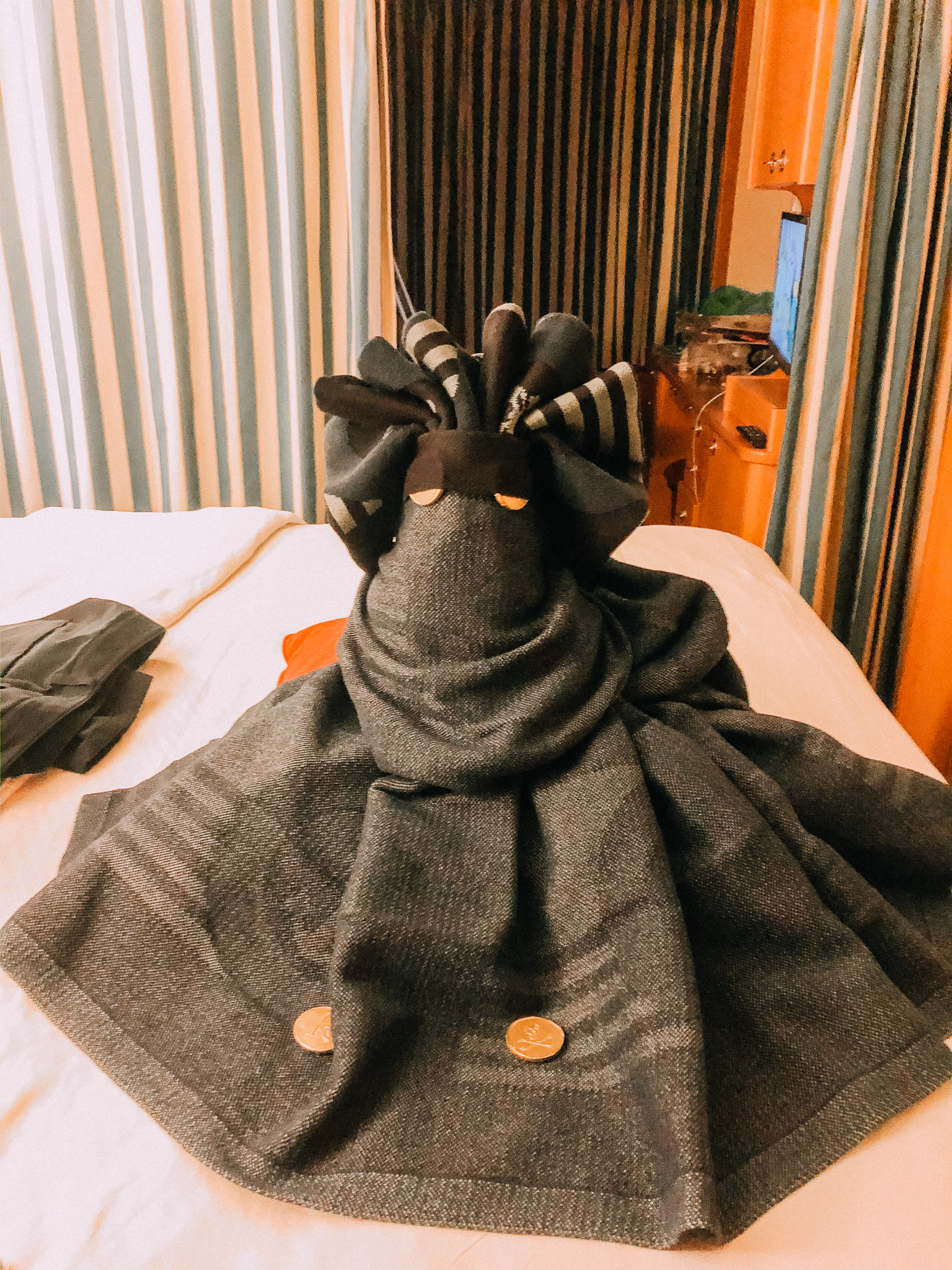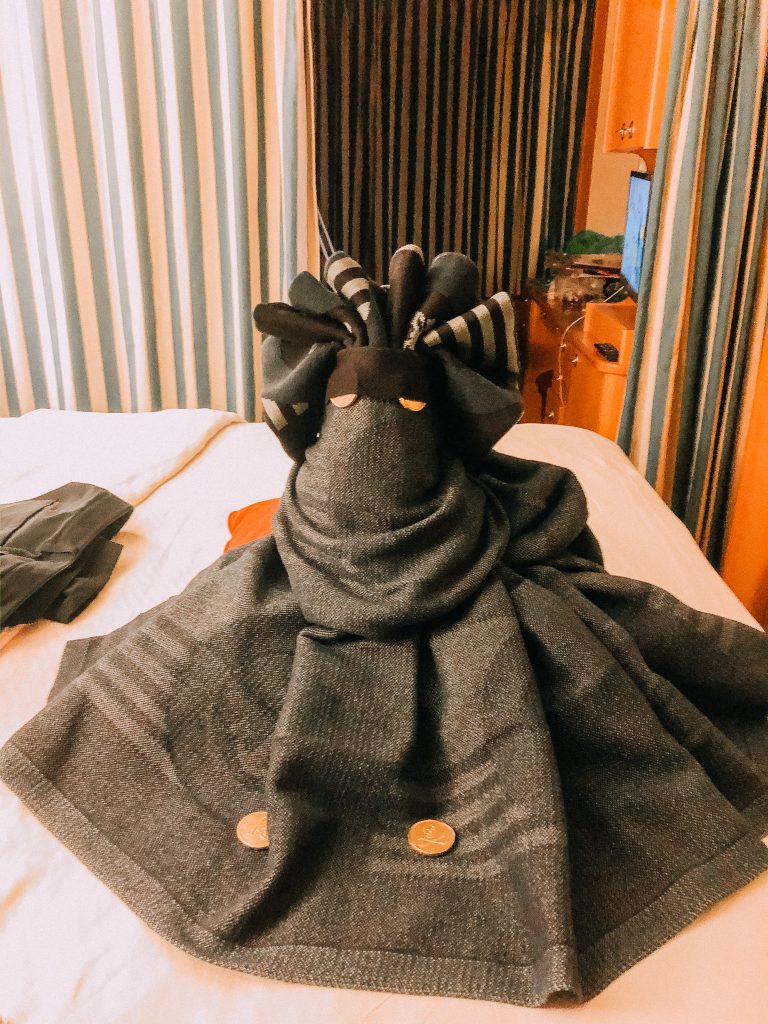 Our stateroom host surprised us with chocolates and towel animals each night, in addition to pirate bandanas and some extra little treats.
Dining options on the Disney Magic
The dining on the ship is out of control. It's literally everything you could ever wish for, 24/7. Room service is included – you just need to tip – so if you want a Mickey bar delivered at midnight, you can live your best life and go for it. The dinner is on a rotation basis, so you dine at Animator's Palate, Rapunzel's, and Lumiere's, and alternate each night. There are two seating options (5:45 and 8:30) and if you want to get Cabana's, a quick bite, or room service, you're not obligated to attend your seating time.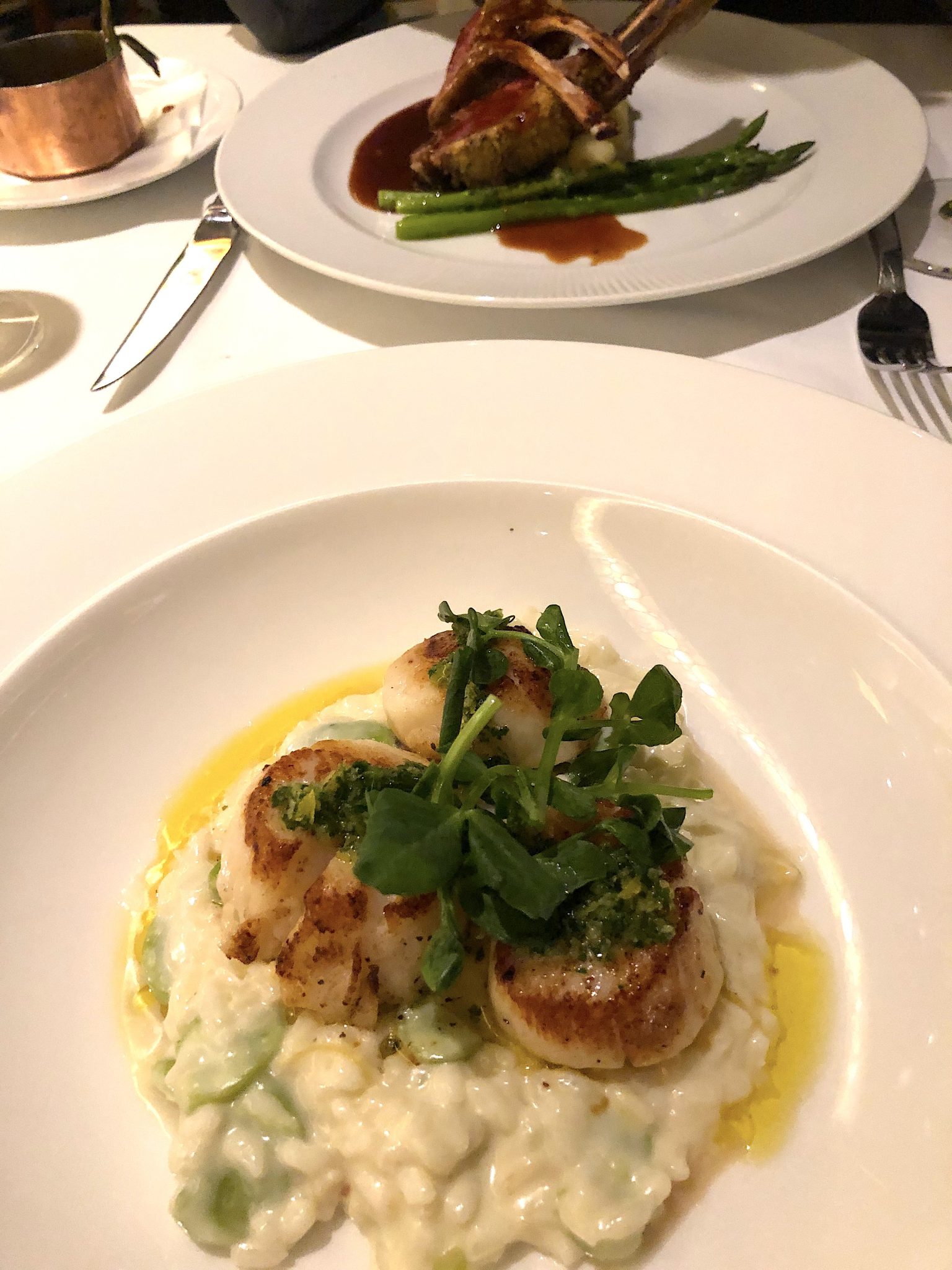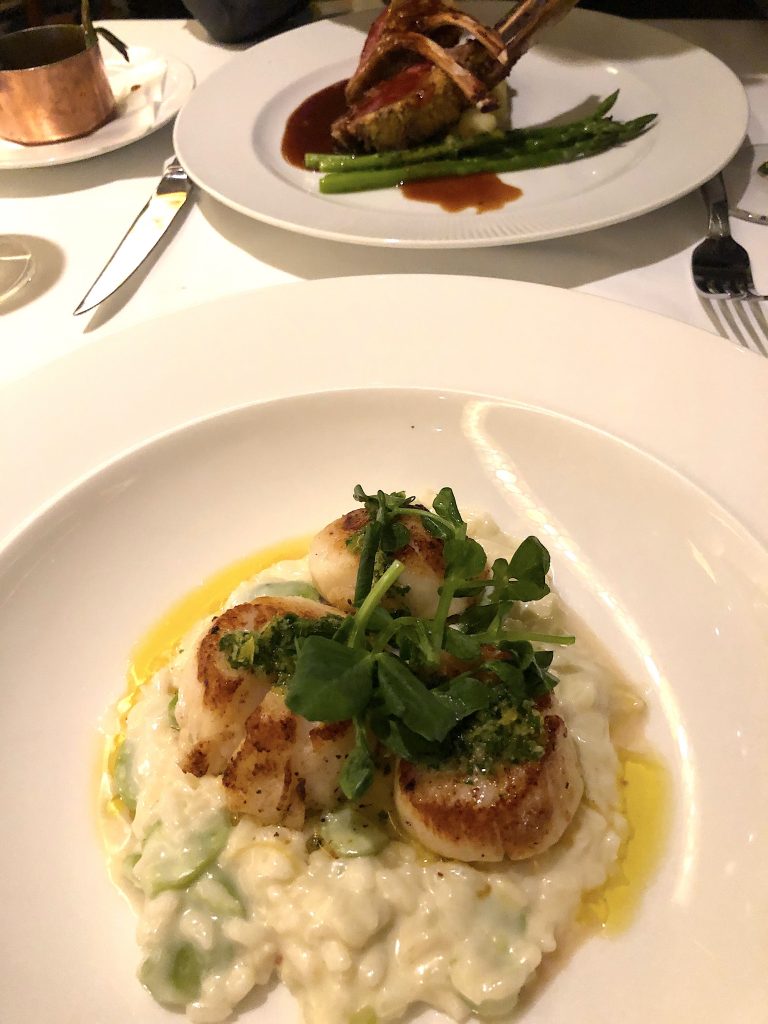 Here's a rundown of the different restaurants and what they offer:
Cabana's: Buffet for breakfast, lunch and dinner daily. They have everything you could ever wish for, plus different international dishes: chicken congee, Indian curries, Mexican food, so many different options. This is a great choice for breakfast because you don't have to sit down at a restaurant and wait. You wake up, head to deck 9, and breakfast is waiting for you. Mickey waffles, omelettes, fruit, oatmeal, corned beef hash, breakfast potatoes, eggs, sausage, smoked salmon, pancakes, pastries, yogurt, and smoothies were available daily for breakfast, in addition to so many other things.
Daisy's: Daisy's De-lights includes more quick bite options like wraps, sandwiches, salads, soups, fresh chopped fruit, and you can also build a bowl from different healthy ingredients (lettuce, veggies, lentils, sun-dried tomatoes, etc.). We liked this for quick and easy lunches by the pool. Each day, the girls ate a fruit plate from Daisy's with pineapple, cantaloupe, honeydew, and grapes.
Pinocchio's: Pizza, veggie burgers, hot dogs, chicken tenders, and fries. The girls had pizza daily while we were there and everything is cooking out by the pool. I don't remember seeing this but the Pilot said that next to Pinocchio's they had gyros and falafel!
Formal dinner options: (the menus give you a choice for appetizer, salad/soup, entree, and dessert. You can mix and match as you like! For example, you can order two appetizers for your meal, skip the salad course, or order different entrees for the table to share.)
Rapunzel's: Rapunzel's was one of the more formal dining options. When we ate at Rapunzel's, it was also Pirate Night, so the meal options were more creole style. I'm not sure what the regular menu looks like, but the food was excellent.
Lumiere's: This is a French-style restaurant. I had some insanely delicious horseradish crusted salmon, lobster, and a salad. Liv was able to order escargots, which is one of her favorite foods.
Animator's Palate: Animator's was our first night on the ship and didn't disappoint. For the longer cruises, they give you special placemats to draw a person. At the end of the night, they project all of the drawings onto the walls and make them dance to music. It's SO fun! While they didn't do that this time, they still had a special light show and sorcerer Mickey made an appearance.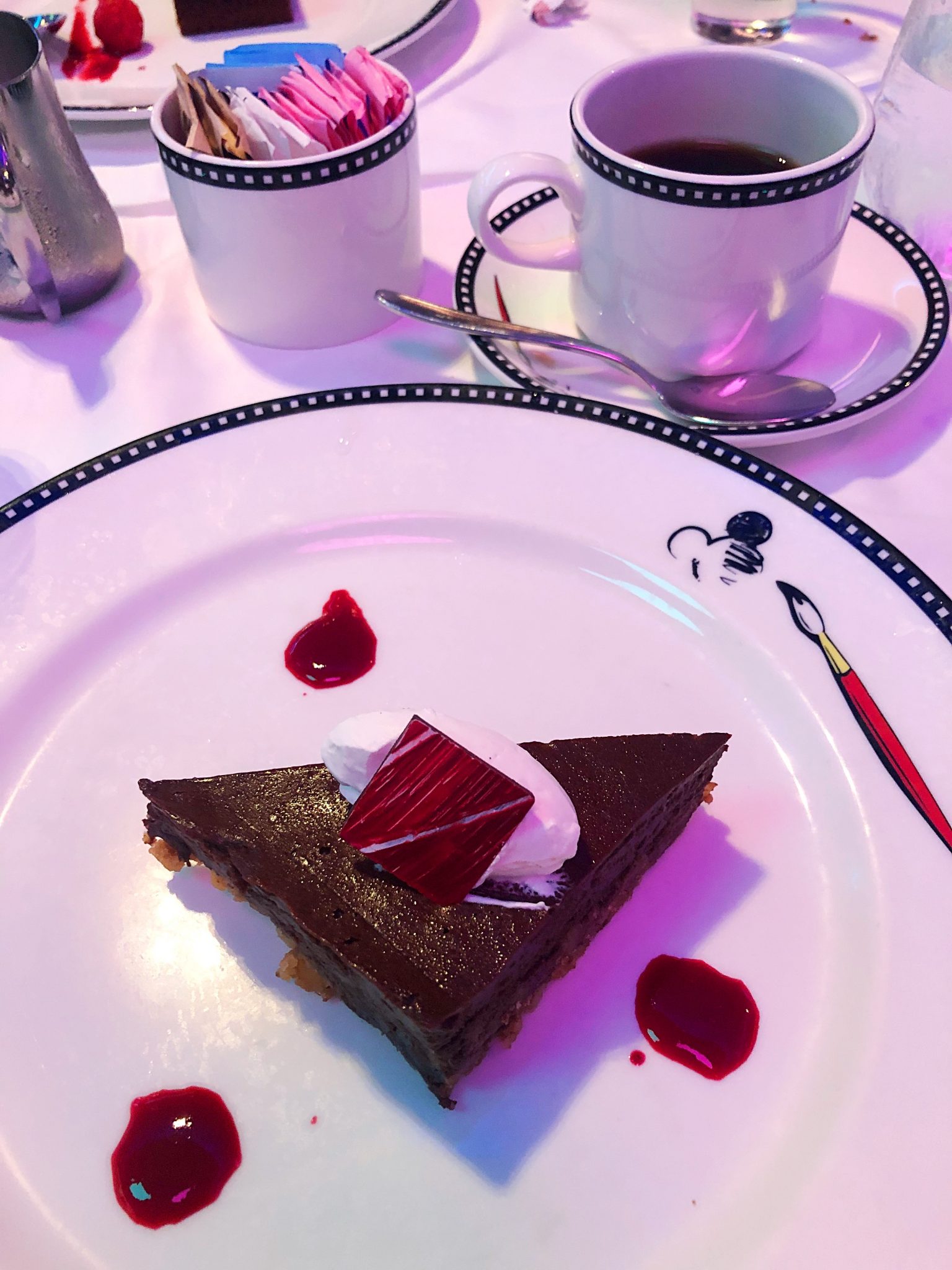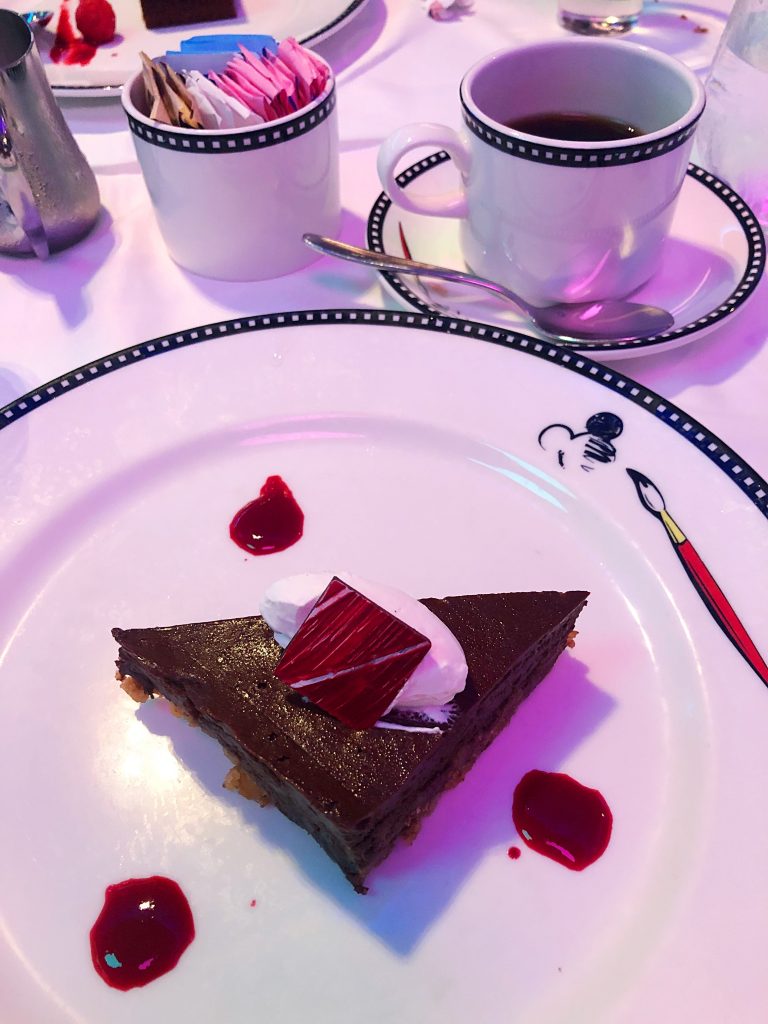 They had this gluten-free chocolate walnut cake that was FROM MY DREAMS.
Dinner at Palo
While we were on the ship, we also had the opportunity to dine at the adult's only restaurant, Palo. (You can make reservations for brunch or dinner.) It's an upcharge of $40 per person plus any alcohol or specialty drinks, which felt extremely low considering everything they offered. They even wheeled a charcuterie cart around the restaurant and you could pick what you wanted!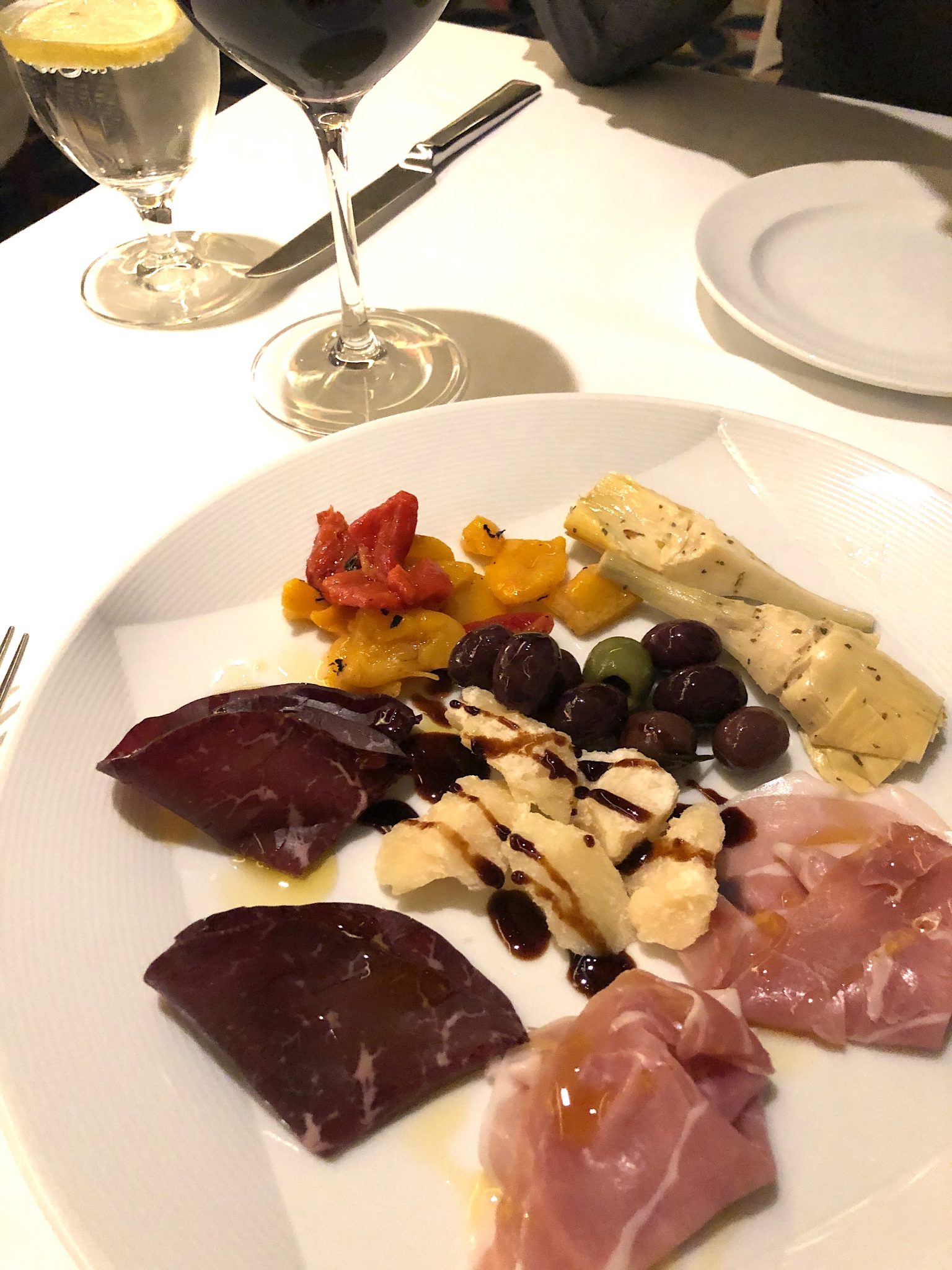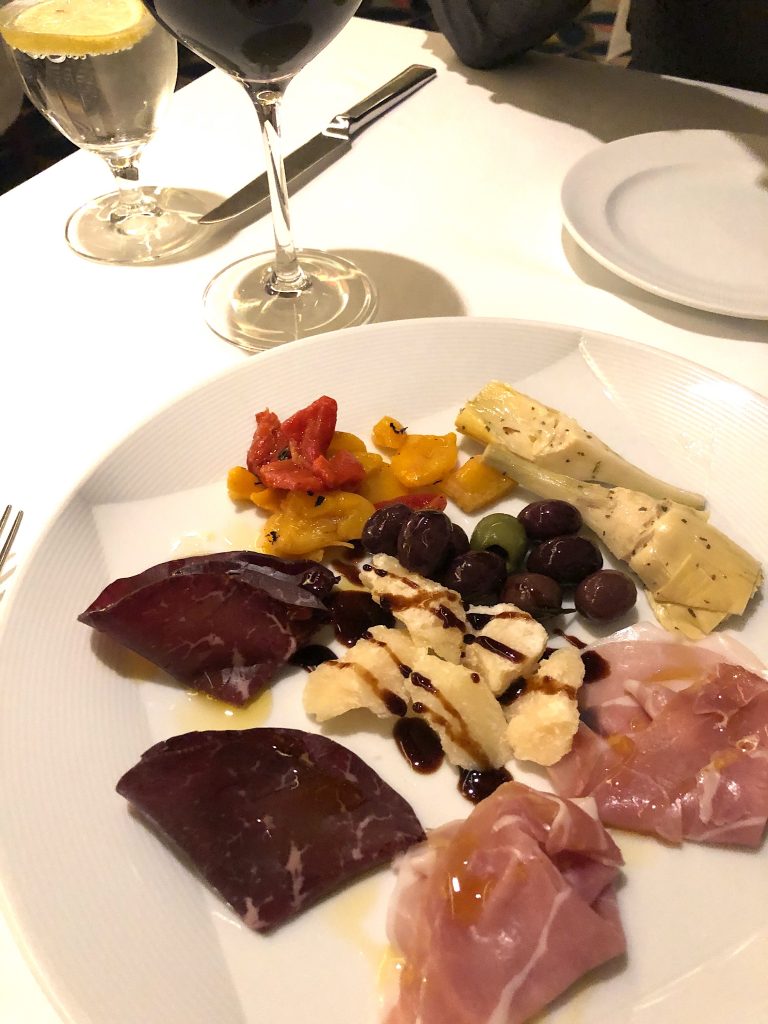 Everything was wonderful, but the star of the show is the chocolate soufflé. The Pilot and I agreed that it was in the top three of best desserts we've ever had.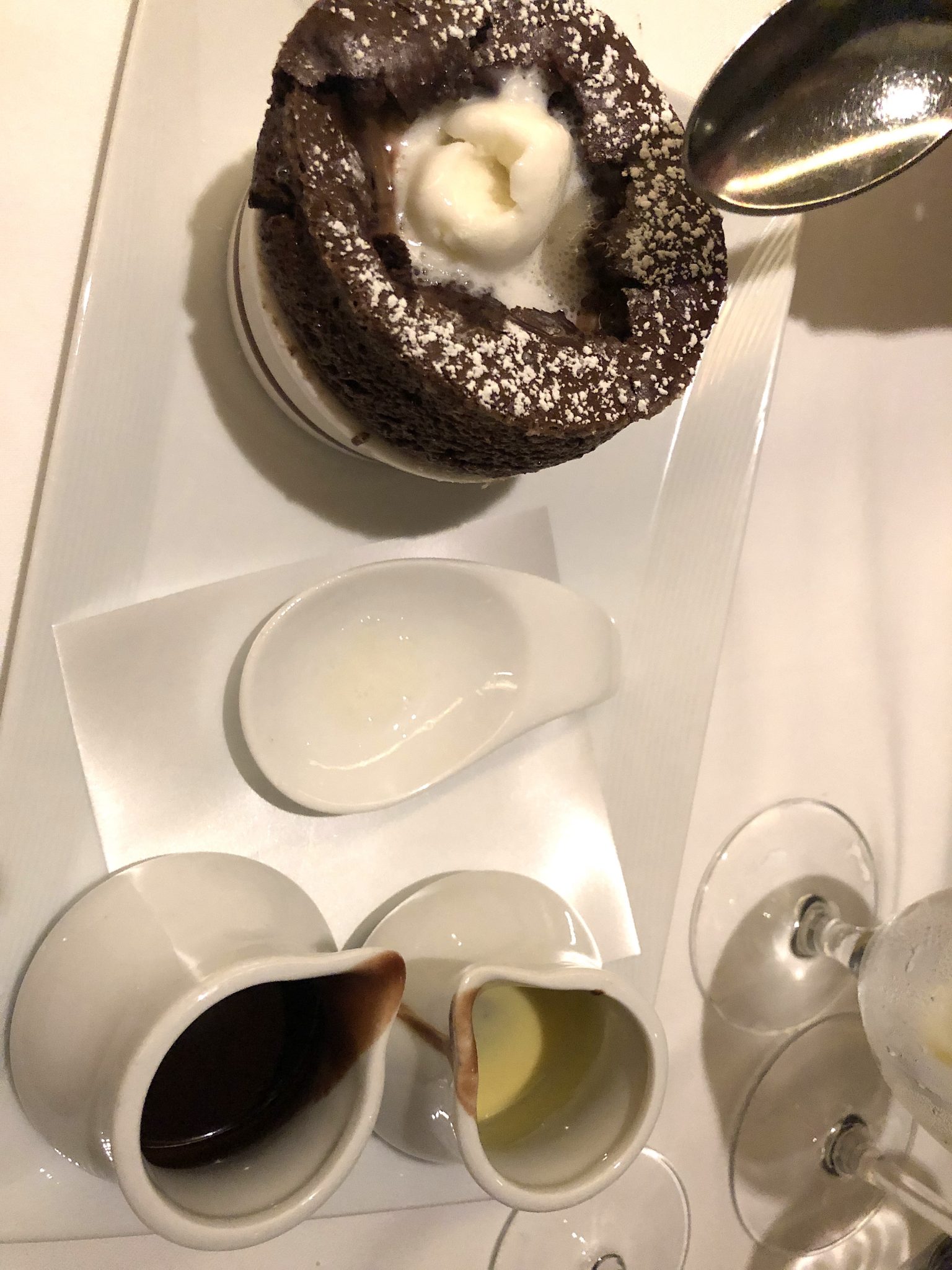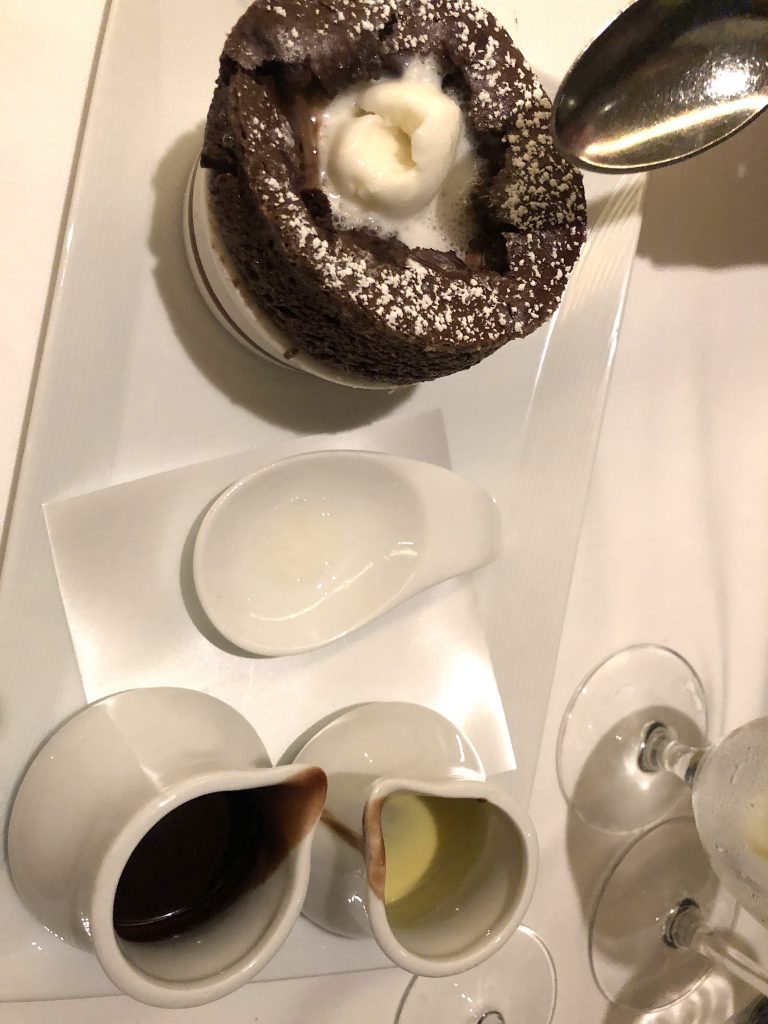 Entertainment and activities on board
There are SO many activities on the ship, from character greetings, to BINGO, to dance parties, silent discos, karaoke, and live Broadway-style shows. We were at the pool for a few hours each day, watching movies on the top deck, swimming, and snacking, before heading back inside to grab dinner.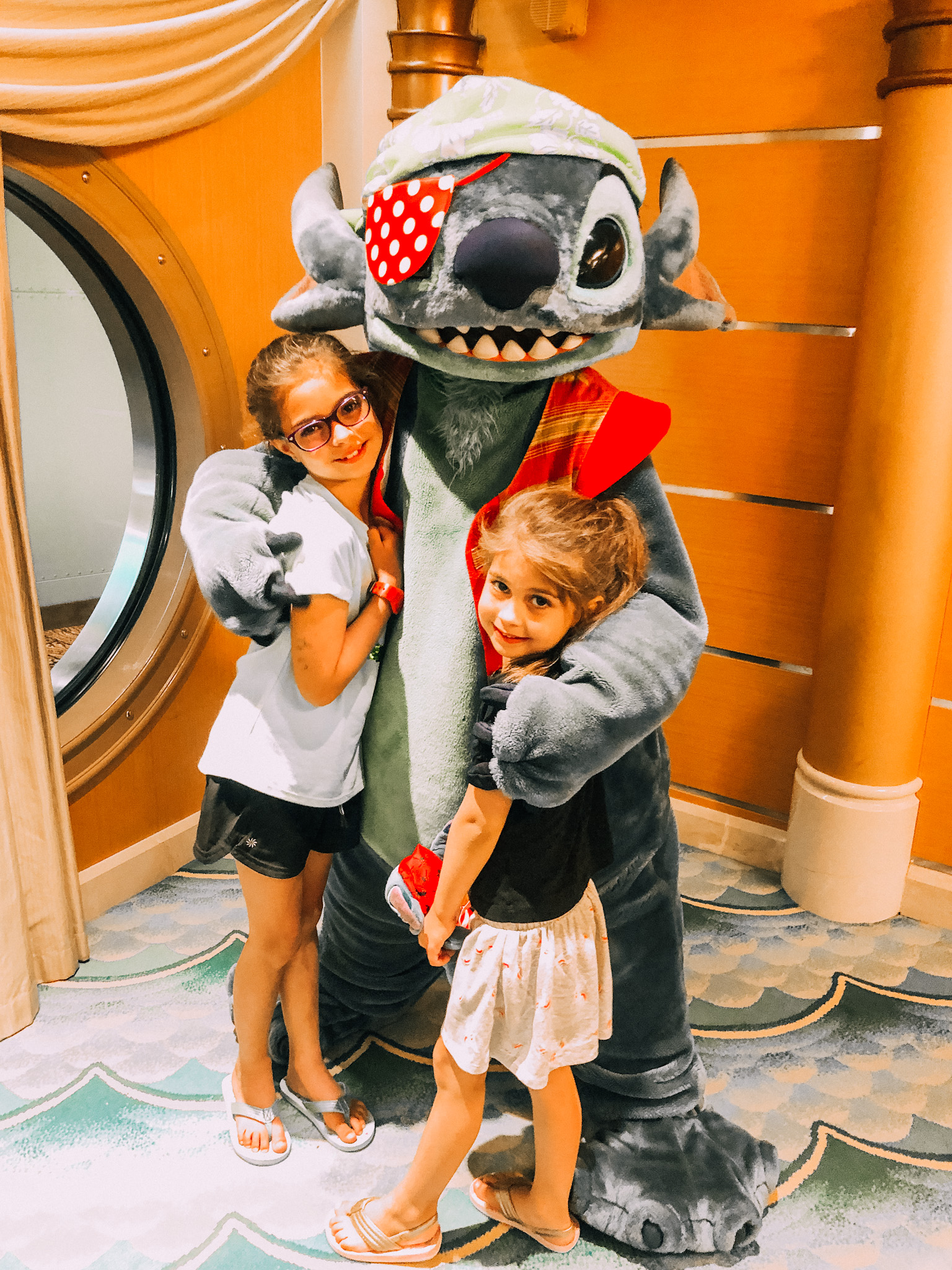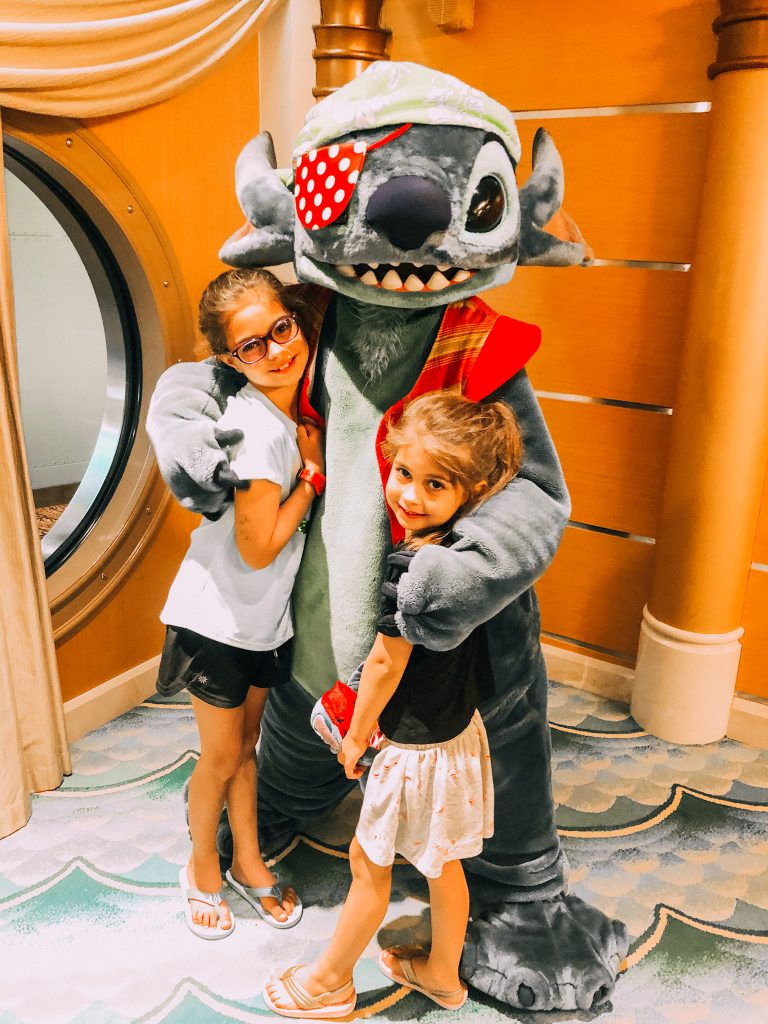 We saw two shows on the ship – Tangled and Twice Charmed – and while they weren't our favorites (the live shows at the parks are better quality), the girls LOVED them. We also did almost every round of BINGO and won once, which was exciting.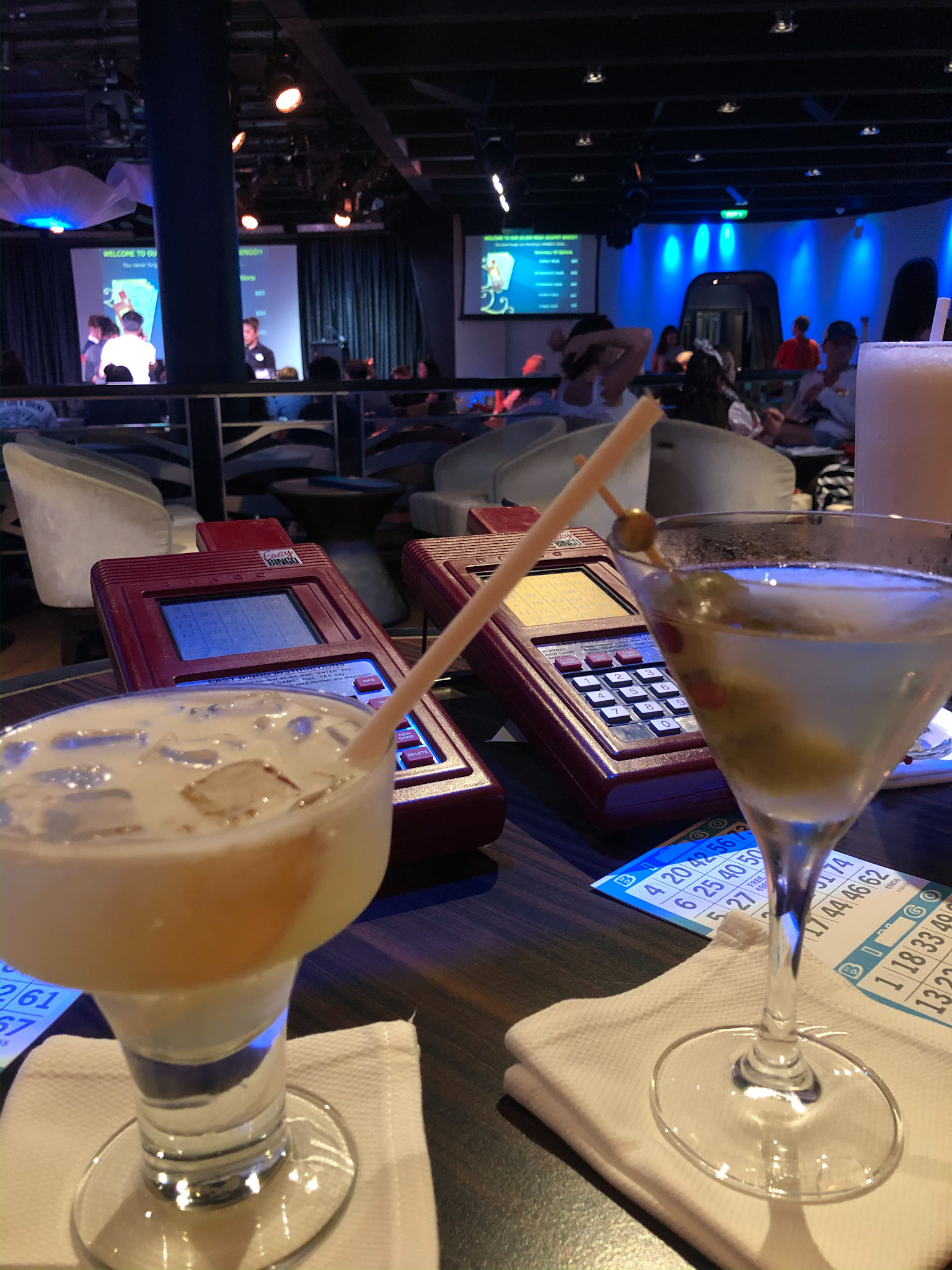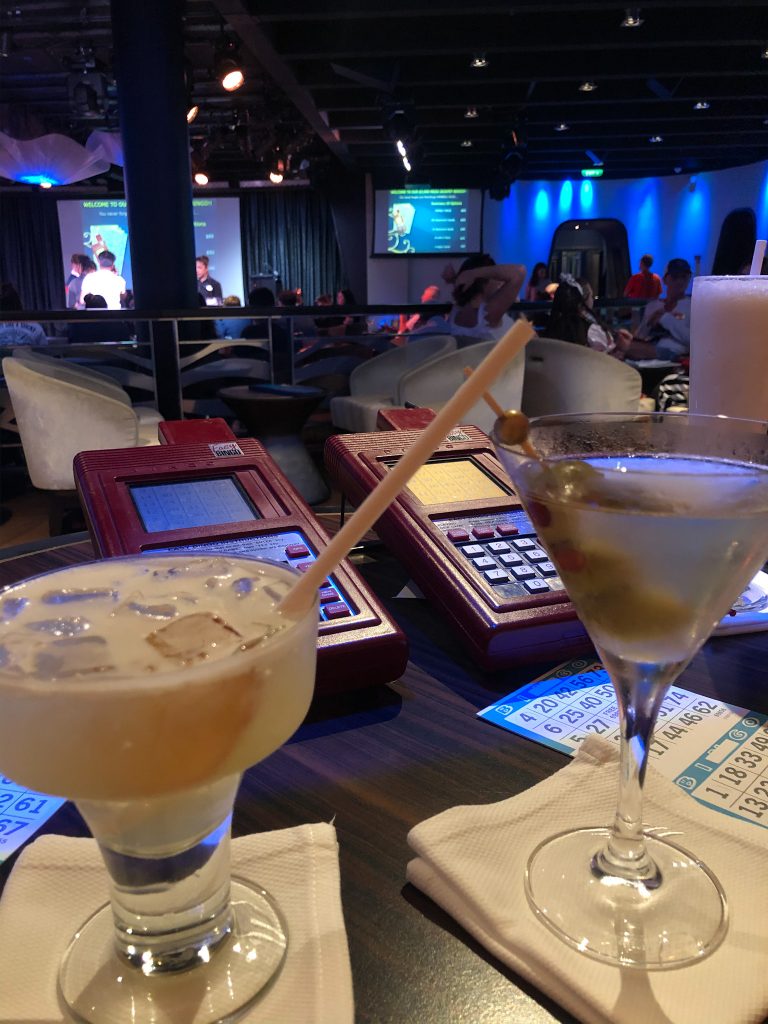 Castaway Cay
Everyone told us that Castaway Cay was incredible but I didn't fully understand until we were there. The island is surrounded by clear, turquoise water, and there are lounge chairs and umbrellas as far as you can see. The sand is insanely soft, and the kiddos can borrow inner tubes, snorkel equipment and life jackets. You can also rent jet skis, paddle boats, kayaks, and paddle boards. They have full restaurants on the island (all included), the famous ice cream stands (you can make yourself an ice cream cone on the ship any time of day. They always have chocolate and vanilla and will rotate in a special flavor, like mango or strawberry), an entire stand of fresh chopped fruit (the mango was SOOOO fresh and good), kids club, a spa, luaus, and activities.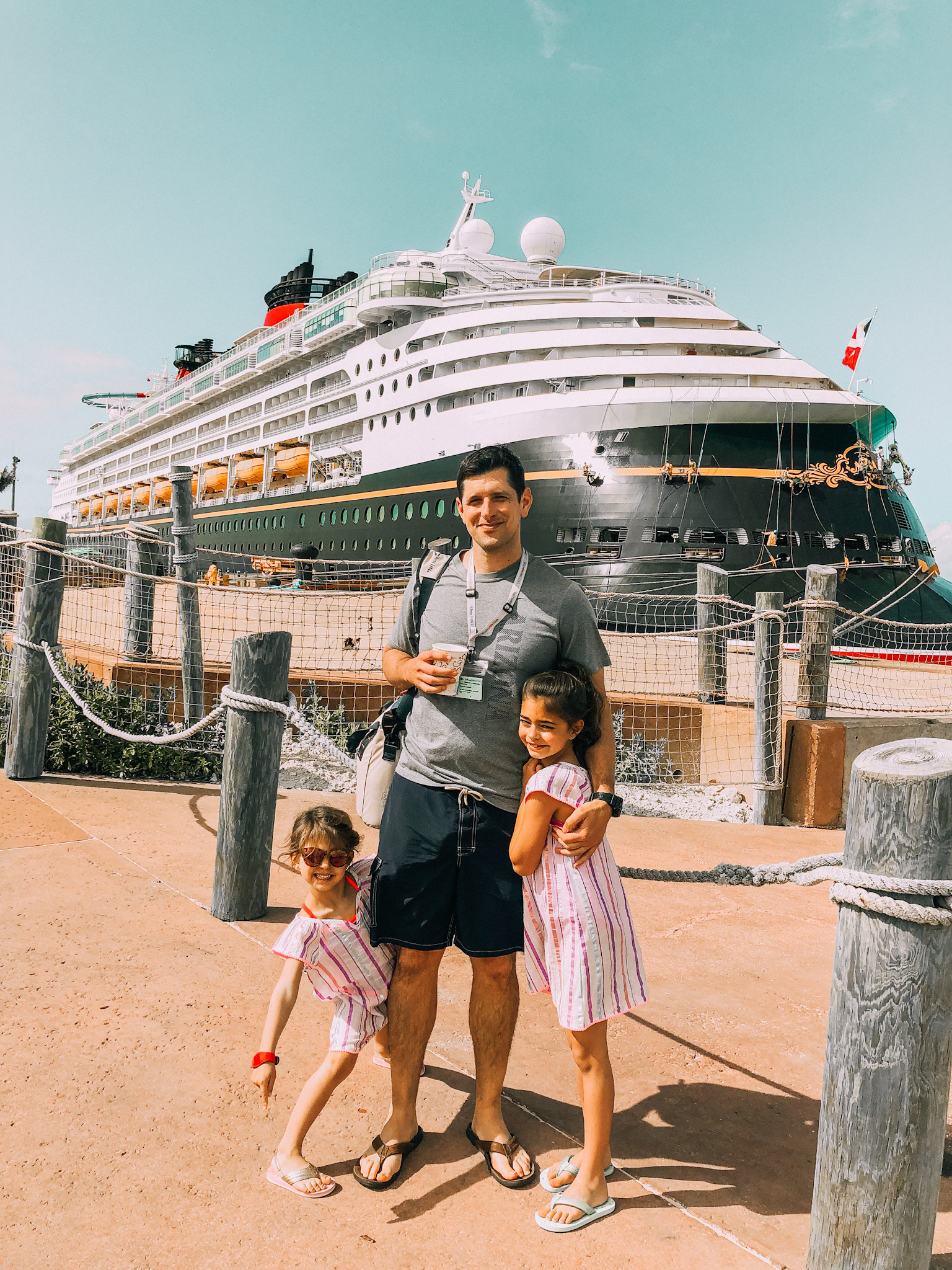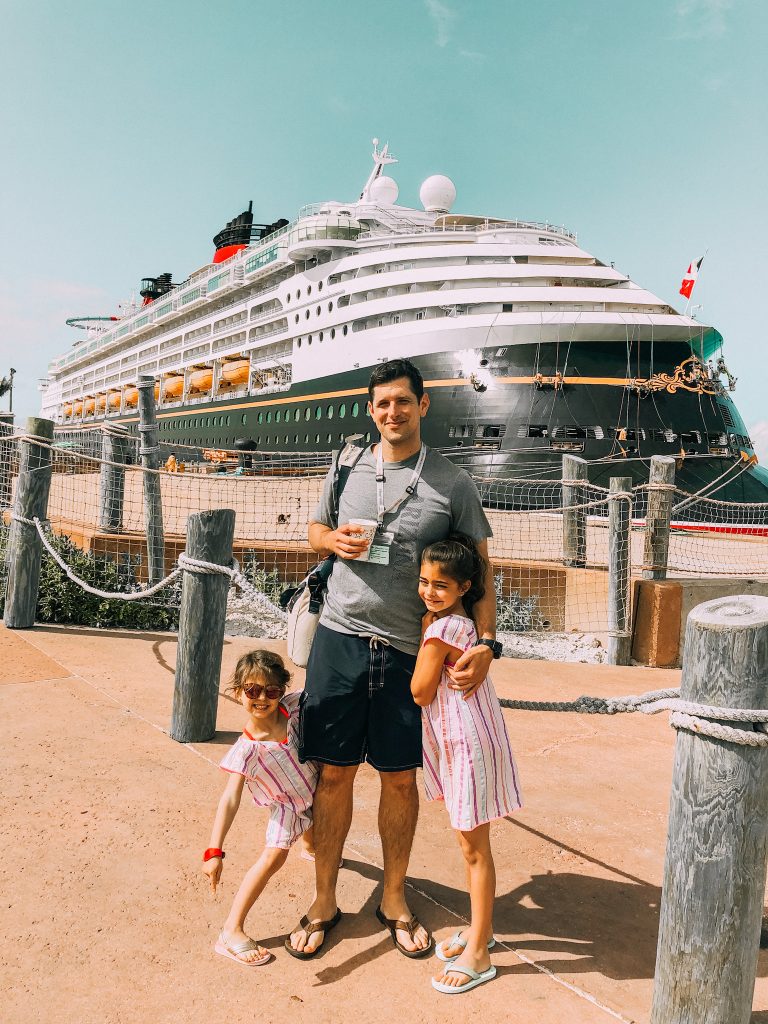 They have a 5k that morning that I registered to do, but it was raining and windy so I skipped it.

The weather calmed down just enough for the girls to spend a couple of hours playing the water and building sand castles. It started to pour, so we hit under an umbrella until it blew over. Then, we had lunch at the restaurant (BBQ food with burgers, chicken, veggie burgers, sausages, potato salad, chips, coleslaw, and cookies, along with fresh fruit) and had the best time. I can't wait to make it back one of these days!!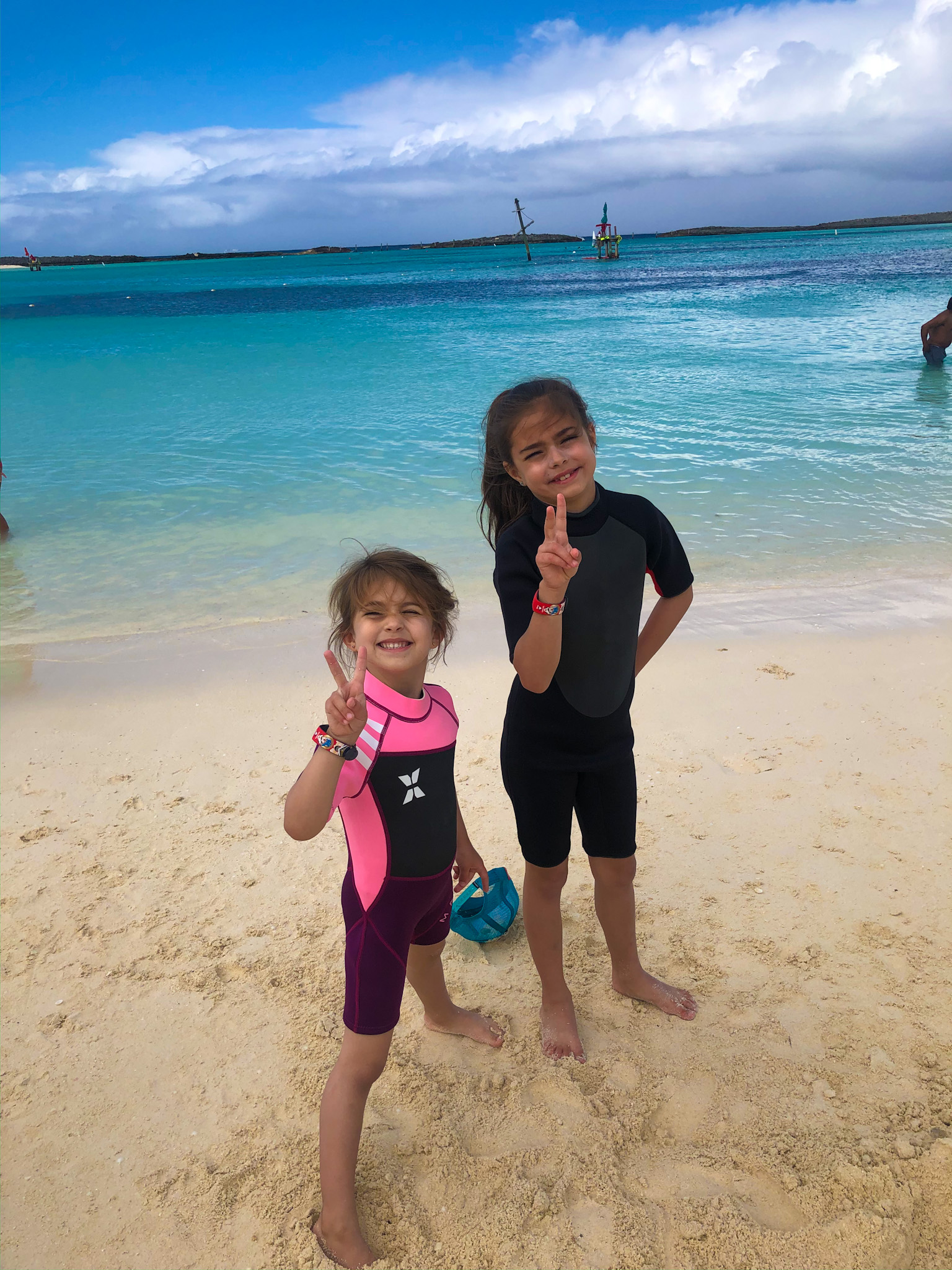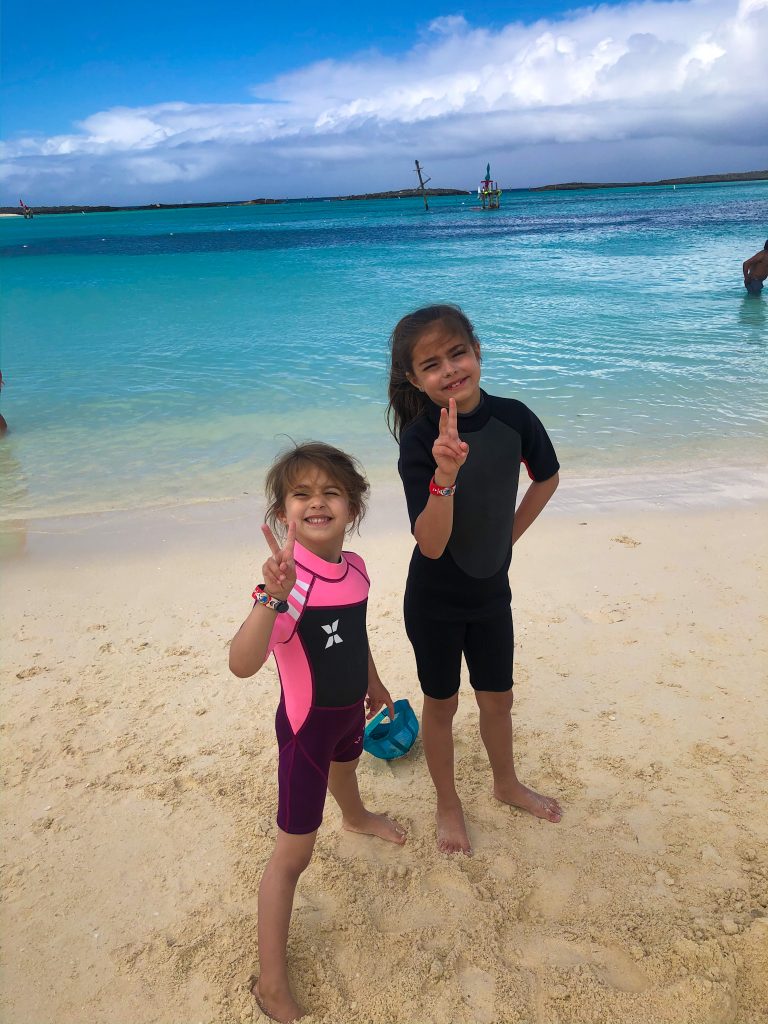 What to pack for a Disney Cruise
For this cruise, it was much warmer (in the 80s!!) so I only brought a jacket or hoodie for each of us. We wore an outfit for breakfast, our swimsuits and coverups all afternoon while we were at the pool, and then another outfit for dinner.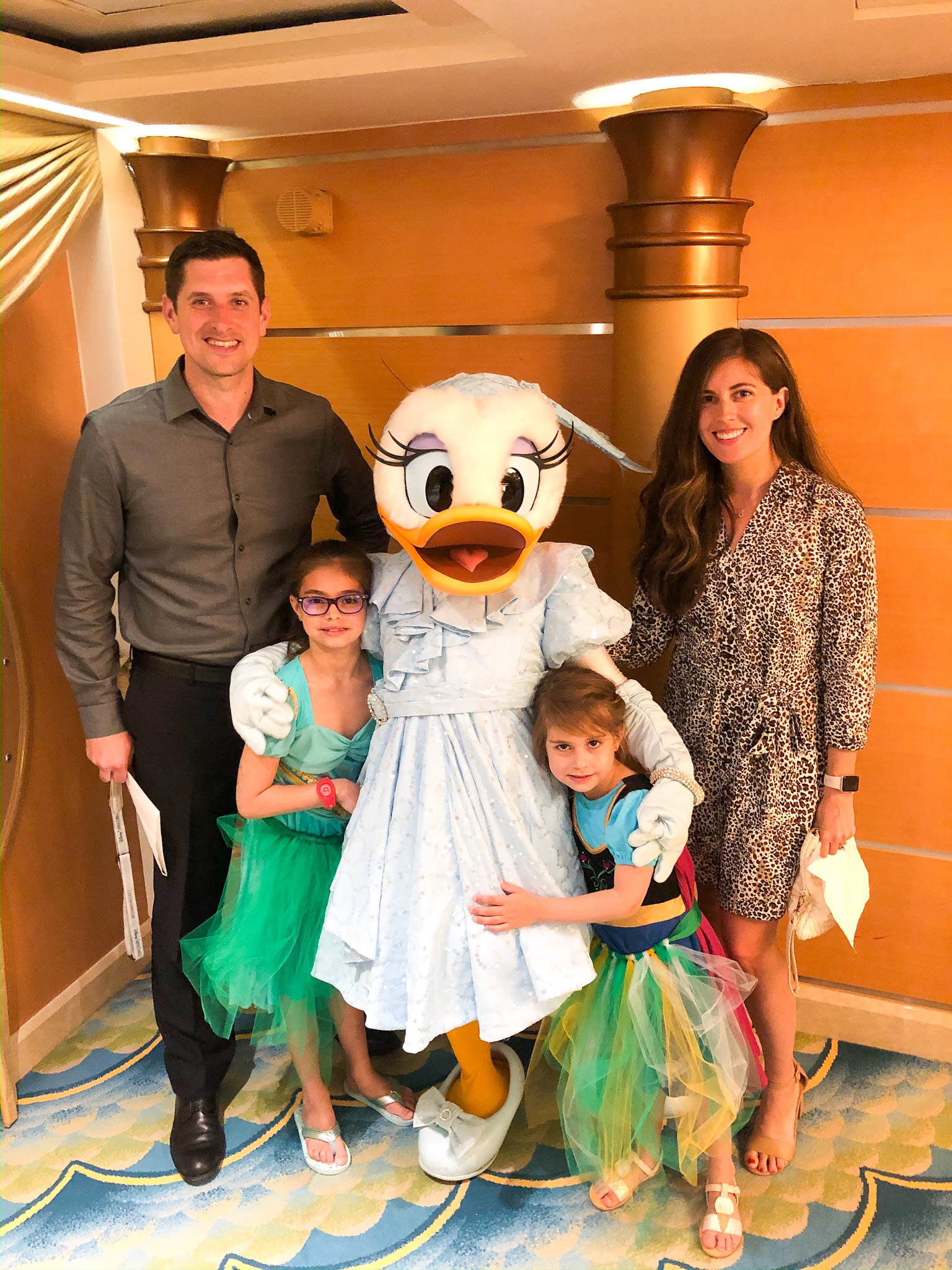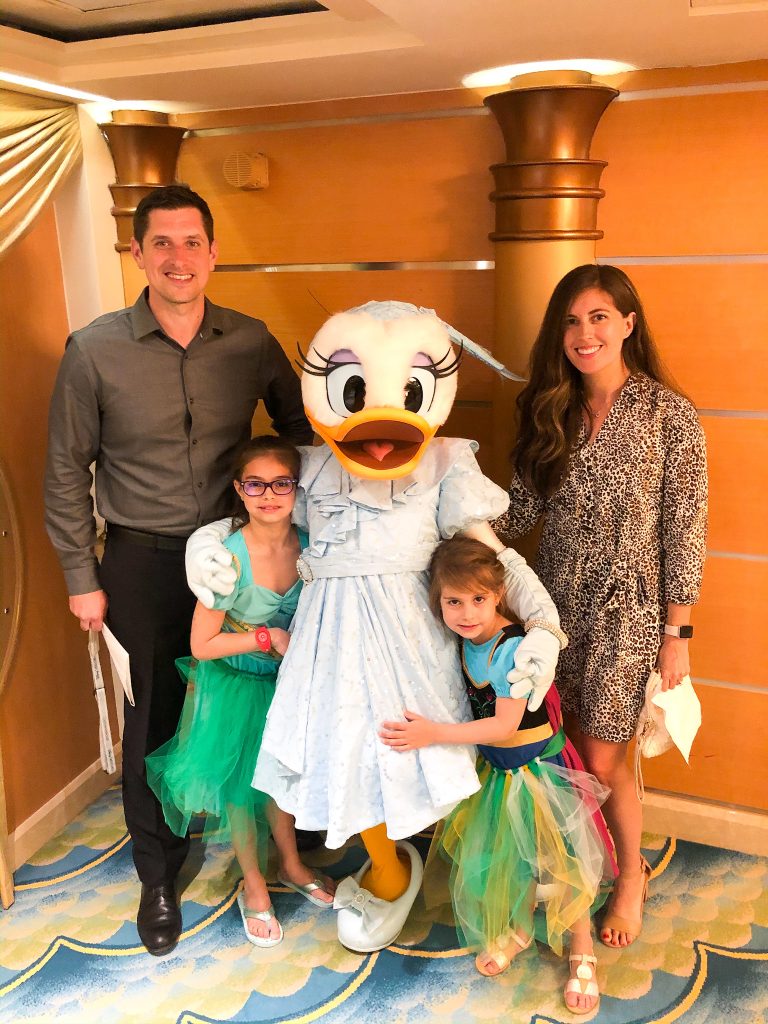 If you book a Disney cruise, I would absolutely check out what themed nights they're doing. (Sometimes they do a Marvel night or Pirate Night, or there might by princess greetings or character breakfasts.) Our themed night was Pirate Party, so naturally, we all dressed up like pirates. The last night of the cruise is usually formal night, which can range from full sparkly dresses to just a cute dress and sandals. Really anything goes.
Some of my favorite things to pack for a cruise:
– Pop-up hamper (this is a game changer, especially for longer cruises. It makes it so easy to put your dirty clothes in one spot and just haul the entire basket to the laundry room)
– Laundry pods. I love bringing home a suitcase full of clean clothes! It's less depressing to unpack when the clothes are clean.
– Door magnets. There are so many cute ones on Etsy!
– Your own sand bucket and beach toys. They have them on the island but so much easier and less expensive to bring your own.
– Placard Originals princess dresses. The girls have amassed quite the collection over the years. I love that they're play fabrics instead of the itchy shiny fabrics that are usually used for princess costumes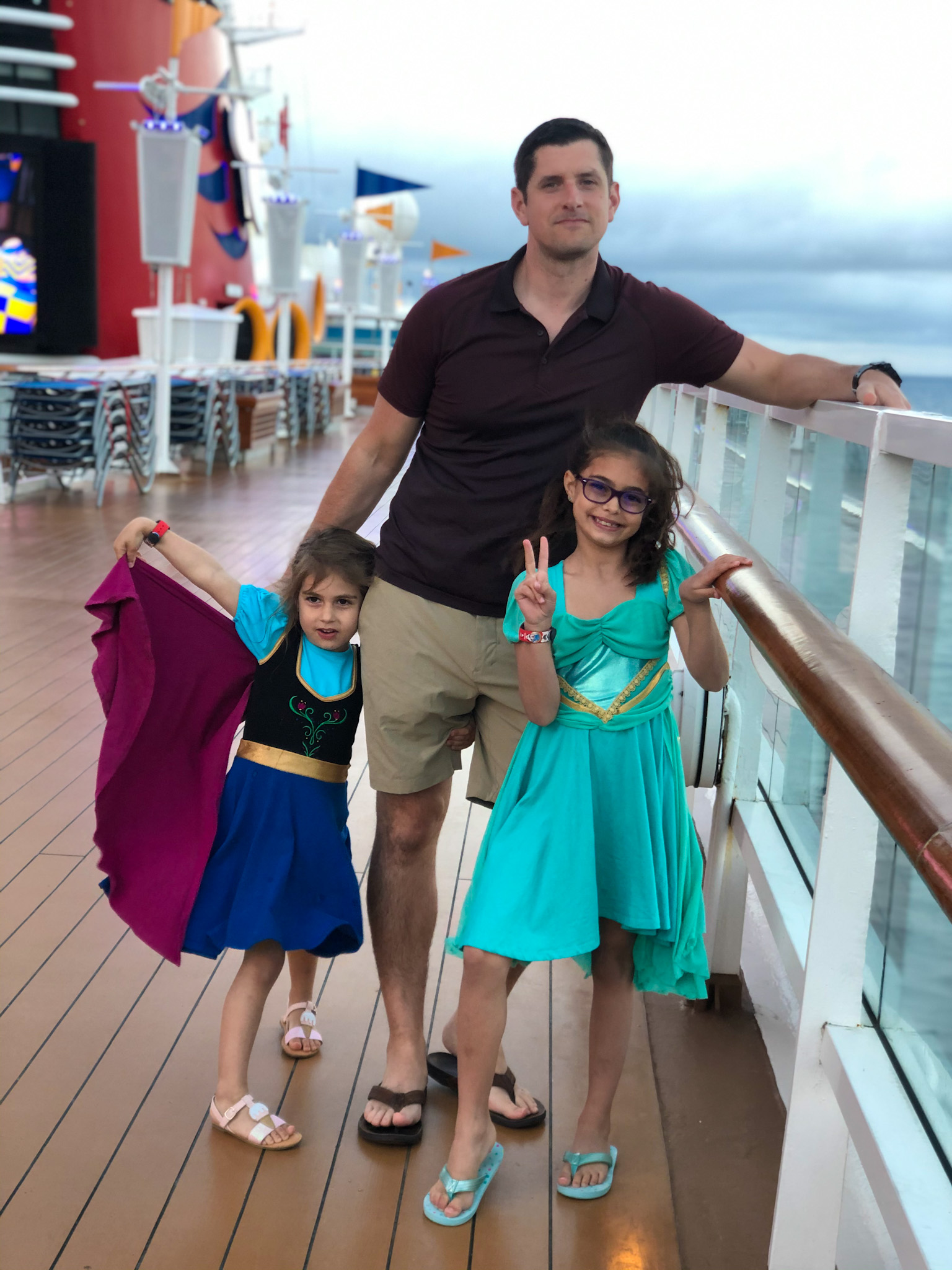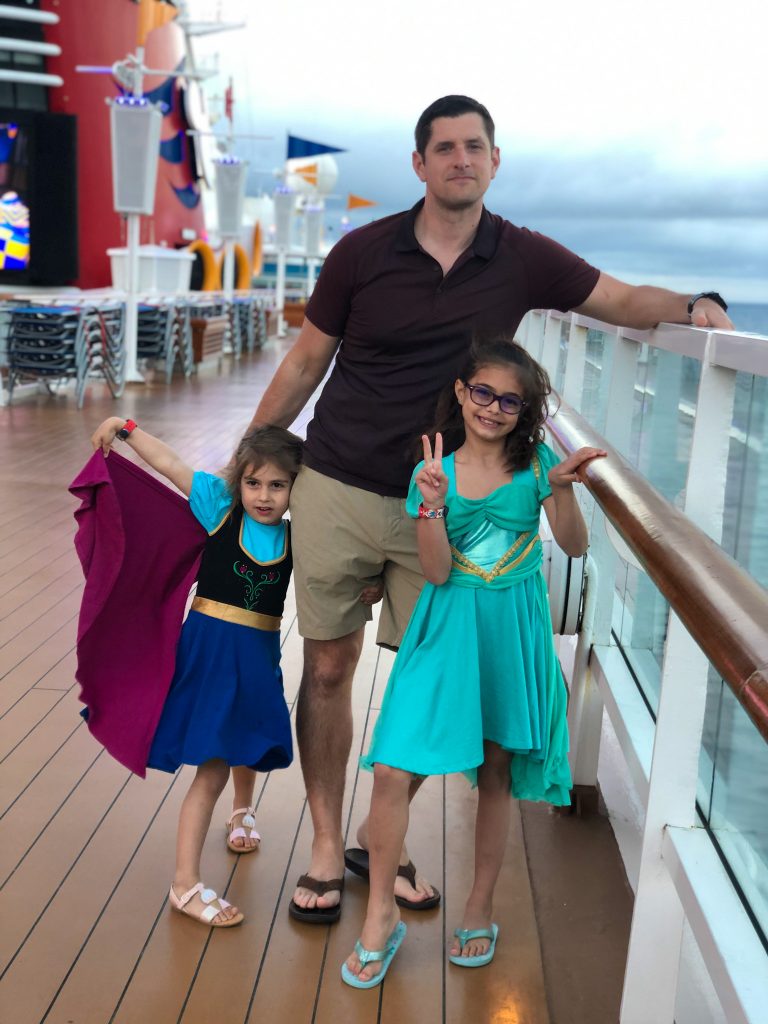 – You can check out my full packing list for Disney Wonder to Alaska here!
Have you been on a cruise? Where did you go?
What's the #1 place on your travel bucket list?
xo
Gina
More:
Disney Wonder Alaska Cruise Recap
Liv's first trip to Disneyland 
Note: This post isn't sponsored and we paid for all travel and accommodations. We use Costco Travel for cruises and highly recommend it!
The post Disney Magic: Miami to Bahamas and Castaway Cay appeared first on The Fitnessista.