The South has some crazy weather, and none so crazy as in the summertime. In the summertime you can look out the window to confirm its partly sunny, then go find your shoes, and by the time you go to walk out of the door its pouring rain. Or you can go from a light drizzle to a blasting windstorm in as little time too. Add in things like trees, lightening, and even hail — ice rocks that fling down from the sky with no warning — and you can see why designing a storm resistant outdoor space is of the utmost importance.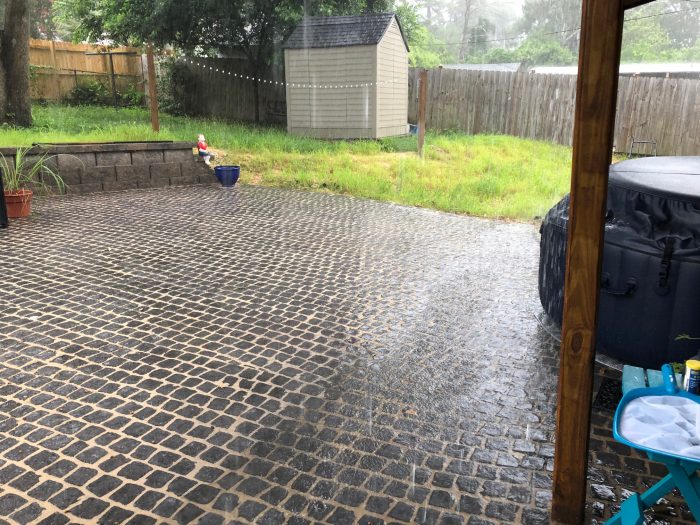 If you're not home, you do not want a storm to rip through and tear apart your super cute patio space. That's why I kept weather and its effects first and foremost in my mind when thinking through what would go in my new outdoor space. We thought of it too when it came to drainage, as you can see in the slight dip in the patio to channel water out to the multiple french drains in the ground.
Weatherproof Furniture
A lot of outdoor furniture is designed to be light and easy to move. That's not what I am looking for, because I want to make sure that very little short of an actual tornado will be able to move my patio furniture! That means a heavy wood table instead of a light aluminum and glass table with an umbrella in the middle acting as a sail to carry it across the yard.
To cut down on the amount of furniture pieces that would be out there, I chose a three piece set: a table and two benches. This cuts down on having several chairs to go flying around if the wind picks up. The style I chose is a little classier than your regular picnic table. The only downside of not having chairs is that they aren't stackable or as easily stored for the winter. Preparing for winter weather is part of a storm resistant outdoor space too.
The table and benches I bought will get a layer of clear coat before they go out into the elements. Based on the reviews, it seems like the best way to protect this investment. In addition to that, once it gets too cold to want to go outside regularly, I'll get a tarp and bungee cord solution to cover it for the worst months of the year.
A Place to Sit
Heavy chairs are a must, like these Adirondack chairs in fun colors from World Market. I have two on my front porch in teal and love them. This particular set is not weather proof and needs to stay under the cover of a roof. Believe me. I left them out in the back overnight when a rainstorm passed through and the next day there was a small split in the paint on one of the chairs. Lesson learned!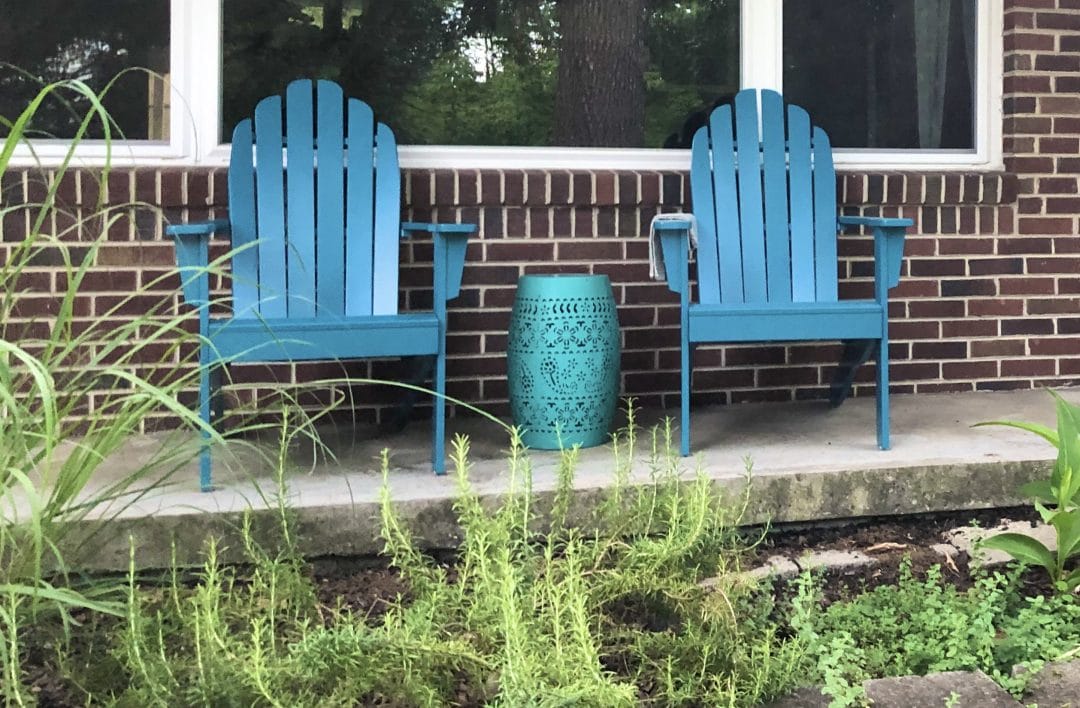 For our backyard, I went with hot pink lounger chairs that will be brought in and out as needed. Of course, I found the only hot pink ones in the world, and they really are very comfortable! They are lightweight enough to move around with the shade or the sun, but not so light that a small breeze will move them around. Just so you know, they were kind of hard to put together, but not to hard as to be discouraging. These can be stored in our shed for the winter, and hosed off when it's time to bring them back out.
Side tables are also a necessity for sitting and lounging outside. Where will you set your drink otherwise? I was drawn to the color and lines of these bright orange side tables from World Market, but once I picked one up in person, I was sold. This sucker is fairly heavy and I wouldn't be worried about it blowing away unless the wind gusts were really really bad. But they aren't so heavy that these can't be shuttled into the shed when we do know bad weather is approaching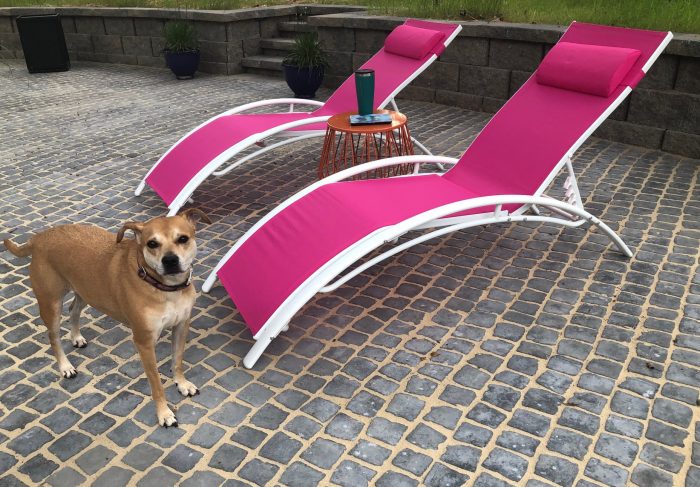 If you need more outdoor seating, stackable outdoor chairs aren't as fun, but I'd go with non-metal ones that are easy to wipe off and move if needed. I would get these if we needed lots of extra seats for if we are ever able to host larger gatherings again. But for now, we have is more seats than we need.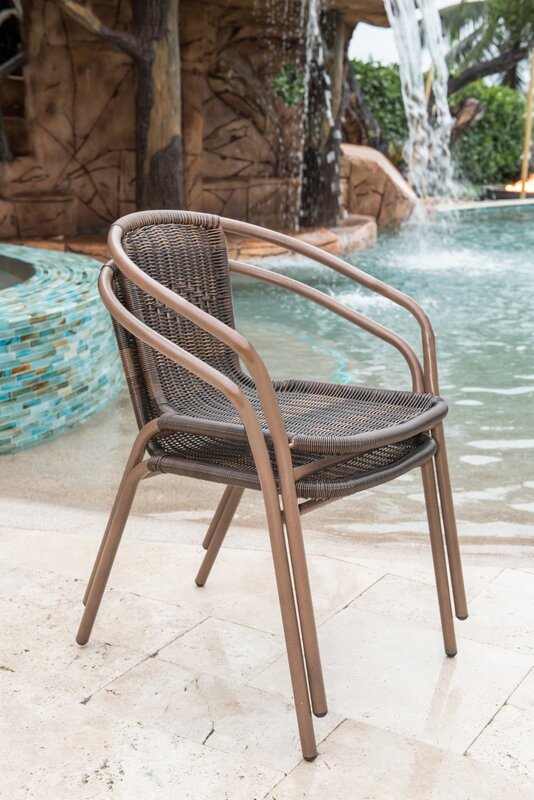 Hammock Time
One thing I missed the most is having a place to enjoy my hammock! We had a hammock stand for a while but our ground was so uneven it wasn't relaxing with the wobbling. We have a Pawleys Island hammock that Patrick got me as a second anniversary present because it's made of cotton.
My dad helped me cement in some posts, and I had a bit of an ordeal with the hardware fitting together but I finally got the hammock up! Since it's cotton and we have a lot of trees filled with birds overhead, I bring it in after each use but am looking into building a hammock shed to keep it fresh without having to unhook it completely each time.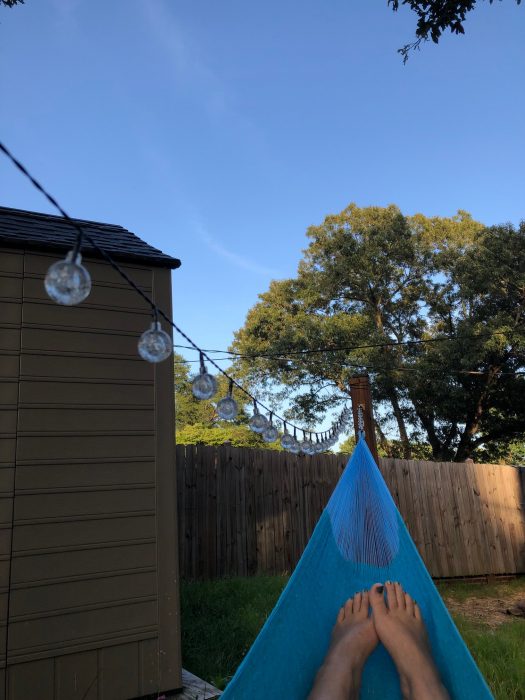 Don't forget the solar party lights to make it even more festive! The lights being solar means I won't have to worry about plugs out there getting wet, or tripping on an extension cord. I even set them to come on automatically once it's dark enough so it'll be welcoming without my having to put the effort in there.
Bug Repelling Plants
Look, it's South Carolina here, and we have bugs. Lots of bugs. So many mosquitos. I know no amount of plants will keep them at bay, but making some bug repellant plant choices will help a little bit. Plus, I like the smell of rosemary and lemongrass, two highly bug repellant plants.
In my mind the retaining wall could be edged with rosemary hedges, and some large, colorful ceramic pots will hold a few big, bushy lemongrass plants. We're a little redneck too, and have a bug zapper hanging up under the porch ceiling. But I'm really excited about the pops of color the planters bring to the space. Bigger planters are expensive, and ceramic ones are heavy as it is, so durable plastic ones from the At Home store are perfect. These are similar blue pots if you're after the same look.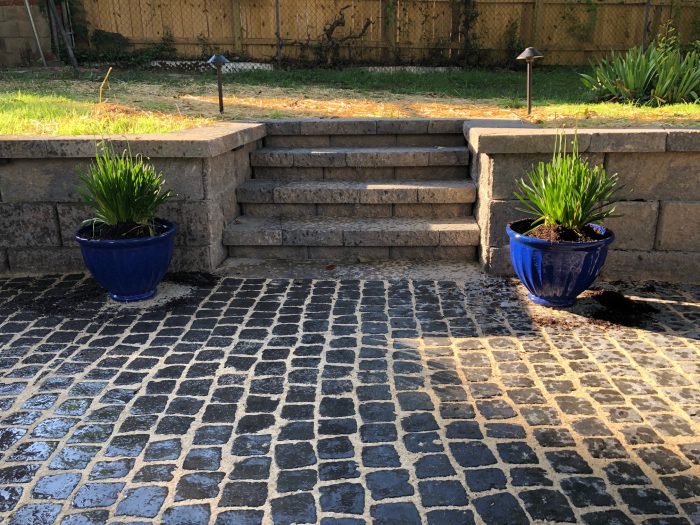 Patio Extras
Other than those more permanent things that'll live outside, there's nothing like a kiddie pool with a design that appeals to adults on a hot summer day… unless you have like, a real pool. Alas, we do not, and with our new grading and hardscaping, there's now no space for a pool here, ever. That's fine by me, as we are fine with our inflatable hot tub for getting in the water.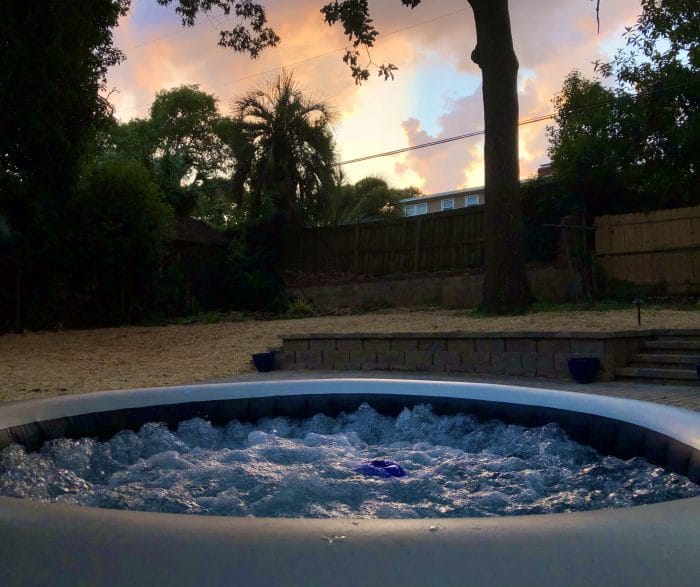 Most people might not think of a portable bluetooth speaker as a patio necessity, but for anyone who lives in a neighborhood where other people also like to enjoy the outdoors, it is. I'll be able to drown out the sound of kids having fun, lawnmowers and leaf blowers, and anything else with a speaker that can connect to my phone and blast whatever music suits the mood at the time.
How about a fire pit too? It's August right now but come October, it'll extend the use of your outdoor space. We went with a propane powered fire pit because I am highly sensitive to wood smoke. I'm allergic to most woods anyways, but then set them on fire and have the particulates fly around the air and it's a death trap. A few years ago, we went to a friend's house to enjoy an evening around the fire pit with people back when we could do that kind of thing, and I ended up sick for a week with inflamed sinuses. Plus, with the gas kind, you can add these mesmerizing emerald green lava rocks. We got this simple one, and I definitely plan to add the glass rocks later.
Want a complete list of everything we have out there?
Shop Our Patio
The post Designing a Storm Resistant Outdoor Space appeared first on The April Blake.