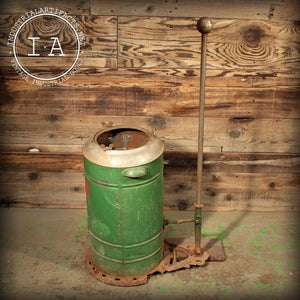 Vintage Industrial Antique Hand Operated Crown Vacuum Cleaner Parts Wastebasket
Regular price
$195.00
$0.00
This vintage, turn of the century vacuum cleaner is not all there, but even if it were, I doubt it would work too well. This one has a canister with a nice looking badge, ornate base, and handle/lever for pumping. The handle moves in and out, but that's about all; there are definitely lots of other pieces needed to make this thing remotely functional. That said, it would make a great umbrella stand, garbage can, planter, or display for items. The badge is colorful, eye-catching, and fairly intact. The can measures 25" tall and 12" in diameter (13" wide at the handles and base). The lever is 41" tall and the device is 23" long front to back. The open chamber inside the lid of the can is about 9" deep.
*Bulbs are not included unless specified
I also have a wonderful selection of other industrial artifacts, please feel free to browse!
Please give me a call with any questions you may have 815-299-7625
Happy bidding
SHIPPING PRICES REFLECT THE FACT THAT ALL OF OUR ITEMS ARE INSURED FOR THEIR VALUE. SHIPPING COSTS ARE AN ESTIMATED REPRESENTATION; ACTUAL COSTS MAY VARY BASED ON ITEM AND DESTINATION.
INTERNATIONAL CUSTOMERS: Due to the high value of some of our items, many items shipped to internationally cannot always be insured for their full value. In these cases, we will insure them to the full extent available, but will not be responsible for additional damages above the available insured amount. International items are shipped via USPS or UPS; please become familiar with the insurance policy associated with your country. BUYERS ARE RESPONSIBLE FOR ANY DUTIES AND TAXES THAT MAY APPLY.
REFUNDS: A 10% restocking fee will be applied to refunded purchases wherein the buyer no longer wishes to complete the transaction.
FREIGHT CHARGES are an estimate to a commercial address or to the nearest freight terminal for pickup. Additional charges may apply for residential delivery. Please provide us with a zip code and form of delivery for an accurate quote.
IR-__-AWC-EeS-100178-10012014