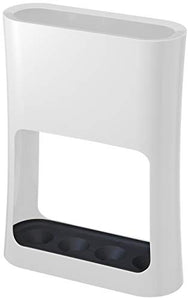 YAMAZAKI home Oval Umbrella Stand - Holder for Umbrellas & Walking Canes
Regular price
$20.91
$0.00
MODERN DESIGN: This Yamazaki umbrella stand has a sleek and modern design that will look great as a decor piece in the entryway of your home, or by your front door. It will hold and organize your umbrellas perfectly.
MULTIFUNCTIONAL: This free standing indoor stand can be kept in entryway or door of any home, apartment, and office. It can be used to organize and store your umbrellas, canes, walking sticks.
RELIABLE QUALITY: This compact and sturdy storage stand is made of abs resin and is resistant to water, and prevents water from getting on the floor.
DIMENSIONS: The overall dimensions of this umbrella stand are 3 x 8.2 x 11 inches. It is designed for tall and short umbrellas. This stand accommodates four umbrellas.
BRAND: Yamazaki brings thought and creativity to everyday items through design inspired by life in Japan. Items are created with special attention to simplicity, practically, quality, and saving space.
This compact umbrella stand is designed to hold both long umbrella and short umbrella. It is perfect for small apartment super compact space saving. It can hold four umbrellas. It has a plastic construction with glossy finish.
YAMAZAKI home Amazon ASIN B005UJ1K0A Home & Kitchen Home Décor, Home Décor Accents, Umbrella Racks