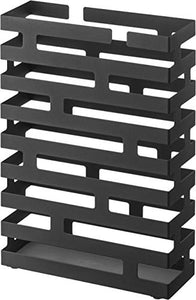 YAMAZAKI home 2361 Brick Umbrella Stand-Storage for Umbrellas & Walking Canes, Large, Black
Regular price
$45.99
$0.00
Steel
MODERN DESIGN: This Yamazaki umbrella stand has a sleek and modern design that will look great as a decor piece in the entryway of your home. It will hold and organize your umbrellas perfectly.
MULTIFUNCTIONAL: This free standing indoor stand can be kept in entryway or door of any home, apartment, and office. It can be used to organize and store your umbrellas, walking canes and sticks.
RELIABLE QUALITY: This compact storage stand is sturdy. Made of high quality powder-coated steel, it's resistant to water and rust. It's removable silicone lining keeps water off the floor and prevents umbrellas from sliding on the removable base.
DIMENSIONS: The overall dimensions of this umbrella stand are 5. 9 x 5. 9 x 16. 9 inches. This stand accommodates eight to ten tall umbrellas and its design allows short umbrellas to be hung as well.
BRAND: Yamazaki brings thought and creativity to everyday items through design inspired by life in Japan. Items are created with special attention to simplicity, practically, quality, and saving space.
This compact umbrella stand is designed to hold both long and short umbrellas. It is perfect for small apartment super compact space saving. It can hold six umbrellas. Brand StoryYamazaki has been bringing inspired ideas to common household items for over 100 years. Yamazaki brings thought and creativity to everyday items through design inspired by life in Japan. Life in Japan, and any city, leaves residents short on space. With this, they focus on organization, storage and space-saving. Each of their products are designed to be as smart and simple as possible. Driven by a sense of curiosity and creativity, they believe that better home goods make for a better home life. YAMAZAKI Product lines: TOSCA: A Scandinavian-inspired line of storage essentials in warm white steel with wooden accents. TOWER: Clean lines and modern design define this line of functional home goods. All products are available in black and white. RIN: A line of simple organizational tools with a modern edge and wood panel accents
YAMAZAKI home Amazon ASIN B00SZURP0K Home & Kitchen Home Décor, Home Décor Accents, Umbrella Racks