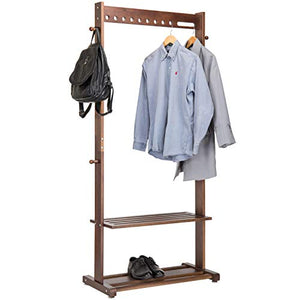 MyGift Freestanding Wood Garment Rack with 4 Hat Hooks & 2-Tier Storage Shelves, Dark Brown
Regular price
$24.99
$0.00
MODERN CLOTHING RACK: Slim freestanding frame that neatly organizes your everyday wardrobe
MULTIPURPOSE FUNCTION: Use it to store coats, jackets, handbags, hats, shoes, and more.
HOME & RETAIL USE: Perfect for organizing and storing your coats, attire, fashion accessories at home, office or in a retail setting.
ALL-IN-ONE STORAGE SOLUTION: Features 10 cut out holes for use with clothes hanger; 4 side hooks for handbags, hats or scarves and 2 shelves bottom shelf for storing shoes or accessories box.
SPECS: 31.2 L x 15.8 W x 69.6 H (in inches)
Keep your clothes, shoes, umbrellas or hats well organized with this freestanding, pine wood coat rack. Stylish, yet highly functional this This 5 3/4 foot standing coat rack is a multipurpose, super-organizer, allowing you to neatly store away your clothes, jackets, hats, scarves, shoes, and more. The two tier design allows convenient access to store shirts, or additional shoes if needed. Wood cutout hoops allow you to place hangers for better organization, while 4 side hooks can be used for hats, handbags, ties, or more clothes. The rustic, pine wood finish has a dark, sleek aesthetic and has a modern look and feel. Easy to assemble, and fits in most closet spaces. SPECS: 31.2 L x 15.8 W x 69.6 H (in inches)
MyGift Amazon ASIN B07H7Y643D Home & Kitchen Storage & Organization , Clothing & Closet Storage , Garment Racks