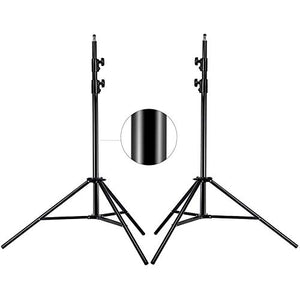 MOUNTDOG Photography Tripod Light Stand 6.5 Ft/ 200CM / 78inch 2 Pack Aluminum Alloy Photographic Stand for Studio Reflector Softbox Umbrellas
Regular price
$24.99
$0.00
UPDATE VERSION&MORE STABLEThe light stand consists of three tubes, the diameter is 1''/0.86''/0.74'', the old model is 0.86''/0.75''/0.63'', and the bracket tube knot length is 0.43'', the old model is 0.2''. This MOUNTDOG update light stand is stronger, more stable and more durable, will not shake.
COMPATIBILITY1/4" Screw tip on the stem, standard light stand mount for use with any light head, such as reflectors, softboxes, lights, umbrellas, backgrounds, strobe flash lights and so on.
FLEXIBLE&USEFULFolded height:2.26FT; Maximum heigh:6.5FT; Min heigh: 2.7FT; Max load capacity: 11 lbs; Weight: 1.87lbs. Lightweight design,easily transported from one location to another, adjustable for many lighting situations.
LONG SERVICE LIFEMade from aluminum alloy with a professional black satin finish, corrosion-resistant and long-lasting, giving it exceptional strength for heavy duty work, lightweight and easy to carry, fold up quickly and easily.
MOUNTDOG WARRANTY MOUNTDOG 3 month warranty.2 Pack MOUNTDOG aluminum light stand, compliant with industry standards.
MOUNTDOG Amazon ASIN B07JK1GRTB Electronics Camera & Photo , Lighting & Studio , Lighting , Booms & Stands