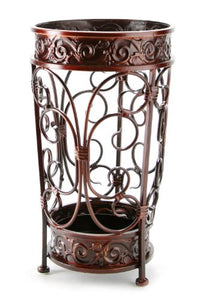 Brelso Super Quality Umbrella Stand, Umbrella Holder, Antique Look Metal, Entry Hallway Décor, Round Style, w/Removable Drip Tray. (Red-Brown)
Regular price
$49.99
$0.00
Creatively crafted antique style umbrella stand.
Decorative home décor and fits medium and small size umbrellas.
Comes with an inner removable drip tray to catch the drips and for easy clean.
A Must Have For the Elegant Office or Home.
A amazing gift for anyone, friend, parent, or a coworker.
This eye-catching umbrella stand by Brelso is truly unique in design and by the antique look, Its Constructed of powerful Metal and finished with its nice colors with an amazing style and charm!!. This decorative and functional umbrella stand has a removable drip tray for easy clean up. It looks great in offices or home entryways. Adds some elegance to your entry and give your umbrellas a stylish parking place. The Brelso umbrella stands meets the high quality standards; it's an amazing gift for anyone, your friend, parent, or a coworker.
Brelso Amazon ASIN B00919QPJG Home & Kitchen Home Décor, Home Décor Accents, Decorative Accessories, Decorative Trays