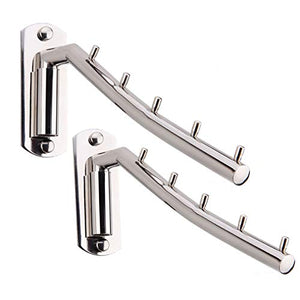 Adromy Folding Wall Mounted Clothes Hanger, Stainless Steel Clothes Holder Swing Arm Closet Drying Rack Clothing Hanging System Heavy Duty Closet Storage Organizer 2 Pack
Regular price
$23.85
$0.00
Sturdy Material: The clothes hanger is made from T-304 premium-grade stainless steel, plus 18/10 Chromium/Nickel coating on the surface with polishing, not easy to rust and corrode, clean and safe to use
Space Saver: The clothes holder can swing 180 degrees to the left and right; You can swing it close to the wall to save space when you don`t use it
Multiple Applications: The rack is not only can be used for dring towel and clothes in bedrooms, bathrooms, and closets, bag and coat in office but also display clothes at shops, Not afraid of dampness and oil
Easy to Install: Package comes with matched install fittings and easy to install. Takes up very little space, It's a decoration item for your apartment
Smart Design: When you use it, The gravity of the hanging object on the swing arm will be transmitted to the bracket to stop it from swinging. If you accidentally Collisions it, The swing arm will swing and give way for you
Specifications:
Material: T-304 Stainless Steel
Color: Polished Finish
Installation Method: wall-mounted
Total Length: About 10.8" [25cm]
Wall-Mount Base Size [L*W]: About 3.9"x1.6" [10x4cm]
Hanger spokes distance: About 1.77"
Weight: 200g

Package Included:
2 Clothes hooks
matched install fittings

Features:
Very nice and convenient way to keep the clutter under control It has five little prongs that give you separated places to hang your items. You could hang umbrellas, purses, and hats from this.
If you have room in your closet, this hanger would also be great for hanging things such as tank tops, bras, purses, belts, etc on.

How to install
1.Mark the position of the holes for drilling on the wall according to the hole position on the plate.
2. Drill holes at the outside diameter of 7mm and depth of 30mm on the wall.
3. Insert the expansion screws into the holes and make them inside the wall.
4. Place the plate onto the wall; make sure that the holes on the plate and the holes on the wall are at the same place. Put the screw in the holes, then place the inner bushing of the cover on to the screw, fasten the screw, and finally put the outer cover on.
5. Put the swing rack into the tube to finish the installation.
Adromy Amazon ASIN B07JGXHDBZ Home & Kitchen Storage & Organization , Clothing & Closet Storage , Clothes Hangers , Standard Hangers