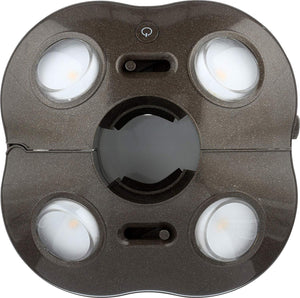 Rite Lite LPL1040BX Battery Operated LED Umbrella Light
Regular price
$15.50
Sale price
$18.98
The Rite Lite LPL1040BX Battery Operated LED Umbrella Light features forty super bright LEDs and multiple light settings that give you the control to choose white LEDs for regular use or amber LEDs, which reduce the attraction of insects. It's battery-operated so there are no wires or plugs to mess with, nor any need to be near an outlet. To install, simply open the clamshell housing, then close around the umbrella pole; rubber grippers hold the unit in place. Install with lights down as a downlight, Flip it around and you have an uplight and a softer look. AmerTac brands, including Rite Lite, offer complete lines of distinctive decorative home accent products that include trend-setting wallplates, money saving LED night lights, innovative under cabinet lighting and LED battery operated lights. More functional product lines include energy-saving timers, dimmers and lighting controls, as well as an extensive offering of consumer electronics accessories for the home and office. AmerTac's products are distributed to leading home centers, lighting showrooms, mass merchandisers and supermarket chains throughout North America.

Amazon.com

Ideal for summer parties that go late into the night, the Rite Lite LPL1040BX Wireless LED Umbrella Light attaches to your outdoor umbrella to provide convenient illumination. Featuring bright LEDs, dual-light output, one-touch operation, and battery power, the LPL1040BX lets the fun continue even after the sun goes down.

Designed for outdoor use, the LPL1040BX is ideal for evening BBQs and patio parties that go late into the night. This umbrella light features four dual-output heads that each contain eight LEDs--five bright white LEDs and three bright amber LEDs--for a total of 32 LEDs which project light downwards once mounted on an umbrella. The umbrella light also has eight LEDs on the back-side of the unit which project light upwards into the umbrella to create a warm light effect. Use the white light mode to get the look of natural daylight, or use the amber light mode to get illumination that won't attract insects.

It's easy to adjust the LPL1040BX to meet your needs. Simply choose the light color (white or amber) and light direction (up or down) that best suits your activity. Then use the one-touch on/off switch with selectable dimmer to customize the amount of illumination, from full brightness to ambient glow.

The LPL1040BX operates on six AA batteries (not included), which means you won't have to worry about unsightly wires hanging from your umbrella. It's easy to mount the light anywhere; just use the quick-release lever when you're ready to move it to a new location.


Plastic
Made in USA or Imported
One-touch ON/OFF switch with selectable dimmer
Dual light output - amber or white
Battery operated
Designed for outdoor use, is ideal for evening BBQs and patio parties that go late into the night.
Clamps easily to umbrella stands and detaches with quick release button