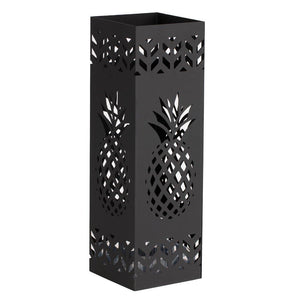 NEX Umbrella Stand Rack Metal Umbrella Holder For Home Office Decoration Drip With Tray and Hook Black (NX-DB030-4)
Regular price
$44.44
$0.00
The NEX Black Pineapple Umbrella (NX-DB030-4) Holder is designed with shapes bordering around the top and bottom, these shapes act as a decorative element that consists of symmetrical shape which forms the overall outline of overlapping circles. The pineapple presents a beautiful touch to one's room. The NEX high quality umbrella holder is a long lasting, reliable, and fashionable stand that can keep your house dry and clean from raining days. Equipped with a removable draining tray, this umbrella is able to collect water from the wet umbrellas and is able to be disposed easily by removing the bottom tray. This tray could also be used for holding other items such as canes, and even plants. Customer can use this as a decorative piece for their household. This item is not only reliable, but also a unique item to have in your household. It is able to enhance the color palate of any room and is able to be used for multiple purposes. Multifunctional Durable Holder: This beautiful umbrella holder can be used in various situations besides holding umbrellas. Customers are able to use this holder as a decorative accessory in their household, can also use this as a plant holder and a cane holder for the older individuals. As a plant holder, this stand is excellent in holding pants that are much longer in length. This stand is made out of high quality metal that is painted with green environmental protection paint that will prevent rust and corrosion. Integrated Drip Tray and Hooks: The integrated drip tray allows for easy clean up especially in wet conditions. The drip tray is easily cleaned by removing the drip tray and dumping the water into plants or sinks. With the two hooks, customers are also able to hold small umbrellas and prevent it from falling to the bottom of the stand. 
【Elegant and Fashionable Design】: Modern black and pineapple design, make NEX Umbrella Rack not only for umbrella storage but also an adornment or handicraft
【High Quality Material】: Constructed out of high quality metal materials, this umbrella basket holder is very strong and sturdy. Even when holding various numbers of umbrellas or other heavy items, this basket holder will not fall down. Also painted with eco-environmental protection paint, this paint prevents the umbrella stand from rusting or causing corrosion. 
【Spacious Size】: Standing at a size of 6.1 x 6.1 x 19.3 inches, this umbrella holder stand can accommodate multiple full length folding umbrellas, canes, dried flowers, tubes. 
【Drip Tray】: Integrated with a drip tray, this umbrella stand is able to collect all the water from the use of an umbrella, and prevent wet spots on the floor. This allows for easy clean up. Just simply take out tray and dump the water on your local plants or nearby sink. Also integrated with two hooks to help hang shorter and smaller umbrellas, it can help keep them in place and prevent the need to such throughout the stand when full.