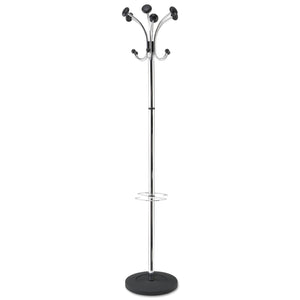 Alba Chromy Coat Stand, 12 Knobs, 16w x 16d x 70.5h, Chrome/Black
Regular price
$210.91
$196.00
Alba Chromy Coat Stand, 12 Knobs, 16w x 16d x 70.5h, Chrome/Black
Provides six coat knobs and six accessory hooks.
Rotating head for an easy access.
Integrated umbrella stand with water retainer.
High quality chrome finishing
Optimized stability with its weighted base.
Fast and easy tool-free assembly.
Steel tubing with weighted black base. Stylish and functional. Provides six coat knobs, six accessory hooks and an integrated umbrella stand with water retainer. Rotating head for easy access to clothes. Weighted base for perfect stability. Easy assembly without tools. Mounting: Stand Alone; Width: 16"; Depth: 16"; Height: 70.5".