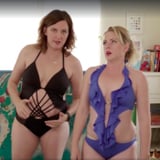 I Swimsuit Season So Hard

When I'm at the beach, I'm there to lifeguard, build sandcastles, supply treats, re-stand the umbrella every dang time it blows over, spray sunscreen, drink a beer, look for seashells, warm-up wet kiddos, force people to eat sandwiches and drink juice, blow up water-wings, and keep my son from publicly urinating. Basically, I've got a really fun job to do and I don't have time to let a piece of lycra throw me off my game. #imomsohard #baywatch #swimsuit #cutouts #doubledecker #brave #moat #onelife #liveit #momlife #reallife #mombod #beach

Posted by imomsohard on Thursday, May 18, 2017
Swimsuit season is here, and that means women can be heard collectively screaming "WTF!" in fitting rooms around the globe. Two such women - the hilarious Kristin Hensley and Jen Smedley of the IMomSoHard video series - are brave enough to give us a peek inside their attempts to try on the season's "hottest" swimwear.
Their viral video begins with the two moms in stereotypical male Summer attire - oversize t-shirts and loose-fitting trunk shorts that let you "move around, no nipples coming out." Oh, sign us all up.
But, no, just as quickly, the women swap those practical duds for what they're expected to wear while navigating a beach day with kids. As Smedley, decked out in a ruffled teal monokini, points out, "Hmmm, I wonder if there's a way to make your butt look too big, to really accentuate your love handles and make your bust feel inadequate?"
As hilarious as the video is, what perhaps hit a nerve among viewers (it's been watched more than five million times and shared more than 76,000 times) is how ridiculous they make these unrealistic beauty standards really seem.
Hensley, in a moment of clarity, makes the point abundantly clear: "I want my daughter to love her life and to love herself and she's not gonna do it because I tell her to, she's gonna do it because I teach her to."
And if that doesn't make you nod your head so hard that it up and falls off your body, here's her kicker: "I really want a revenge body, but I'll take a f*cking attitude."
Preach, mamas.