With the days getting warmer and the evenings growing longer, we wanted to address the backyard entertaining space trend and get tips from our experts on how to create our own. These days, more and more families are creating a seamless transition from their indoor living space to their outdoor space. Area rugs, couches, side tables, throw pillows, and blankets make the great outdoors even greater. But, fabrics and creature comfort aside, you'll also find options for dramatic and accent lighting, backyard Wi-Fi, and even TV installations.
We spoke to our friends at Frontgate and contributor and design expert, Max Jones, to discuss trends and best practices. After all, if you are going to create a backyard entertaining space, you want it to last!
What are the basics of creating your backyard entertaining space?
Max Jones advises, "From a design perspective, the outdoor space should truly feel like an extension of your interior spaces. My rule of thumb is to use the interior space that most closely connects to your outdoor area for your inspiration jumping-off point. If your outdoor living is visible from the adjacent interior room, the spaces should have cohesion and flow from inside to outside. For instance, at least one color from the interior design should also make its way to your outdoor room. Materials and textiles should feel connected."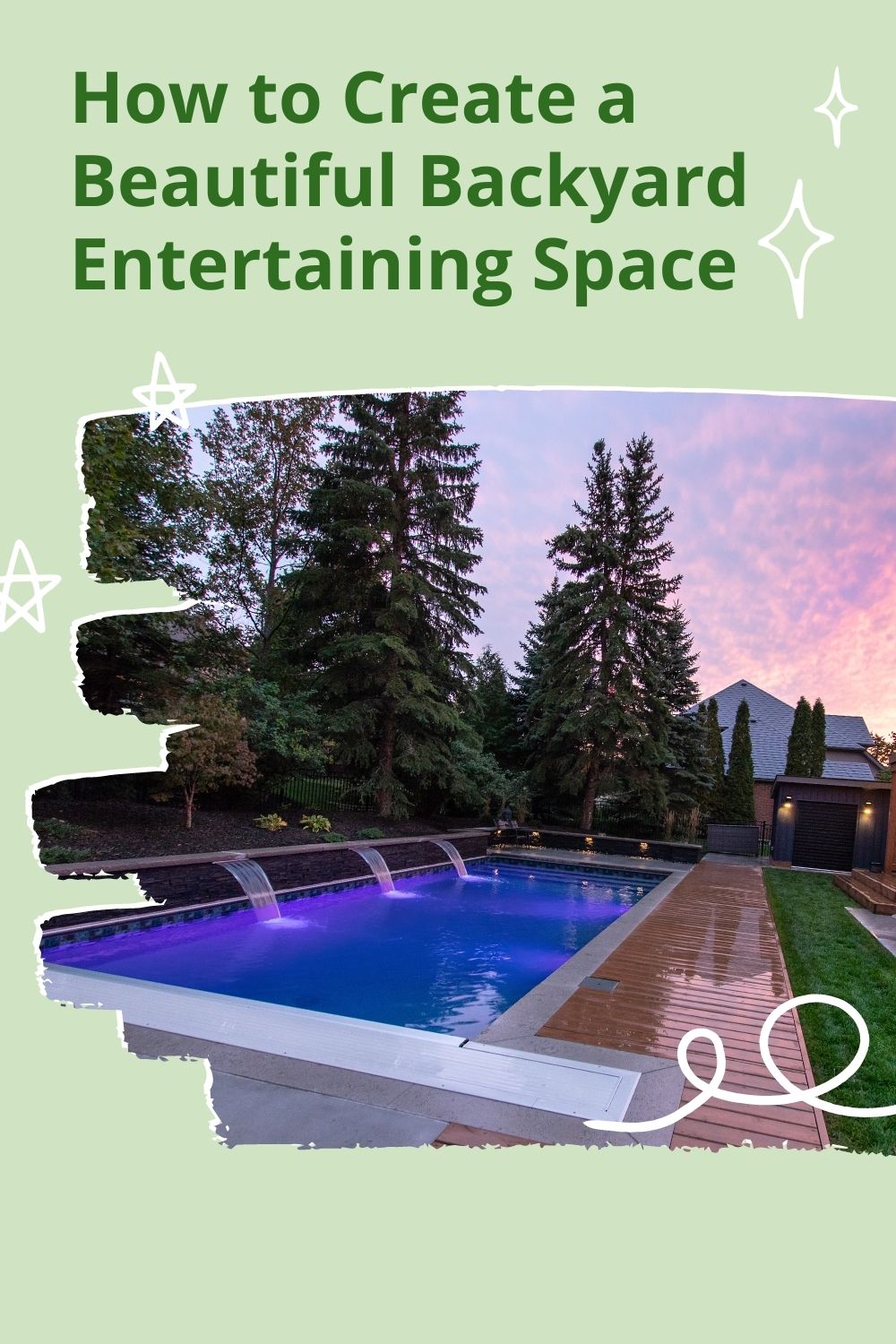 Since you'll be clocking lots of hours in your backyard entertaining space, it's only fitting that you make it just as comfortable as your indoor living room. The Frontgate team says, "Whether you're working with a wide-open space or a small, contained yard, it's important to replicate the feeling of an indoor space by clearly outlining your 'room.' This will make it easier to arrange your furniture and keep an intimate feel for gatherings. If you ask us, an outdoor rug is the quickest way to define your space. Then choose your outdoor furniture. Make a list of features you're looking for, and then check out outdoor furniture collections to see which one is right for you."
Once your furniture is selected, make it your own by mimicking the coziness of the indoors with outdoor pillows and blankets. You might also use a layer of texture to add pops of color. The variety of outdoor textiles available today is amazing. We've come a long way from the traditional patio furniture of the past.
Now you're ready for the finishing touches, like outdoor lighting, tables, and decorative accessories. For a low-key and intimate vibe, add string lights and torches. If you entertain often, take it up a notch with lanterns and a fire table.
Max Jones of Jones Walker Home also recommends outdoor drapes. "Outdoor drapes are also a great way to delineate your outdoor living space. Modern advances in outdoor textiles now allow you to add fabrics that really look more like interior fabric. Drape panels offer a bit of privacy and can block the wind. The flexibility of opening and closing the curtain panels will allow you to control your level of exposure, such as blocking some of the cooler winds and incorporating a fire pit for warmth. They will truly extend your outdoor season into the spring and fall months!"
Can you have a backyard entertaining space if you don't have a covered patio? 
A covered space will certainly help protect your furniture and textiles from the unwavering elements, but it's not necessarily needed. That's where umbrellas become the perfect solution! Whether you need one to shade a dining table or tuck between two pool chairs, an umbrella provides the perfect respite from the heat and UV rays.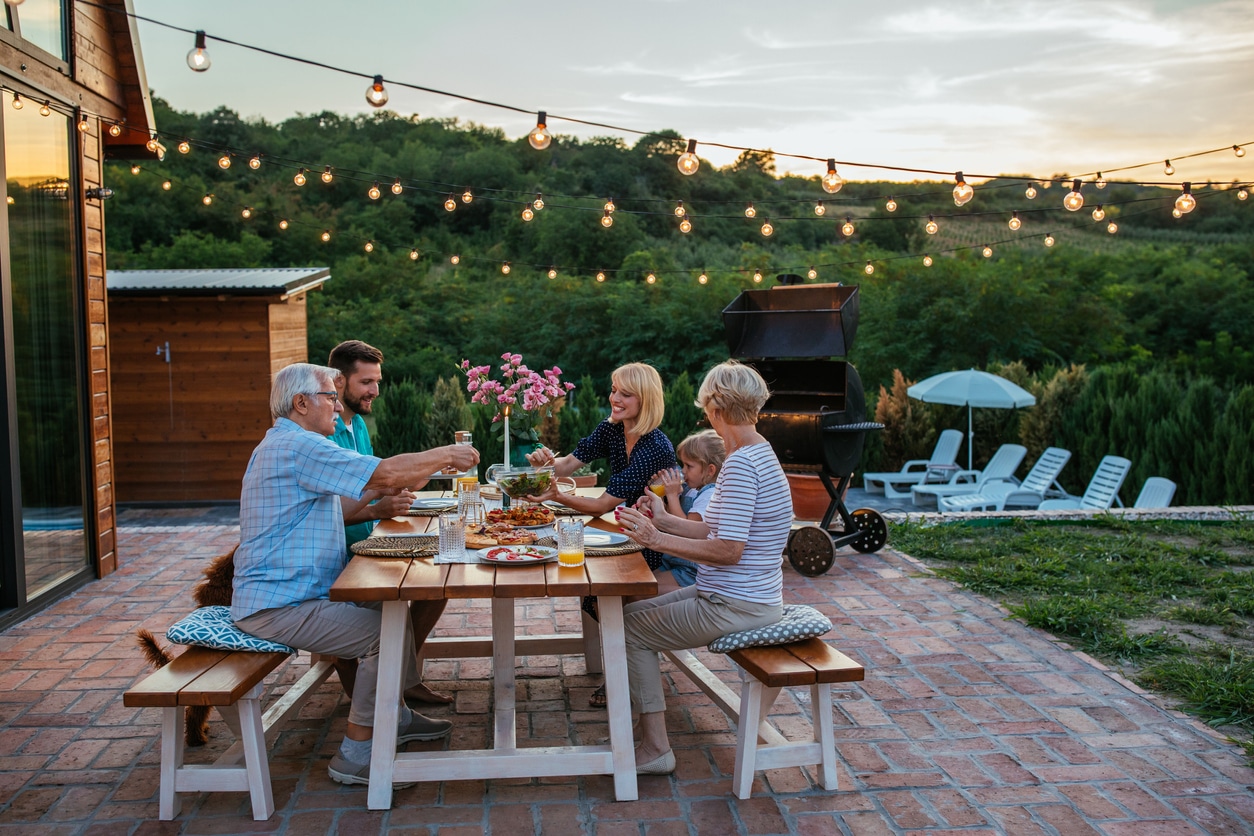 If your space is entirely outdoors, though, Frontgate recommends using high-quality outdoor furniture covers when furniture is not in use – to help protect against exposure to the elements. And in the "off-season," make sure to store your furniture.
How do you get the longest life from your selected furnishings?
As stated above, you'll want to look into outdoor covers to protect your investment. Not only are they effective in "winterizing" your patio, but covers are convenient to use throughout the year during storms or while on vacation. They protect from the elements and keep off dust, dirt, leaves, animals, and other debris.
If you're looking for longevity, you'll want to choose fade- and weather-resistant fabrics so they'll hold up over time. Frontgate's Sunbrella Rain cushions are 100% waterproof. Not only does this new fabric resist fading, mold, and mildew, but the rain simply beads up and rolls right off.
Make the most of it.
If you are fortunate enough to live in a climate where you can spend a good deal of time outdoors, an outdoor living space can add immeasurably to the pleasure you find in your home. As Max Jones says, "Make your outdoor living area as cozy and comfy as the inside, and you will truly feel like you have increased the size of your home!" Here are our top picks to make your outdoor space the perfect go-to for those perfect afternoons outside with the girls!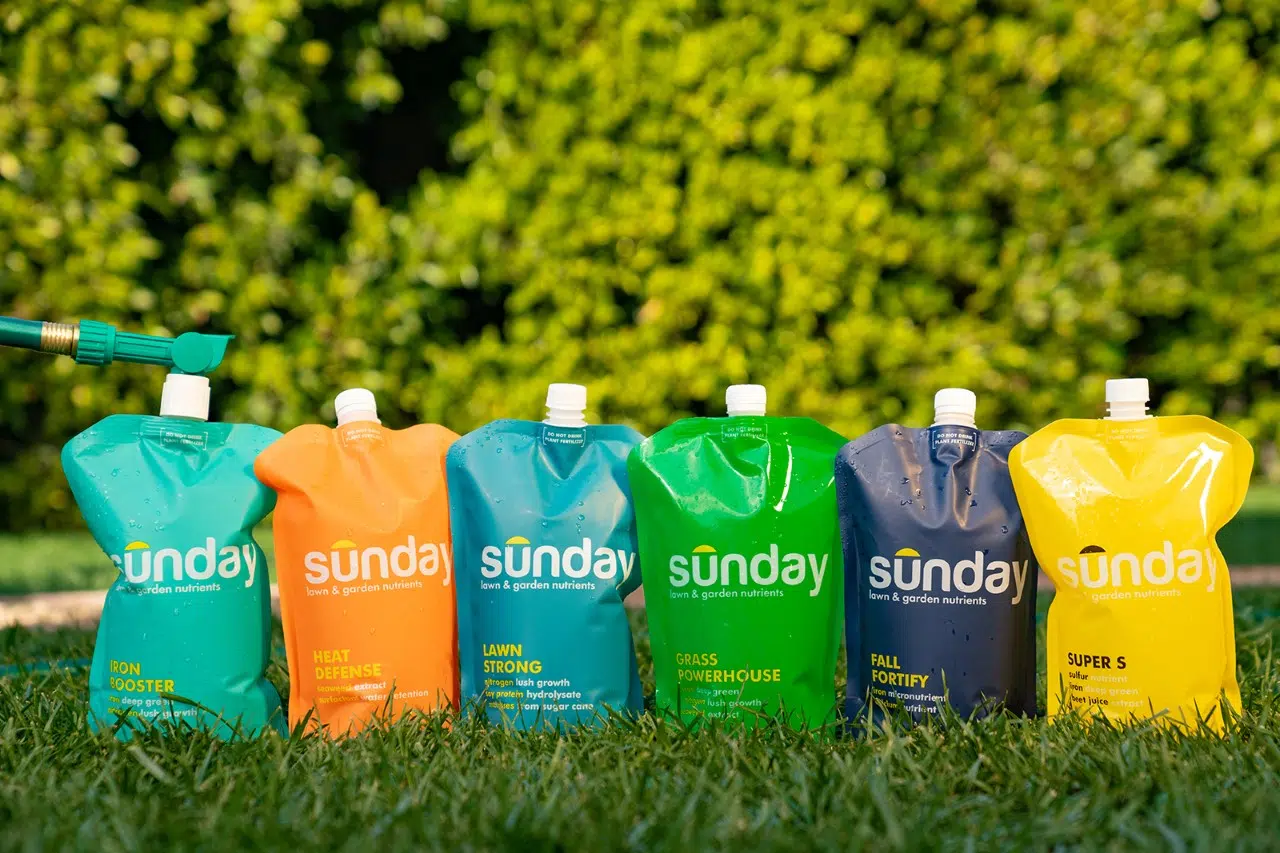 You only get one chance at a first impression, so get your yard looking its best when guests visit! Sunday is a direct-to-consumer company that sells customized, eco-friendly, affordable, easy-to-use lawn care – all you need is a hose for application! They have a full season of customized lawn nutrients that are guaranteed to keep your lawn, pets, and the planet happy as they do not use harsh or toxic chemicals. Your first shipment comes with a free soil test to zero in on deficiencies. A better lawn means a better planet for all of us!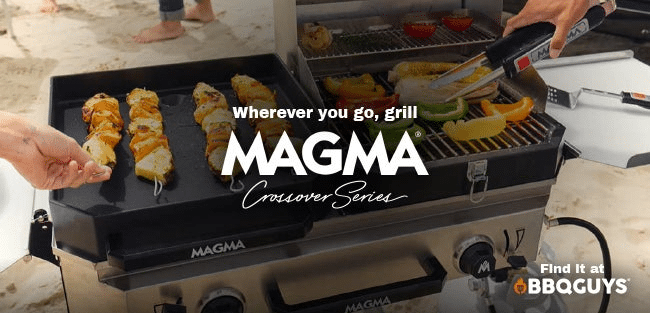 Magma's RV Crossover is a revolutionary modular cooking system designed for people on the go. The system's core is a unique, high-powered stainless steel firebox built for withstanding the elements. This double firebox includes all four cooking tops: grill, griddle, plancha, and pizza oven. RV and trailer hitch mounts are available, along with a tripod stand. With the Magma RV Crossover, you'll have the best-equipped camp kitchen out there.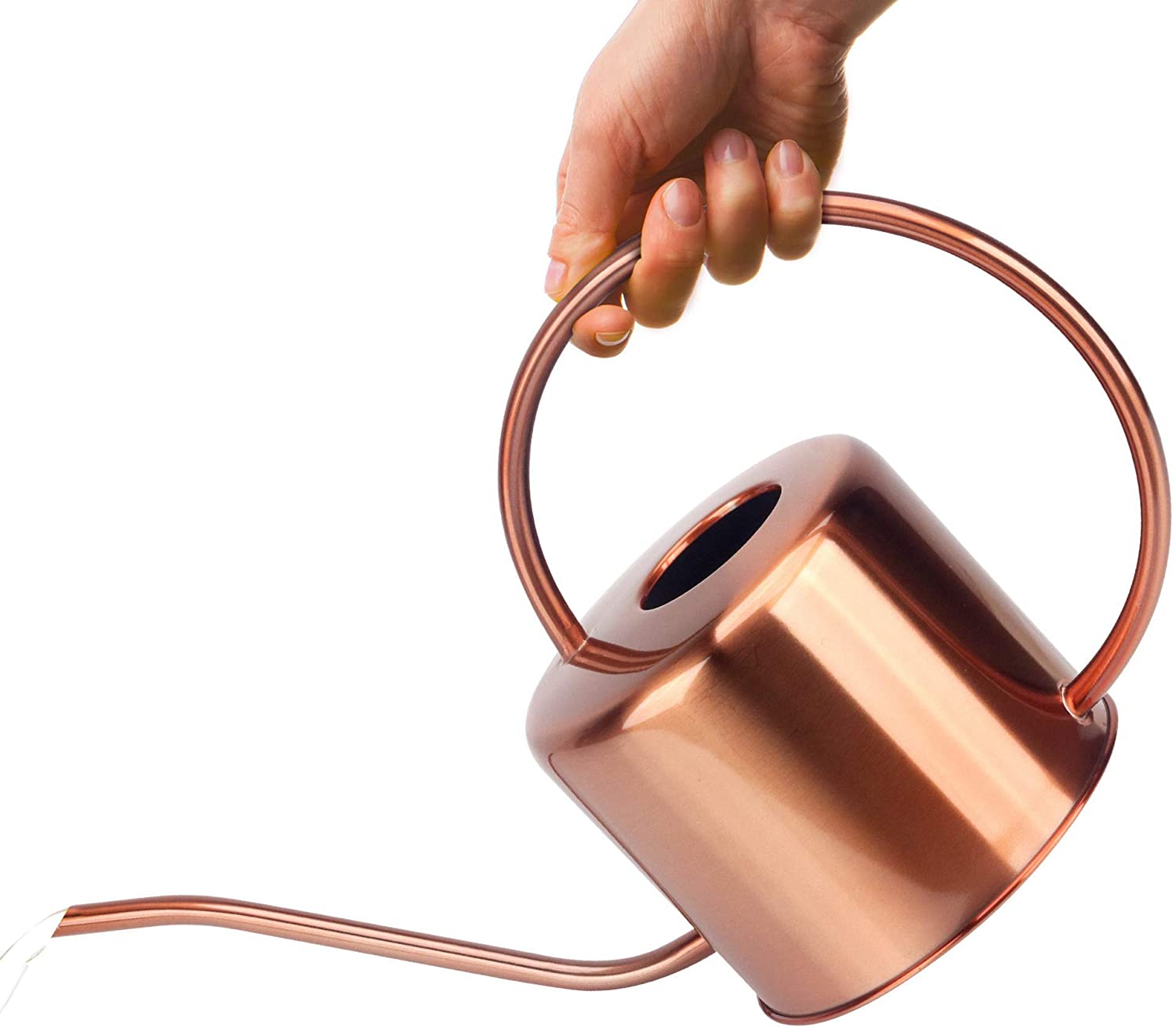 Keep your houseplants happy and hydrated with this display-worthy watering can. Constructed from stainless steel with a warm copper finish, this beautiful vessel holds 40 oz. of water, eliminating the need for frequent refilling.
The Victory VCT3BSB checks all the boxes: quality, performance, useful features, durability, and affordability. The stainless steel grill and cart offer high-performance burners, an infrared side sear burner, the largest grilling surface in its class, enclosed storage, and heavy-duty locking casters. To top it all off, it comes with a limited lifetime warranty! Isn't it time you tasted Victory?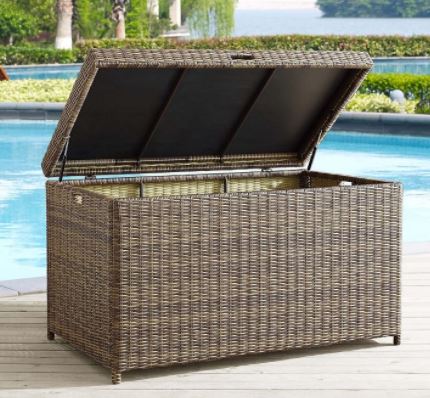 Made of UV-resistant resin wicker, this storage bin is perfect for storing pillows whenever they aren't being used.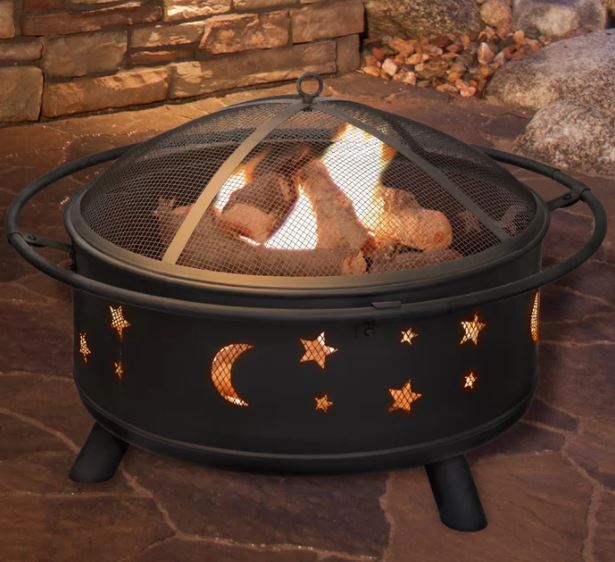 This fire pit has a simple finish that is attractive to match any outdoor living space decor. Relax by the warmth of an inviting fire on a cool summer night or crisp fall evening. Enjoy the warm glow on your patio and set the ambiance for a relaxing outdoor experience. This fire pit is an ideal blend of contemporary modern design and natural elements with beautiful, whimsical celestial star and moon accents. This beautiful fire pit is finished with rustic high-temperature paint for long-lasting quality and added resistance to rust.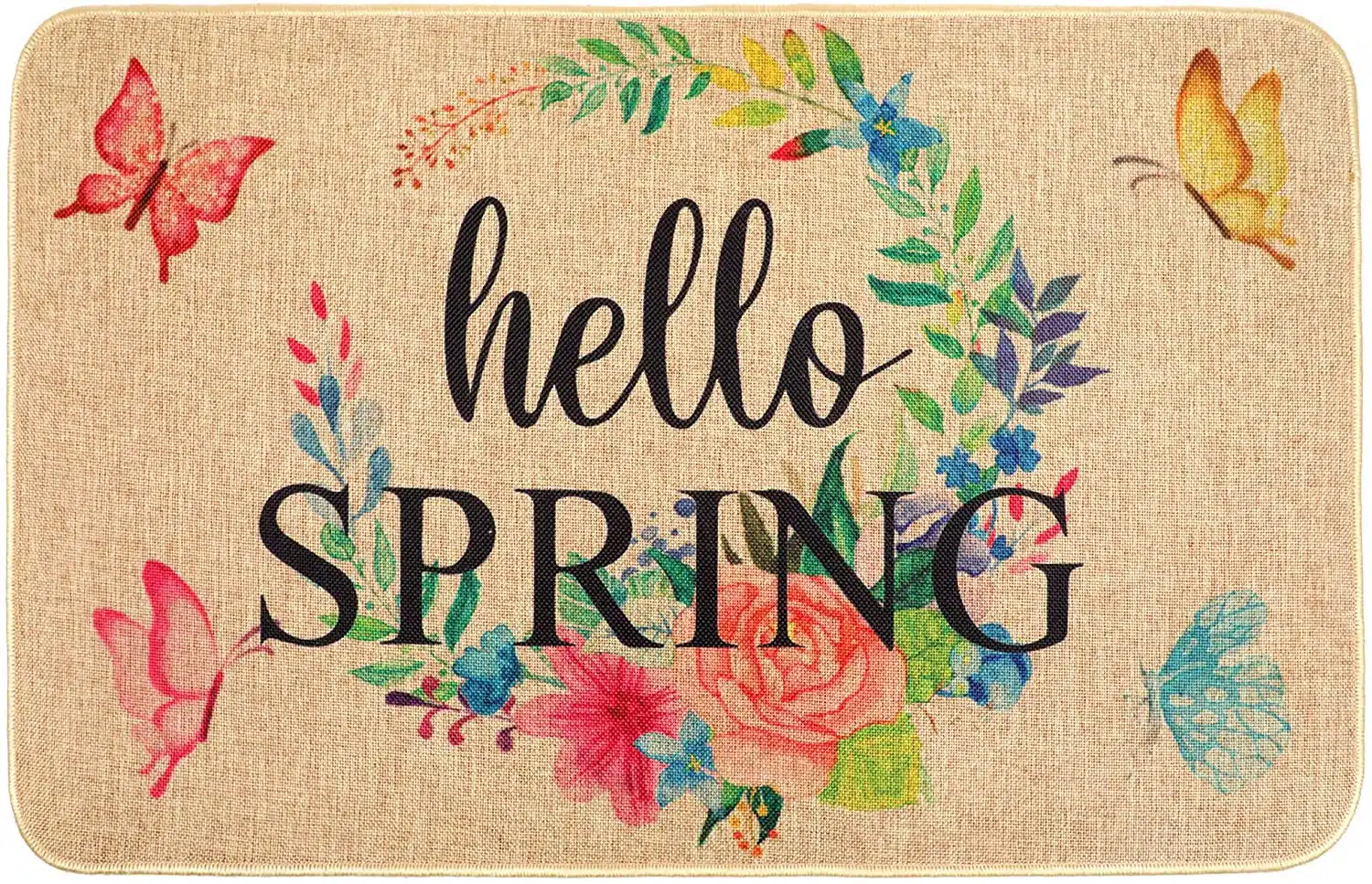 This colorful doormat features various kinds of flowers to add a touch of whimsy to your front step. Spring-inspired, this welcome rug is perfect for creating a vibrant, revitalizing atmosphere.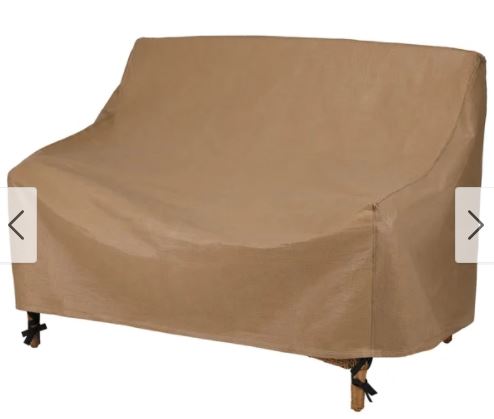 Protect your outdoor loveseat in style when choosing this durable, water-resistant cover from Duck Covers. Multi-layer, breathable fabric with ultrasonically welded seams wards off condensation to prevent furniture damage while resisting the harmful effects of sun, snow, rain, dust, and dirt. Reinforced tie-down straps keep the cover firmly place on blustery days.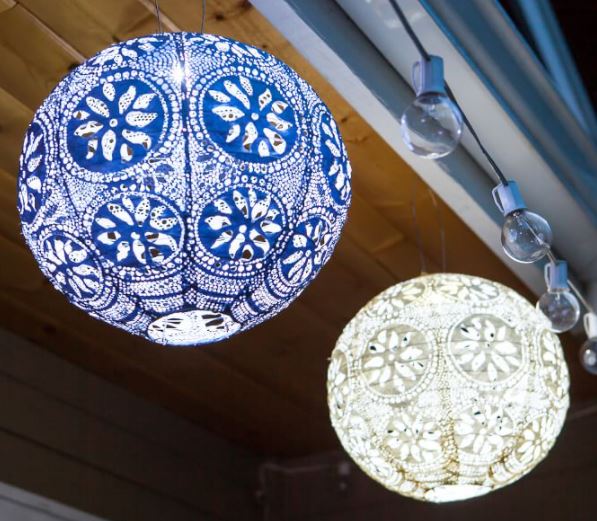 The delicate filigree pattern of the Boho Globe Solar Lantern creates a charming play of light and shadow when lit from within. Ideal for summertime festivities, this lantern adds a fun, casual touch to your space.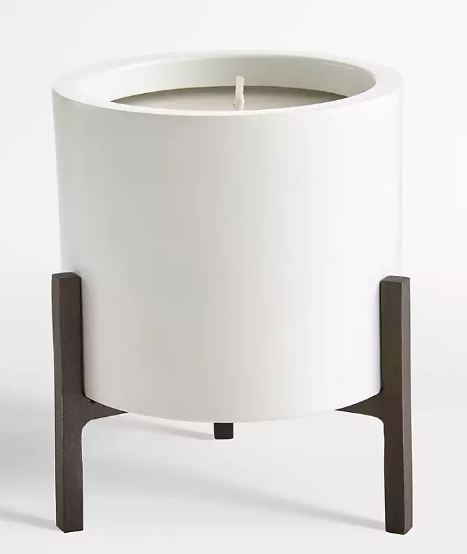 Bring light to your outdoor living with this sophisticated citronella candle. Scaled small to sit on a table or console, the iron candle holder rises on a minimalist stand with slender legs and tripod crossbar supports.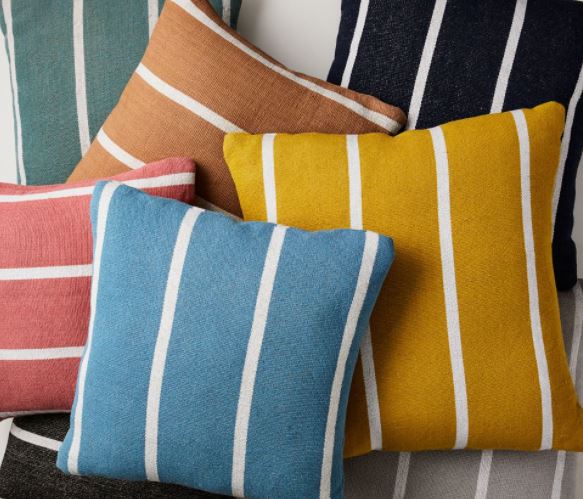 Clean, structured lines add a touch of simplicity, and the bright colors will liven up any outdoor area.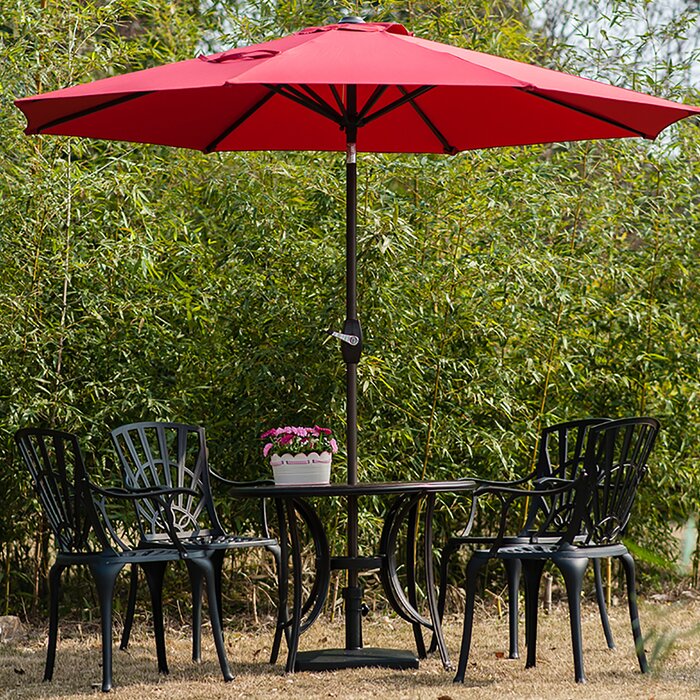 Enjoy the sunshine and scenery while keeping cool with this Sunnyglade 9′ Market Umbrella. Designed with style and durability in mind, the polyester fabric blocks UV rays to keep you protected on hot summer days. It's also fade-resistant and waterproof!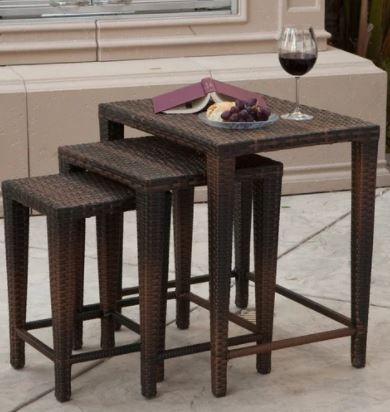 Deliver elegant style to your patio or deck with this set of three Christopher Knight Home nested outdoor tables. Weather- and UV-resistant polyethylene wicker construction offers enduring good looks, while the nesting design lets you use these tables together or separately.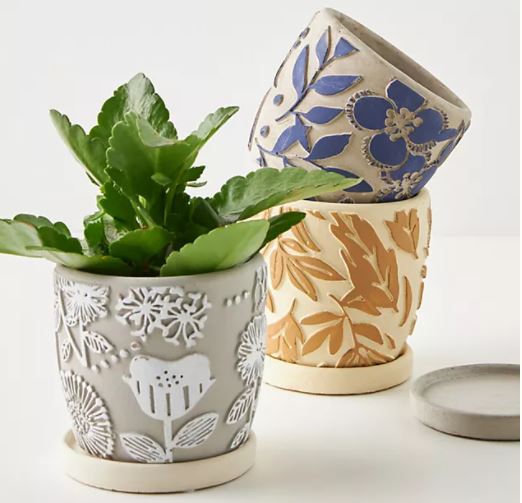 Offering a whimsical floral motif and a tray that fits underneath, this sturdy piece ensures your plantings will experience the necessary drainage for healthy growth.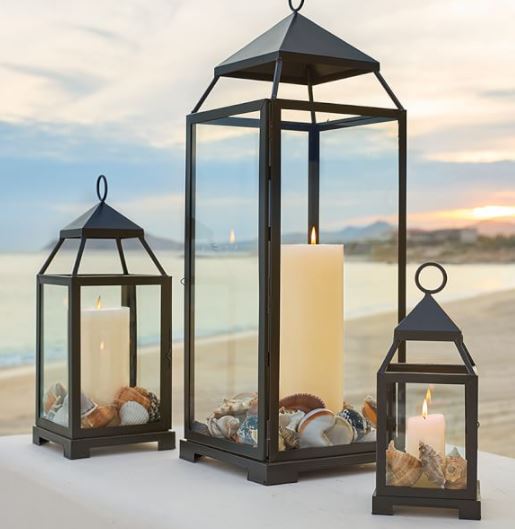 Create a candlelight display with our handsome steel Malta Lantern year-round. Each lantern can rest on a flat surface or hang.
These curtains are crafted from durable fabric that's water-repellent and resistant to fading, mildew, and chlorine. This style's stainless steel grommets add a modern touch whether you use them inside or outdoors.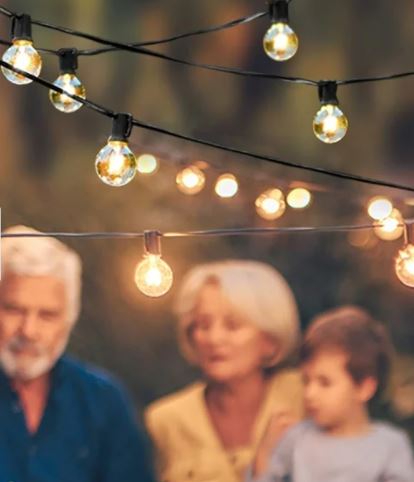 Add a warm, bright glow to any party, backyard, garden, or room. These rope lights work great for lighting, indoor, outdoor, bedrooms, or office spaces.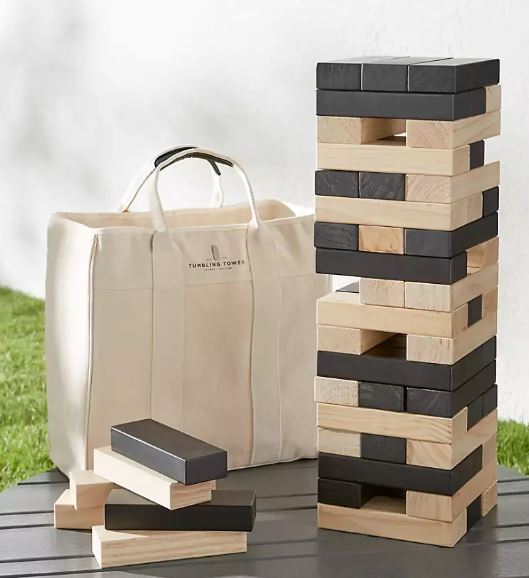 To play this fun game of suspense, stack the wooden blocks into a tower and then take turns pulling out blocks without tumbling the tower. The oversized blocks come in a zippered canvas carrying bag so that you can take this fun-filled game to outdoor parties and picnics.
Add an extra layer of dimension, style, and personality to your home with the addition of an area rug. This beautiful rug offers a vibrant floral motif with a blue, green, red, and orange color palette and is water- and fade-resistant.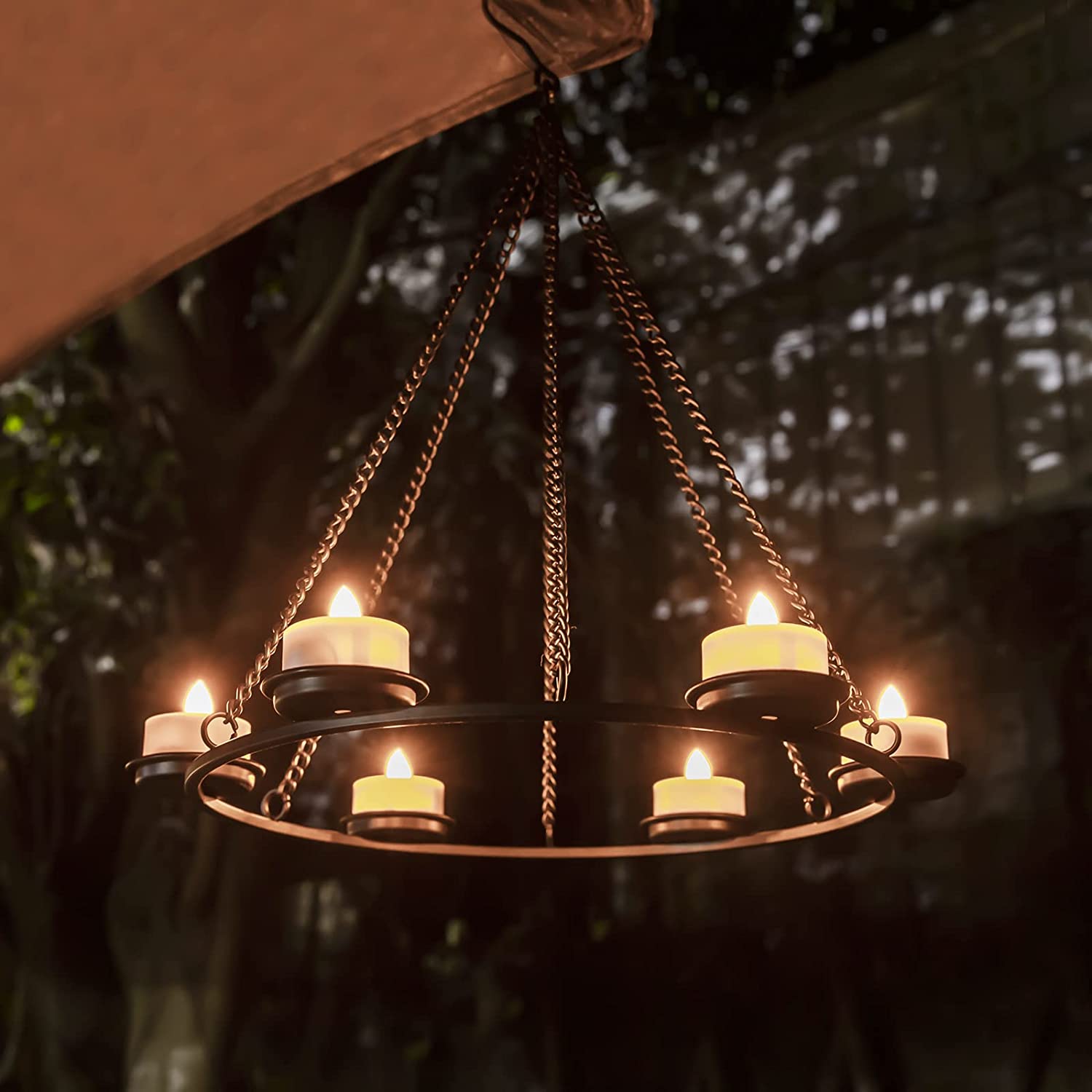 This Outdoor Tea Light Chandelier is perfect for a warm summer's night in the garden. Hang it from a tree or inside a bell tent.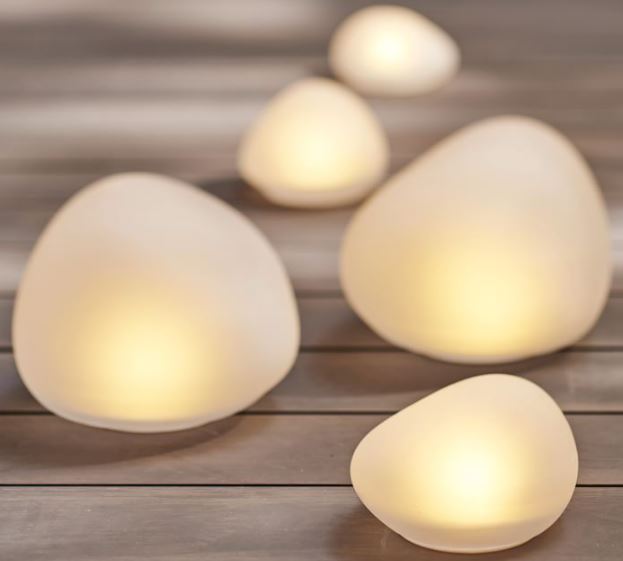 Twinkle, twinkle little stones. These outdoor-friendly pre-lit frosted stones can be placed anywhere you need a little wink of whimsy.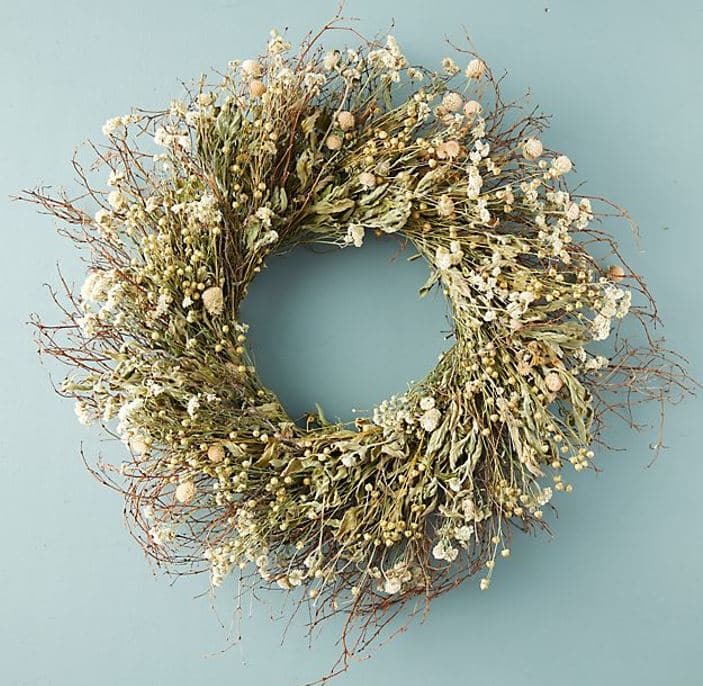 Hand-crafted by a woman-led team in Washington state, this organic, naturally-dried wreath takes on the delicate beauty of a spring meadow with a mix of twigs, grasses, and blooms.
Extend your living area to the outdoors by creating a beautiful backyard entertaining space. The options we've included are just a jumping-off point. Create an area where you'll love to entertain, read, or even get a little work done. 
Read Next:
Spruce Up Your Home for Spring
The post How to Create a Beautiful Backyard Entertaining Space appeared first on Prime Women | An Online Magazine.