25 Uniquely Japanese Gifts and Mementos
When coming to Japan, most people look for omiyage, or souvenirs to remind them of their trip. This article introduces places where you can find Japanese-style goods that would make great souvenirs.
1. Yukata
Price: 3,000-10,000 yen
Yukata, the light summer kimono, are a popular souvenir from Japan that many visitors from abroad like to purchase. Yukatas can be found in specialty kimono shops. In the summer you can even find them in major supermarkets such as Aeon or Ito Yokado. Yukata prices range between 3000 and 10,000 yen. The yukatas with traditional Japanese designs sold at UNIQLO, which cost roughly 3,000 yen, are very popular.
2. Kokeshi Dolls
Price: 1,000-3,000 yen
A kokeshi is a doll made from carved wood. Since it is made of wood, it matches well with other interior goods in non-Japanese households. You can find kokeshi dolls sold in toy stores, small item shops, or souvenir shops.
This unique umbrella in the shape of a kokeshi doll is also worth checking out!
3. Okiagari Koboshi Doll
Photo by pixta
Okiagari Koboshi are traditional Japanese dolls with charming features painted on them. Their name, "okiagari," means that they will stand upright even after pushing them down, symbolizing resilience.
Made of papier-mach, these small, lightweight dolls make an easy-to-carry, thoughtful souvenir. Like the kokeshi above, they are sold at small souvenir shops.
4. Ukiyo-e Woodblock Prints
Ukiyo-e is a type of Japanese artwork that was popular during the Edo period. It uses woodblocks to make prints and is said to be the world's oldest form of color copying.
These pictures often portray famous Kabuki actors, Mt. Fuji, the lively city life in the Edo period, and more. All have a distinctive style with a beautiful usage of color. Currently, ukiyo-e designs are used on many small items and stationery as well.
5. Chopsticks
Japanese chopsticks on a chopsticks holder
Buying a nice pair of chopsticks may be the first thing people have in mind when looking for souvenirs in Japan. Used daily in Japan, chopsticks can be found everywhere and all types of stores.
For those looking for quality lacquered chopsticks, stores like Tokyo Hands and Loft sell traditional, cute, and modern designs. 100-yen shops, like Daiso, also sell a variety of colorful chopsticks made of wooden material and plastic. Check out both options before you decide!
6. Wappa Bento Boxes
Picture from Shibata Yoshinobu Shoten, Asakusa - Traditional Japanese Craft Boutique
Odate magewappa is a type of traditional craftwork that comes from Akita Prefecture in northern Japan. It has been around Japan for several centuries, since the Edo period. This method weaves thin sheets of hinoki cypress and cedarwood together to create beautiful and durable goods, like bento boxes.
You can find these bento boxes at shops selling traditional crafts. In Tokyo, Shibata Yoshinobu Shoten, a craft boutique in Asakusa, is highly recommended. The bento boxes and items here are designed to last for decades and do, when used with care.
Getting a wappa bento box is environmentally friendly and will add excitement to everyday lunches.
7. Ninja Goods
You can find merchandise related to ninjas at the Asakusa EKIMISE shop, Ninja-ya. You will be able to find ninja stars (shuriken), fake swords, and ninja costumes. This is a great shop for ninja fans to check out.
There are also other places to purchase shuriken such as Nikko Edo Wonderland in Tochigi Prefecture or the in Ureshino, Saga Prefecture.
8. Japanese Fans (Sensu)
Price: 100-1,000 yen
A sensu fan is a budget-friendly item that also makes a great souvenir from Japan. You can find them at 100-yen shops, small item shops or sensu specialty shops such as Kyosendo. Traditionally in Japan, the sensu fan is carried around, tucked in the obi sash of a yukata. It would be great to purchase a fan along with a yukata.
9. Geta and Zori Sandals
Picture from Tsujiya In Asakusa - Find The Perfect Pair Of Footwear For Your Kimono
To complete a look with yukata or kimono, geta or zori, traditional sandals, are a must. This footwear will make the characteristic clip-clop noise as you walk down the street, a lovely sound that may even send shivers down your spine.
Geta and zori make a thoughtful gift for a loved one or for yourself. They are sold at souvenir shops in Asakusa, Kyoto, and other parts of Japan with a traditional townscape. In Tokyo, head to Tsujiya in Asakusa for high-quality, artisanal sandals.
10. Origami Paper
Price: 300-1,000 yen
Japanese origami paper is known for its colorful prints and high quality. It can be a great souvenir if youre looking for something authentic and fun. You can find origami paper in most stationery shops, but specialty stores like Ochanomizu Origami Kaikan will carry a vast variety of origami paper. There also offer classes where you can learn to make origami crafts. Anyone who would like to find out more about the exquisite art of origami should pay a visit here.
11. Noren Curtains
Price: 1,000-3,000 yen
A noren is a long, curtain-like fabric, split into two that is hung in front of the entrance of stores. Lately, many households hang a noren at the entrance of their house or use it as a room divider. You can purchase the noren in interior shops such as Nitori or shops that sell small items.
12. Tenugui - Japanese Towels

Price: 100-1,000 yen
A budget-friendly Japanese souvenir is the tenugui towel. These Japanese cotton towels were formally used to dry one's hands and body, but lately, towels with beautiful designs are put in frames and used as interior decoration.
Traditional towels can be found at 100-yen shops, at Tokyu Hands, as well as at souvenir shops or specialty shops such as Koiki in Shinjuku.
13. Furoshiki - Wrapping Cloth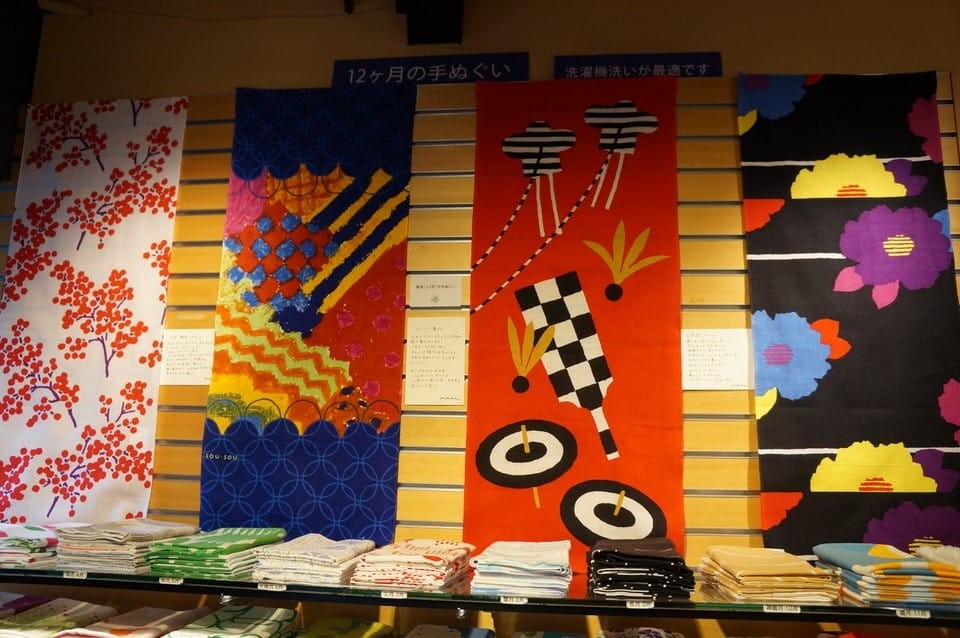 Price: 1,000-5,000 yen
A furoshiki is a large cloth used to wrap and carry luggage around. You can hold and carry items such as boxes, kimonos, wine, and all sorts of things in a furoshiki, just a bag.
Their designs can be traditional Japanese patterns or contemporary, chic ones, such as polka dots or even cute characters and animals.
14. Chochin - Japanese Lanterns
Price: 1,000-3,000 yen
The chochin is a lantern made of paper. You can frequently see them emitting red light at entrances of izakayas or yakitori (grilled chicken) restaurants. Normally, Japanese people do not hang them inside the house, but there are people outside of Japan who use it as a nice room decor. The chochin lantern can be found at home accessories stores such as Tokyu Hands.
15. Inkan Stamps
Price: up to 3,000 yen
Inkan, or hanko stamps are name stamps that are used in Japan instead of signatures. Pre-made inkan are at 100-yen shops, and you can also make one at Don Quijote. There are some inkan specialty shops where you can make your own original inkan name stamp for approximately 3,000 yen.
16. Bonsai Vessels
Price: 1,500-10,000 yen
In Japan, you can find low cost and good quality vases and vessels for bonsai. For instance, small vessels the size of your palm can be purchased for around 1500 yen. For those who would like to decorate their house with bonsai, it may be nice to find elegant ceramic vessels. You can find bonsai vessels at gardening shops. Although with a limited variety of styles, you can find them at 100-yen shops as well.
17. Lacquerware with Golden Decorations
Price: 5,000-10,000 yen
Gold lacquerware is a traditional craft using gold and silver powder sprinkled on dark lacquer to form a picture. Many souvenir shops sell jewelry boxes and accessories with beautiful gold lacquer designs. It can become high-end and quite expensive, but it would be a luxurious present for a special someone or perhaps even a gift for yourself.
18. Inden Leather Goods
Price: 2,000-10,000 yen
Inden is a traditional Japanese craft with patterns printed with lacquer on deer leather. At inden leather specialty shops, coin purses, business card holders, glasses cases and bags can be found; these items are also sometimes sold as select shops such as Tokyu Plaza Ginza.
Small items such as coin purses are around 2,000 yen.
19. Kanzashi Hair Accessories
Price: 2,000-10,000 yen
Kanzashi is a Japanese-style hair accessory. Even modern hairstyles with kanzashi are popular. There are even kanzashi specialty shops such as Kanzashiya Wargo, a rental kimono shop that sells kanzashi with casual designs for around 2,000 yen.
If you are searching for a more traditional kanzashi, for example like the ones a geisha would use, you can find them at kimono shops. Authentic kanzashi can range from 5,000-10,000 yen depending on the style.
20. Furin - Wind Chimes
Price: 1,000-3,000 yen
Furin is a wind chime that is commonly hung under the roofs to enjoy the melody of the glass bell as it is gently blown by the wind.
On hot summer days, the distinctive sound of the reminds us of cool breezes. The furin wind chime can be found at shops that carry interior goods or at Tokyu Hands.
21. Edo Kiriko Glass Items
Price: 5,000-10,000 yen
Edo Kiriko is a traditional Japanese craft from Tokyo where glass is cut into beautiful designs. Stylish and refreshing glass pieces such as Japanese sake cups, whiskey glasses, champagne glasses, and vases can be found.
Small glass cups start at around 5,000 yen. An Edo Kiriko glass is a wonderful souvenir for someone who likes to drink.
22. Traditional Toys
Price: 1,000-3,000 yen
Regional toys that have been enjoyed for generations can be great gifts for children, but they can become cute interior decorations as well.
23. Tsurushibina Dolls
Price: 1 row: 2,000-5,000 yen
Tsurushibina are small, traditional fabric dolls made to wish for the happiness of children. The dolls are then threaded into a row and hung from the ceiling.
Normally, these dolls are displayed annually during the Hina Festival in March, but they can be used as decorations year-round as well.