ALDI Finds for the week of 6/15/22 include Alex's Lemonade Stand, Father's Day cards, the cold brew coffee system, a spin mop, and more. Check them out below, and let me know what you want to Find this week.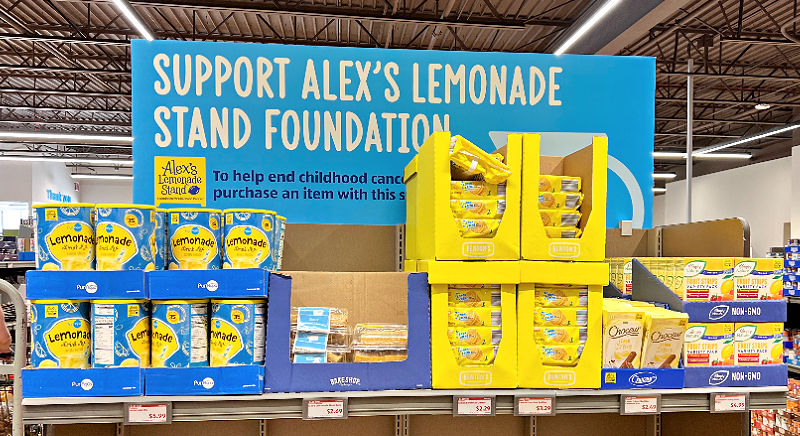 ALDI is again this year partnering with Alex's Lemonade Stand to help fight childhood cancer. You can donate online, or purchase various lemon-themed items in store starting 6/15 to help contribute. Participating products include:
72.5 oz PurAqua lemonade mix, $5.99
Benton's lemon sandwich cremes, $1.99
Bake Shop dessert bars in lemon or butter, $4.69
Moser Roth lemon chocolate truffles, $3.29
Simply Nature lemonade variety fruit strips, $4.99
ALDI small recycled eco-friendly bag, $.99
Emporium Selection lemon Wensleydale cheese, $3.99
Sundae Shoppe Alex's Lemonade Stand bars, $2.69
Two Good meyer lemon Greek yogurt, $1.22
Choceur lemon creme chocolate bars, $2.49
(The eco-friendly bag is lemonade stand themed.)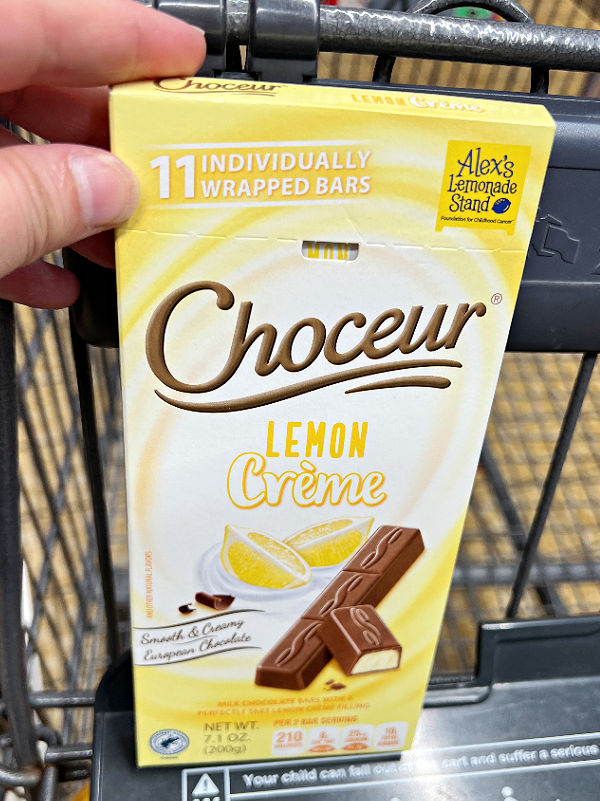 These Choceur bars weren't in the sneaky peek ad, but were out on the Alex's Lemonade Stand display at my store. Be on the lookout, in case you spot more unadvertised Alex's products.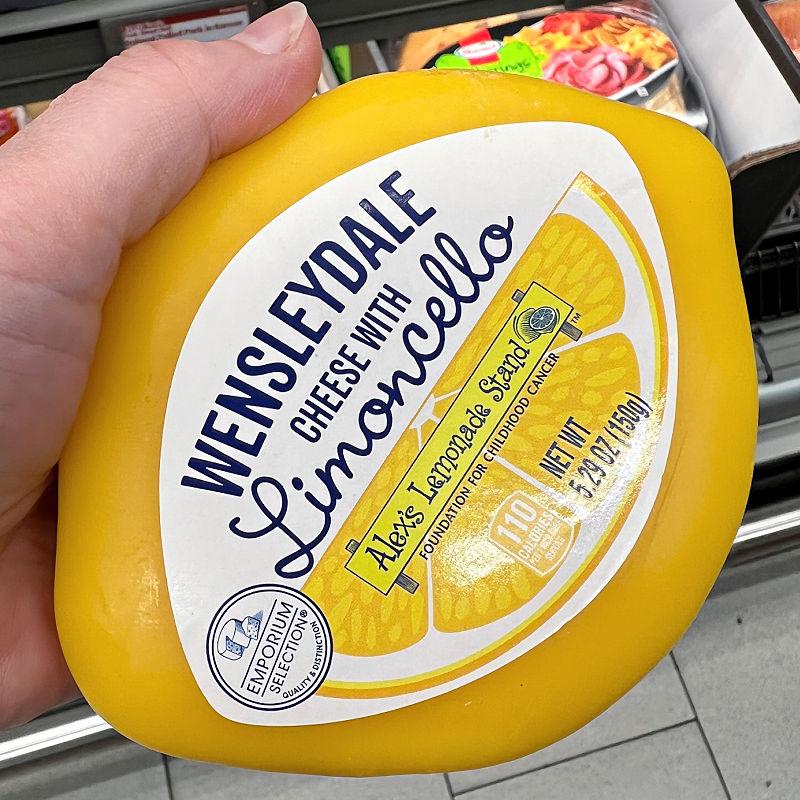 Lemon fans, this is definitely your week — you have a little bit of everything to choose from here. Plus, help support a good cause with your purchases.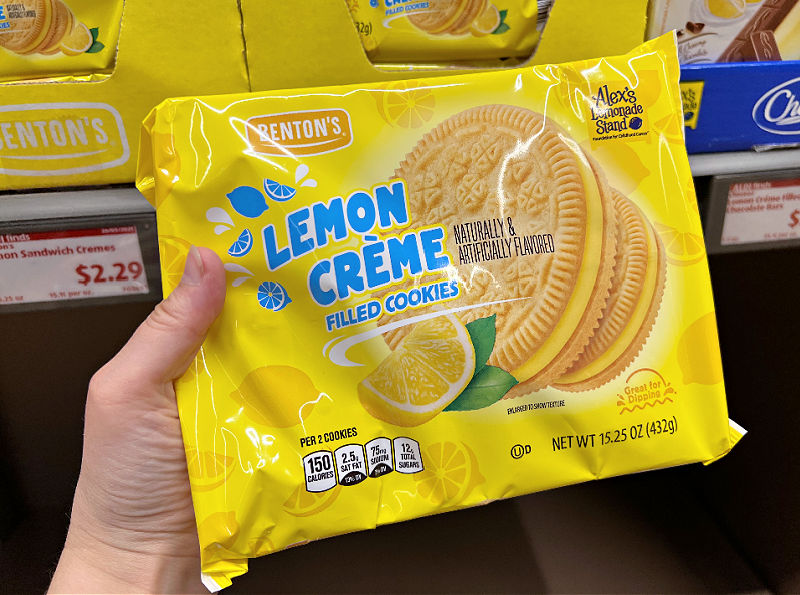 Note that both advertised and unadvertised ALDI prices can vary by store and by region. Now, let's run down the rest of the top ALDI Finds for the week of 6/15/22. You may also Find some on 6/12/22 in Sunday ad markets, or if your store tends to put products out early.
Top ALDI Finds of the week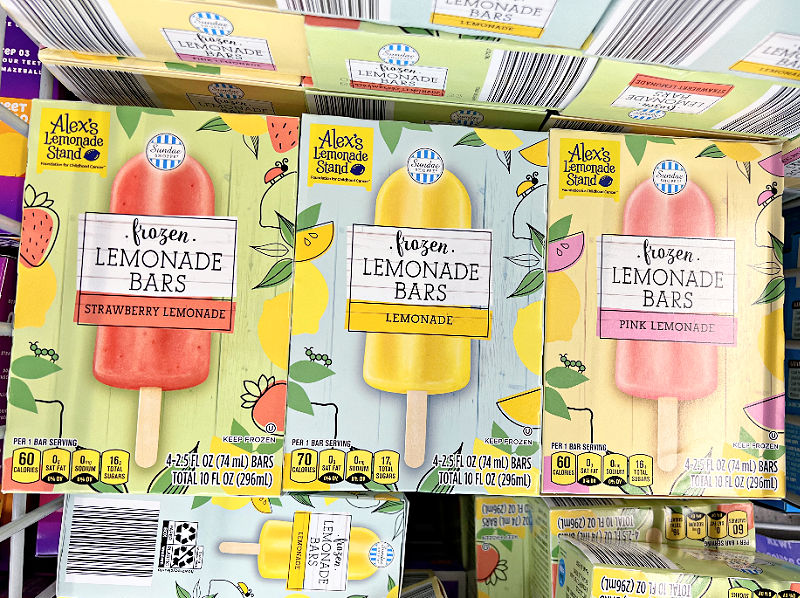 In addition to all of the great Alex's Lemonade Stand items, here are ten more top food Finds (plus patriotic treats), as well as thirty more non-Food Finds (plus plants & outdoor items), all for the week of 6/15/22.
Top 10 food Finds this week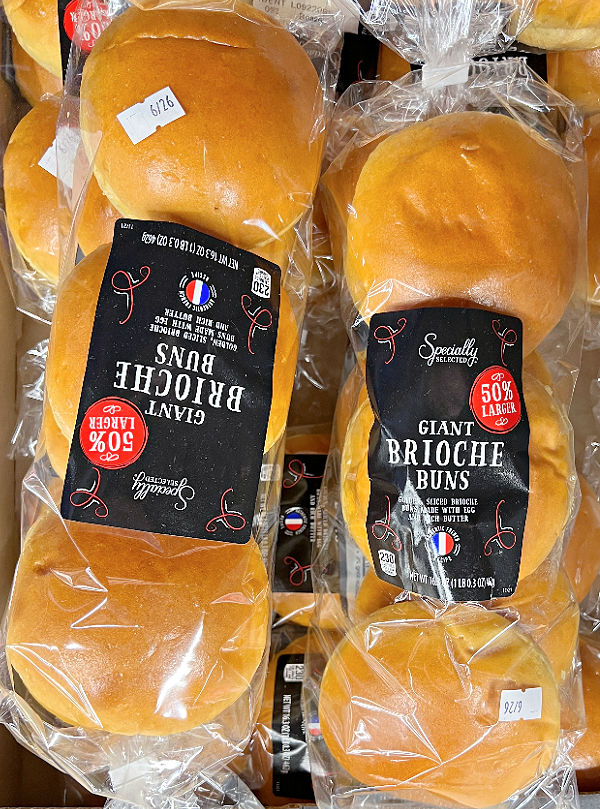 Some good food Finds right now include:
Specially Selected giant brioche buns, $4.29

Park Street Deli bulgogi pulled pork in Korean BBQ sauce, $5.99

24 oz Barq's root beer squeezies, $3.99
Belmont all American or key lime cheesecake, $12.99
Cattlemen's Ranch all American or Texas BBQ beef patties 2 lbs frozen, $8.49
Fremont Fish Market large, raw, peeled, & deveined wild Gulf shrimp, $7.99
32 oz Kirkwood Roma or Hawaiian chicken patties, $9.49
Pescatore seafood skin-on pink salmon 16 oz, $5.99
Whole & Simple burritos, $1.99
Clancy's onion snack rings, $1.99
Those giant brioche buns look pretty tempting, don't they?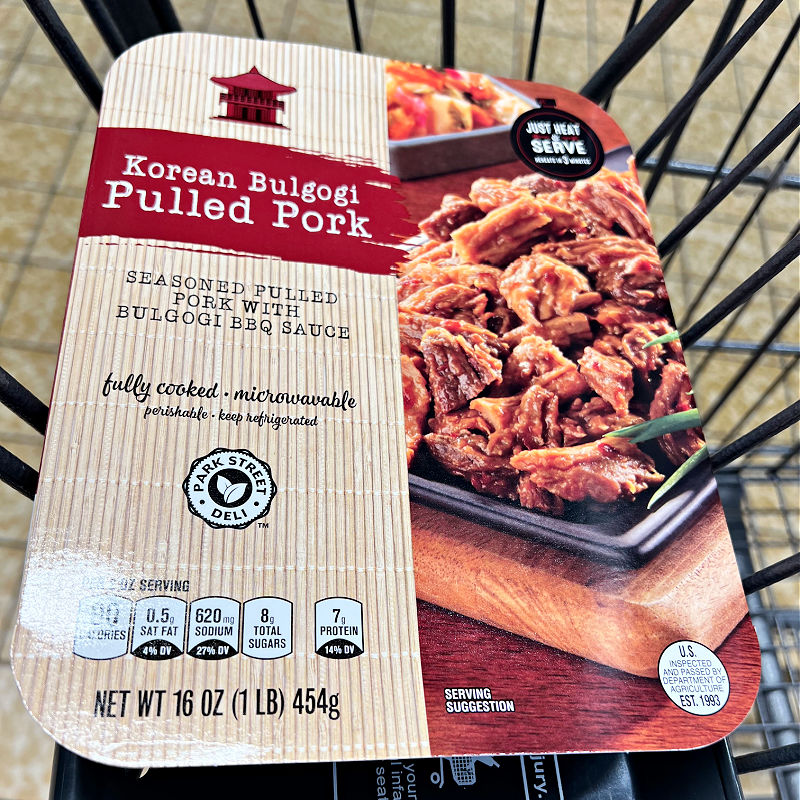 Maybe try yours with some of this heat-and-serve bulgogi, which is somewhat intriguing.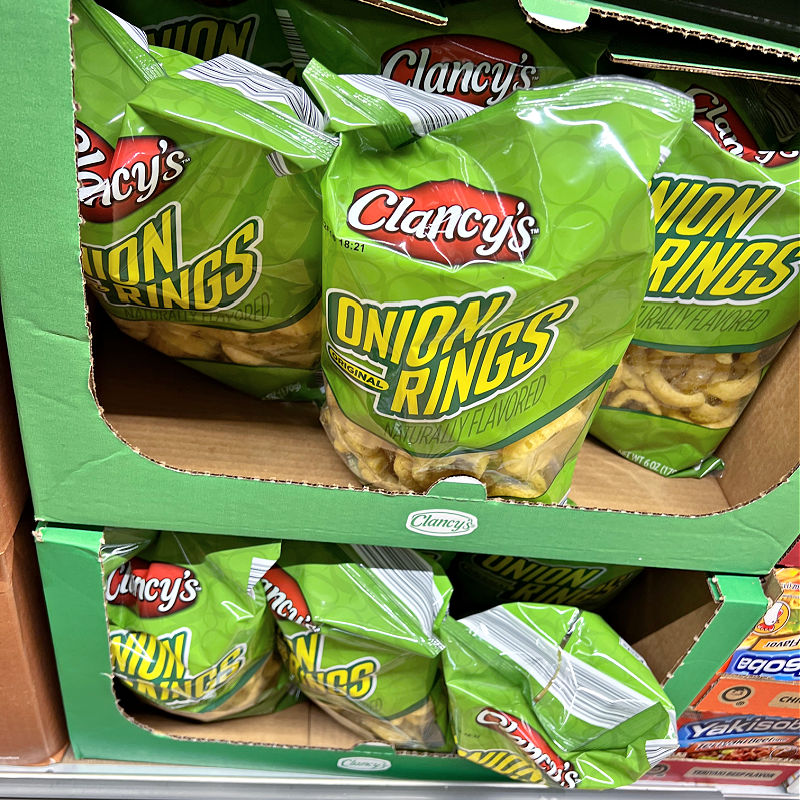 And some crunchy Clancy's onion rings on the side, perchance?
Patriotic treats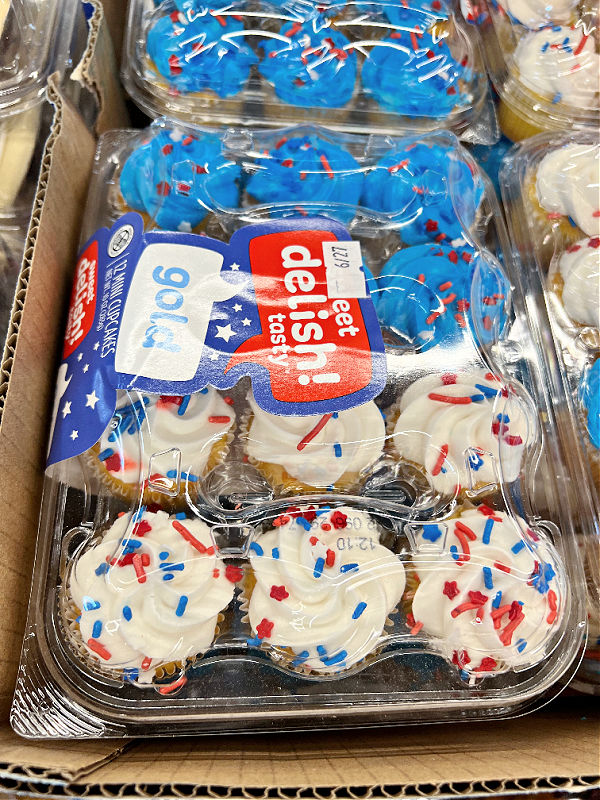 Tuesday June 14 was Flag Day and we have the 4th of July coming up soon — so, here come the patriotic sweets and treats!
Delish patriotic mini cupcakes, $3.29
Patriotic brownies, $4.29
Lofthouse patriotic frosted sugar cookies, $3.29
Hostess red, white, & blue Twinkies, $3.12
Pillsbury flag shaped cookies, $2.49
Red, white, & blue Sour Patch kids 1.8 lbs, $4.98
Nabisco fireworks Oreos, $3.95
I have to say I'm a little a little disappointed that we seem to be running into more and more of the name-brand (more expensive) treats, though…
Top 30 non-Food Finds this week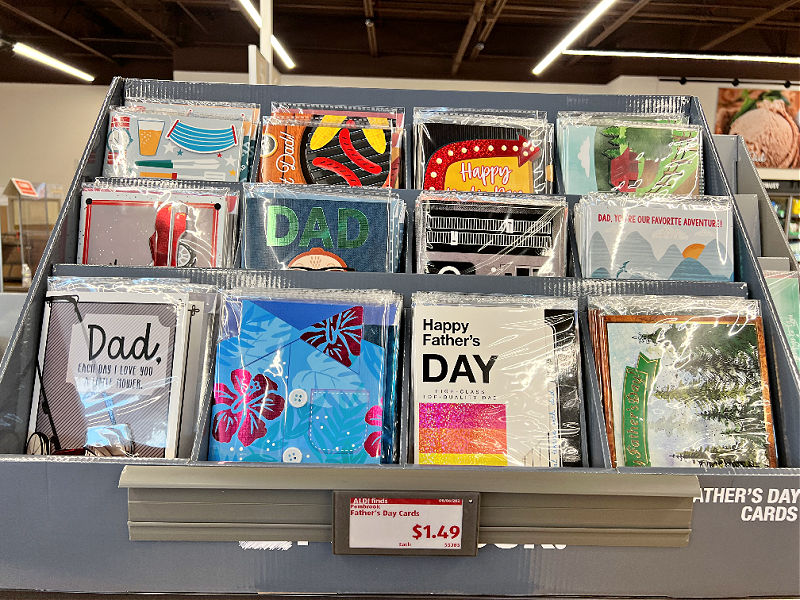 Some very nice cards are out for Father's Day this coming Sunday — but, be aware that the price has gone up a whopping 50%. Our usual $.99 ALDI cards are now up to $1.49. 30 more non-food Finds this week include:
Huntington Home spin mop, $24.99, or 2-pack spin mop refills, $6.99.
Boulder 37.5′ heavy-duty aluminum foil, $2.99
Boulder six triple roll paper towels, $8.99
Crane foldable utility tote, $8.99
Easy Home 20″ air circulator fan, $4.99
Huntington Home indoor/outdoor tablecloth, $9.99
Huntington Home sculptures door mat, $8.99
Huntington Home vintage-style bulb wax warmer, $9.99
Huntington Home 10-tier shoe tower, $24.99
Huntington Home soap dispenser or sponge holder, $4.99
Crofton 12-piece glass bowl set with snap lids, $16.99
Crofton cold brew coffee system, $12.99
Crofton insulated to-go tumbler, $7.99
Crofton glass beverage dispenser, $18.99
Crofton serving platter or six-piece bowl set, $9.99
Crofton ice cube assortment, $3.99
Crofton silicone kitchen assortment, $5.99
Huntington Home 3-wick candle, $3.99, single-wick candle, $2.49, macaron candle collection or macaron candle, $7.99, or luxury candle with cloche, $9.99
Huntington Home summer gnome, $8.99
Huntington Home reversible box sign, $4.99
Crane 2-pack ladies' seamless sports bras, $9.99
Crane ladies' running tights, $12.99
Crane men's or ladies' cross trainers, $12.99
Licensed children's character sunglasses, $4.49
Lily & Dan girls' maxi dress, $9.99, or Serra ladies' maxi dress, $12.99
Serra automatic umbrella, $6.99
Children's character trekking sandals, $12.99
Serra ladies' summer sandals, $9.99
Serra city tote, $8.99
Serra ladies' 3-pack viscose from bamboo underwear, $7.99
They have matching women's and girls' maxi dresses, if you want to twinsie. And, $12.99 is a great price for the cross trainers!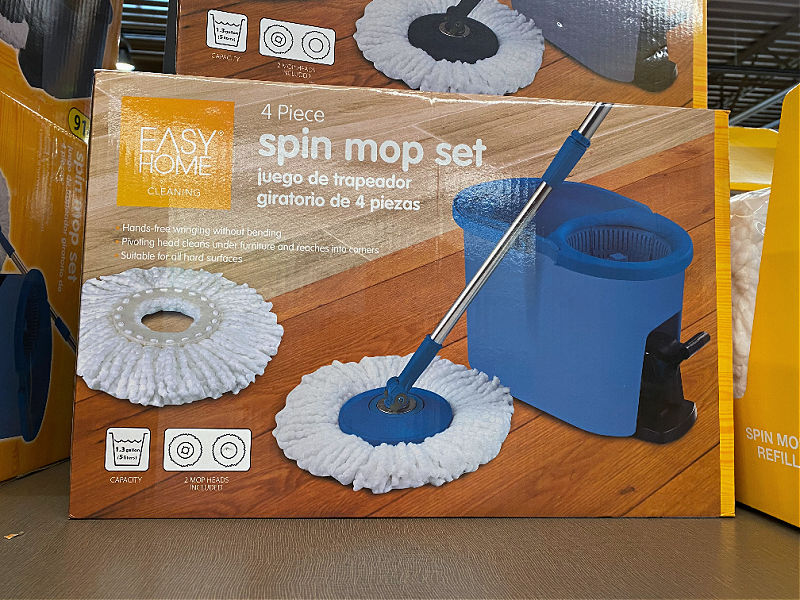 ALDI's spin mop is back this week in either gray or blue, but is now rebranded as Huntington Home, rather than Easy Home as in my older photo here.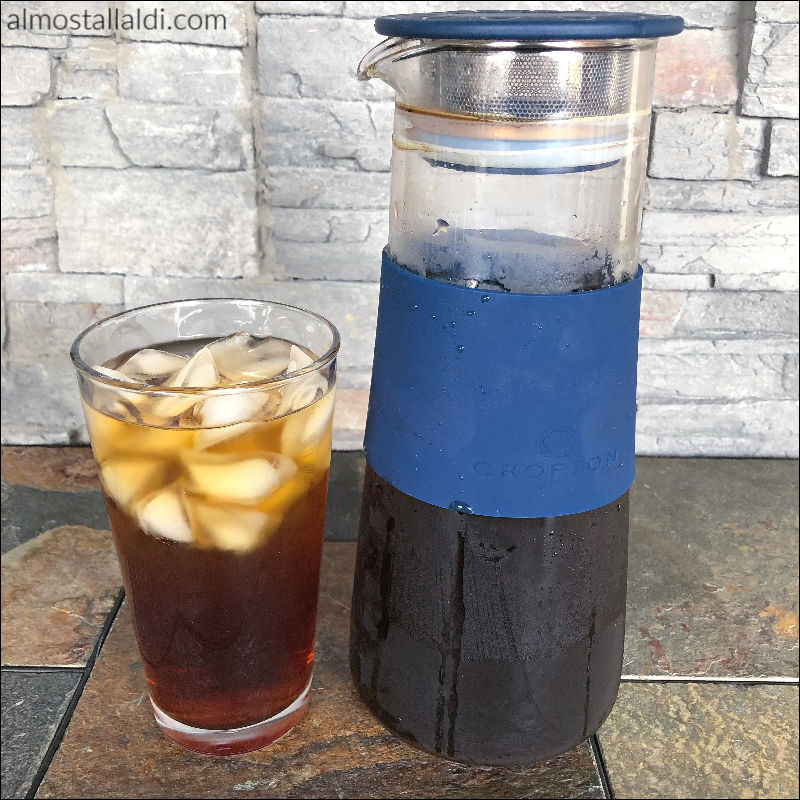 And the infamous Crofton cold brew coffee system has also returned this summer. Mine from a few years ago is still working great making delicious coffee, and it's a great money-saver over buying pre-made if you go through a lot of cold-brew. The carafe is slightly different this year, but it's the same basic concept — and, this cold brew coffee maker is now up to $12.99. Here's my review of the older model, plus a little run-down on how to use it.
Plant and outdoor Finds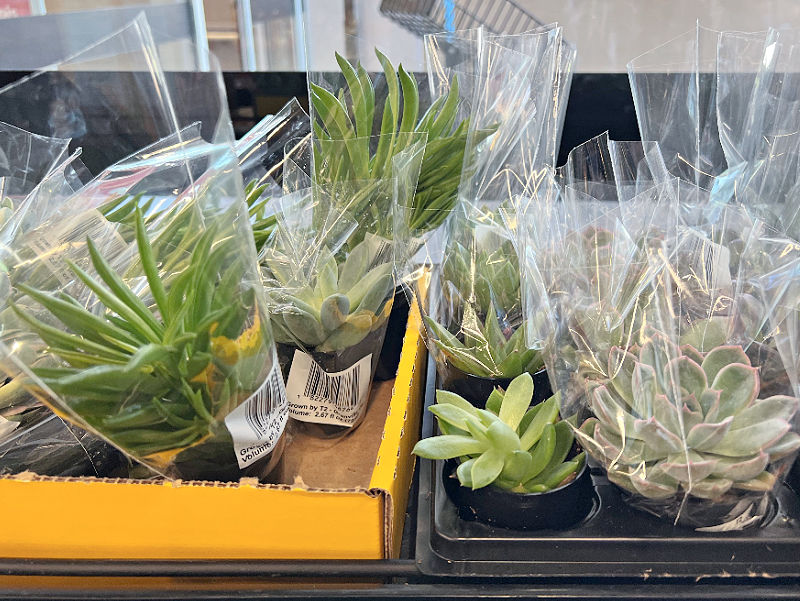 Our summery plant and outdoor Finds also continue this week, and include:
Huntington Home summer reversible porch sign, $14.99
Belavi trellis, $12.99
Belavi 14″ hanging basket, $5.99
Belavi hanging basket stand, $16.99
Mini succulents, $1.99
Assorted foliage in watering can, $7.99
Lacura after sun aloe vera gel 16 oz, $3.45
Lacura SPF 100 sunscreen 3-5 oz, $5.49
Step2 water bug splash pad, $39.99
Bee Happy swing seat or disc swing, $11.99
Baden basketball, football, or soccer ball, $8.99
Adventuridge camping floor mat, $24.99
Adventuridge director's chair, $64.99
Adventuridge 6-person tent, $59.99
Gardenline mini drop-over greenhouse, $19.99
Gardenline decorative garden hand tool, $3.99
Gardenline power blaster, $14.99
Gardenline watering wand, $6.99
Belavi patio egg chair, $449.99
Belavi mini raised planter, $19.99
Belavi decorative flower step, $29.99
Belavi stacking chair, $34.99
Belavi glass folding table, $24.99
Belavi 105-gallon deck box, $109.99
Belavi 5-pack solar disk lights, $19.99
Belavi wood-burning pyramid chiminea, $179.99
Belavi large fire pit with wood storage, $219.99
Belavi solar outdoor lantern, $12.99
Belavi solar garden stake, $12.99
Belavi basket stake, $9.99
Seriously, outdoor items comprise the largest section of non-Food Finds in this week's ad, so you can get your patio and yard all decked out before your 4th of July BBQ.
What's Up with ALDI Finds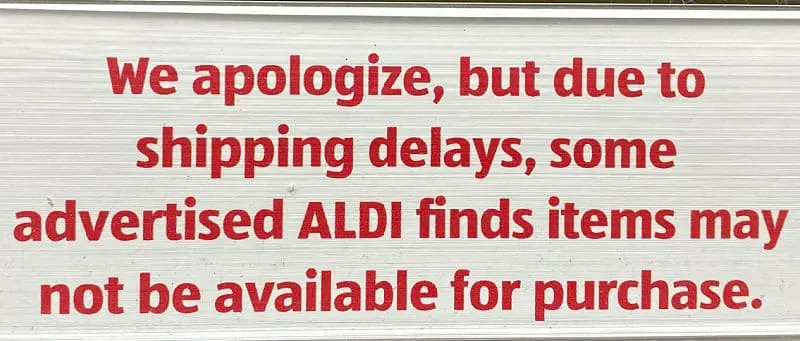 What's up with ALDI Finds? Well, these are limited time special buy items that are available in stores only while supplies last. So if you spot something you like, be sure to pick it up while you can. See also: What is the ALDI Aisle of Shame?
Before shopping for new Finds this week, you might also wish to visit the ALDI Finds product delays page. Because of ongoing shipping delays and materials shortages affecting ALDI and many other retailers, certain advertised products may not be available in all locations.
Finding the Finds
Where do you Find all of this week's special buys?
Check out the "ALDI Finds" and current weekly ad tabs (or mobile menu choices) on the ALDI site to window shop from home.
If you're planning an in-store shopping trip, use their online ad to help determine what you'll grab and purchase if you do see it in the store.
Products mentioned in this post were either spotted in store or are from the ad starting 6/12/22 in Sunday ad markets, 6/15/22 in Wednesday ad markets. What caught your eye among this week's ALDI Finds?