It was all cloudless sunshine and blistering heat one week, then grey climes and torrential downpours the next. It's here, folks; we're in the thick of Hong Kong summer. If your itinerary for June feels as mercurial as the weather, consider this list of 'things to do' a handy-dandy cheat sheet. Heavy lifting, done. You're welcome! Go have fun.
If you're keen for a glass (or two)…
Mott 32's sommelier sessions
When: 6–10pm every Monday and Tuesday
Highbrow Chinese contemporary dining institution Mott 32 is introducing all-new 'Sommelier Sessions' for summer, allowing diners a fifty-percent discount on a selection of the restaurant's wine list every Monday and Tuesday evening. Mott 32's resident sommeliers Marie-Paule Herman, Ben Mok and Rin Mohamad will be on hand to curate perfectly-paired selections to complement Chef Lee Man-Sing's regional Chinese cuisine — a considered choice for each table's order, ensuring a top-of-the-class wined-and-dined experience. Typical Mott 32.
Mott 32, Basement, Standard Chartered Bank Building, 4-4A Des Voeux Road Central, Hong Kong, +852 2885 8688 
If it's beauty you're after…
Having just opened its doors to the public on 31 May, Beauty Botanica is set to become Central's leading beauty and wellness destination for premium and clean beauty products in Hong Kong.
Exclusive to Beauty Botanica, the store houses several brands that can't be found anywhere else in Hong Kong. Highlights include:
LUMI: High-quality, cruelty-free products with no parabens, mineral oils, or artificial fragrances.
Wildheart Organics: Offering an exclusive experience that invites guests to blend their own personalised fragrances.
CONSCIUS: Retailing six niche online brands, including environmentally safe, The Kind Sunscreen, BEING, hande, MELYON, MAYDE TEA, and 3rd Ritual.
EVOLCARE: clean, cruelty-free skincare packaged in handy single-dose packaging.
Monastery: Organic, natural products sourced from small farmers.
Beauty Botanica, Shop 312-314, 3/F, Landmark Atrium, The Landmark, 15 Queen's Road Central, Central, Hong Kong
Harbour City's 'Beauty Mart'
When: Through 20 June
Harbour City's Ocean Terminal Lobby — directly across from Lane Crawford — has been transformed into a bazaar-style avenue of discovery through the month of June. Self-proclaimed 'Hong Kong's first beauty-themed local market', Beauty Mart operates along three key themes: 'Rose', 'Tea' and 'Vegan'; the latter-two's correlation with health and food summarise the market's modus operandi: Seeing beauty as a holistic aspiration, beyond skin-deep cosmetic procedures and focusing, too, on gut health and mental well-being.
Brands on-site include The Big Things Kitchen, The Nutter Company, Hong Kong Tea House and much more. Learn more here.
Ocean Terminal Lobby, Harbour City, 3 – 27 Canton Road, Tsim Sha Tsui, Kowloon, Hong Kong
If you're scratching your head for activities to do with friends…
When: May to July
Arriving at the cusp of summer from the creators that brought Ferris Bueller's Day Off to the Central harbourfront is The Lawn Club; an experience that replicates that of The Grounds. However, instead of a passive watch-only experience, it's interactive. Lawn games. Live entertainment. The works.
Prices for a 4-person pod starting at HK$600, while 4-person 'Prime' pods — which exchange sun loungers for cushioned sofa seating and occupy the space directly across from the LED screen — are priced at HK$1,000. Book your session here.
The Lawn Club, Hong Kong Observation Wheel and AIA Vitality Park, 33 Man Kwong Street, Central, Hong Kong
The Daily Tot's 90's Trivia Afternoon
When: 27 June
Grab a team of four or six, brush up on your Spice Girls lyrics and join in on The Daily Tot's 90's-themed trivia afternoon; considering the buzz surrounding the just-released 'Friends' reunion episode, this cannot come at a better time. Prices for entry are HK$500 per person, which includes free-flow and chances to win fun prizes.
Pro-tip: The best-dressed group will be in the running for a special prize — bring on the tattoo-chokers and butterfly clips.
The Daily Tot, Felicity Building, LG/F, 58 Hollywood Road, Central, Hong Kong, +852 2366 6836
If your wardrobe needs revamping for summer…
Aerie x Common Ground pop-up
When: Through June
Mark your calendars: Aerie by American Eagle — the lounge- and activewear subsidiary that celebrates body positivity, self-empowerment and absolutely no retouching — lands in Hong Kong mid-June in the smack-dab of Queen's Road Central. In anticipation of the grand opening, Aerie will be collaborating with Common Ground for a month-long pop-up through June, effectively turning the café into 'Aerie Café', whereby a HK$10 discount can be accrued upon following @AerieHK on Instagram.
Common Ground, 19 Shing Wong Street, Central, Hong Kong
Since the reopening of its Pacific Place space in 2019, Harvey Nichols Hong Kong is finally sailing beyond the mundane bracket of luxury fashion retailer and into uncharted waters as an experimental retail space. Introducing Sandbox, a zone designed for free-rein creativity; not reserved only for the refines of sartorial collections, but the embracing of different cultural facets. In celebration, three new contemporary brands — HUF, Rip N' Dip and Chinatown Market — have been added to the retailer's portfolio.
Harvey Nichols Sandbox, Harvey Nichols, L2, Pacific Place, 88 Queensway, Admiralty, Hong Kong, +852 3968 2668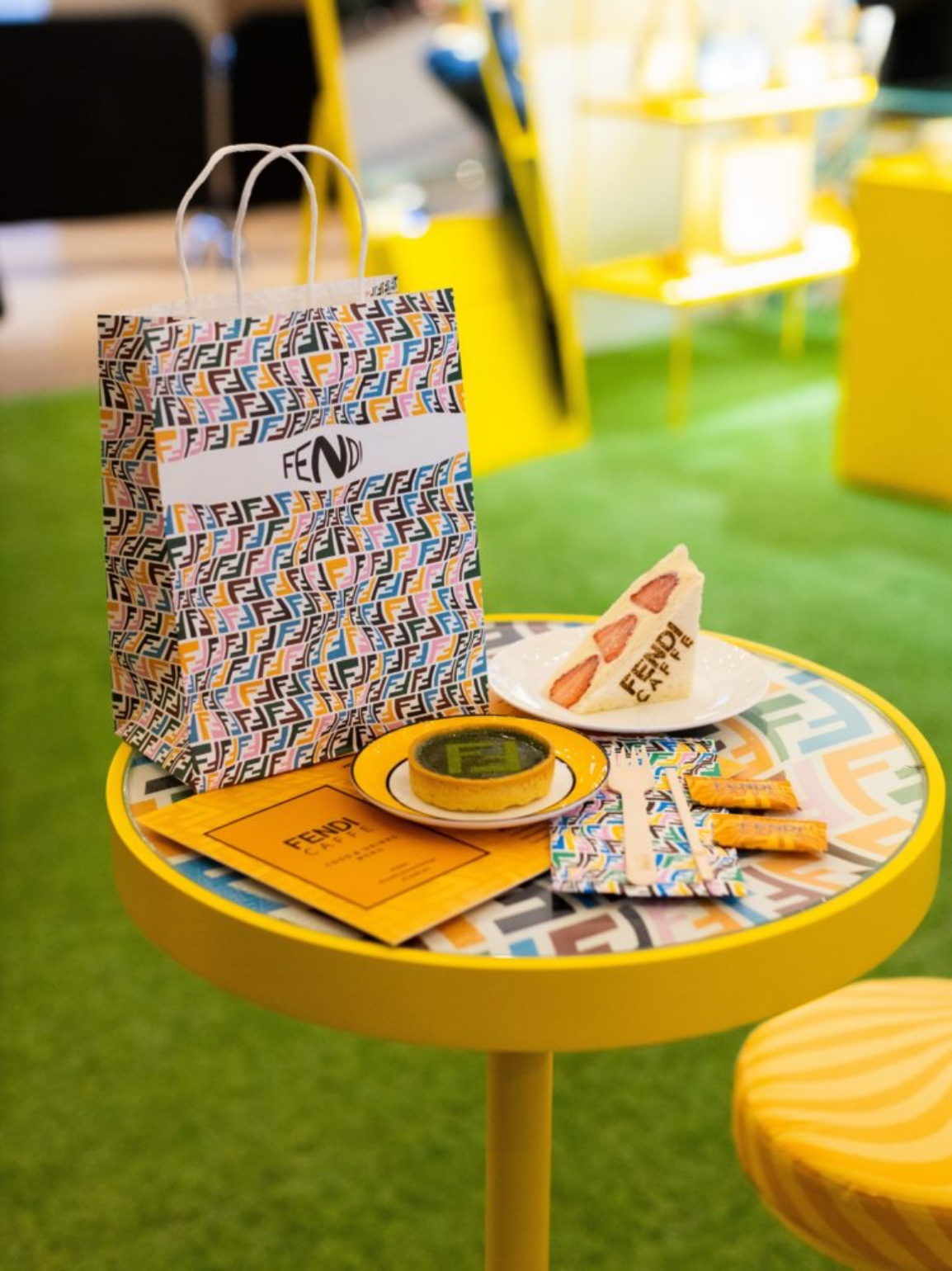 When: Through 6 June
Stroll through the Fendi Summer Vertigo collection, take a breath and kick back on the nearby benches — swathed in the same groovy 70's-inspired pattern — with a treat off the Fendi Caffe coffee truck, courtesy of Between Coffee. A cuppa of the deliciously brewed coffee with the cocoa-dusted logo and the 'FF'-stamped yuzu caramel cookies and dark chocolate tart, unique only to this Fendi glamp-site, makes for a most luxurious afternoon.
Atrium II, G/F, Gateway Arcade, Harbour City, Tsim Sha Tsui, Kowloon, Hong Kong
Havaianas's pop-up at ifc
When: Through 11 November
Brazilian brand Havaianas arrives at ifc with a limited-time showcase of its signature flip-flop in a myriad of bright colours and even brighter patterns perfect for the summer season. While they may not tread on sandy beaches on far-flung islands for two blissful weeks, strutting on neat pool-side tiles feels like a worthy runway for the season-new zingy neon and glitter-dusted sandals. Also on display are the exclusive Tradi Ziro range that fuses the classic Havaianas silhouette with Japanese Zori sandals.
Havaianas ifc, shop 3092B, Podium Level 3, 8 Finance Street, Central, Hong Kong
The post Things to do in Hong Kong this June 2021 appeared first on Lifestyle Asia Hong Kong.