We just got back from a quick family vacation to San Antonio, Texas – it's about two hours away from us here in Austin, and it's such a fun place for a quick getaway! I shared some looks at our trip on Instagram stories and had lots of questions about things to do in San Antonio with kids. So, I thought I'd do a little roundup of our favorite family-friendly activities and restaurants in San Antonio!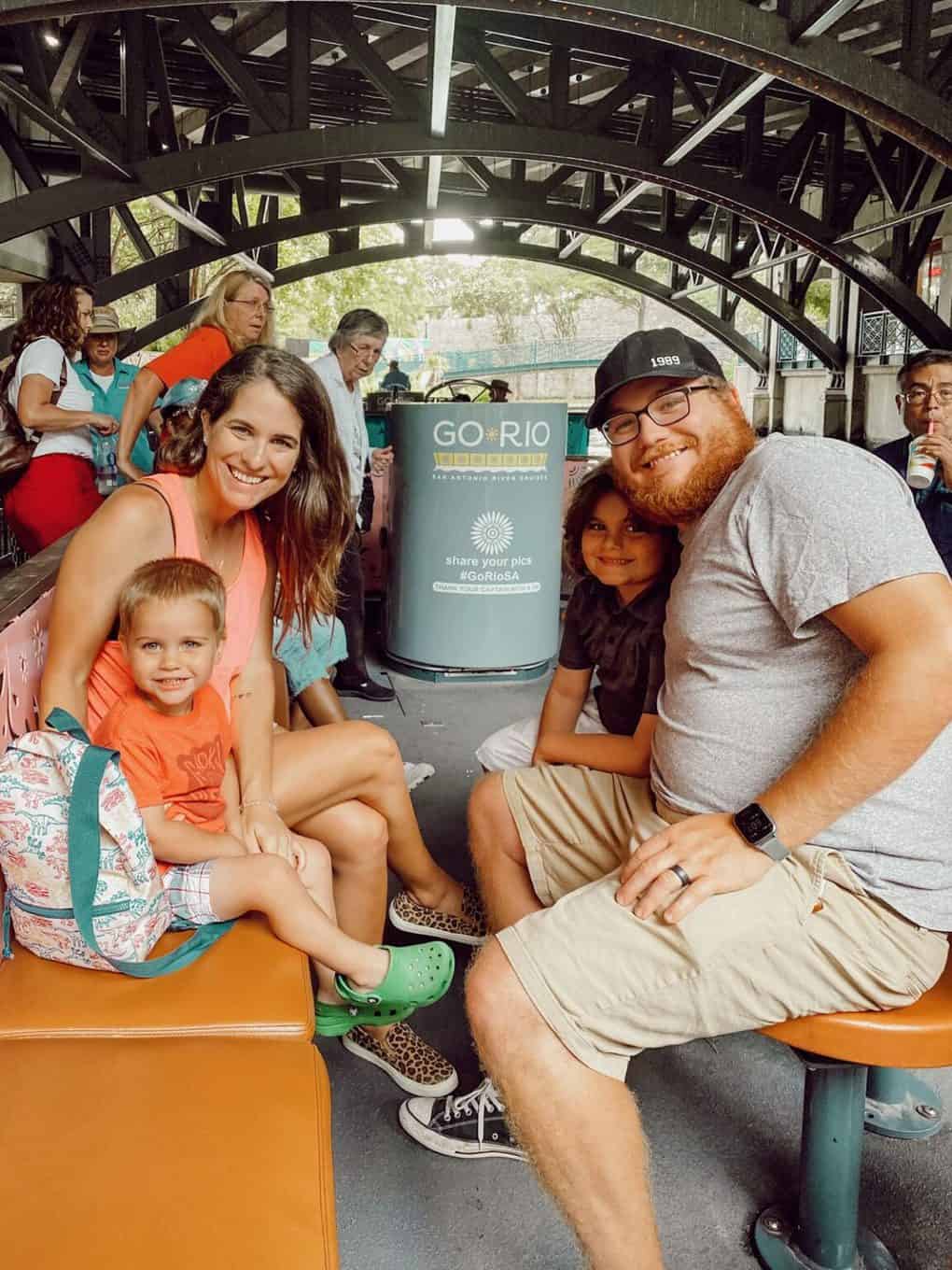 We stayed in the Mariott Rivercenter hotel. It's really centrally located, which we loved, and it's easy to walk to just about anything you want to do. The hotel was great, the pool was fine, and overall it was a good choice. Next time, we might try to find a hotel with a hot tub, but that's a minor complaint!
If you're looking for something a little more historic, the Menger is a classic option. But, fair warning, it's notorious for being haunted! And, having stayed there myself I can attest to this – nothing crazy, but I 100% heard children playing loudly in an empty hallway. It's a gorgeous hotel, though, and also really well located!
Let's jump right in – here are a few of our favorite things to do in San Antonio with kids.
Things to do in san antonio with kids
This is probably one of the most obvious options, but the zoo is always one of our very favorite places to visit with the kids. Corey and I used to spend a ton of time at this zoo together when we were younger and it was so special to bring the kids there with us. We paid $5 to feed the giraffes (totally worth it!), and they're also currently doing a special Dragon Forest exhibit. It's behind the zoo parking garage and is a little walking path with a bunch of big animatronic dragons. It was an extra $5 per person and it was cheesy but the kids loved every second of it. Your mileage may vary depending on what your kids are into, but Jackson loved it more than the actual animals so it was worth it for us.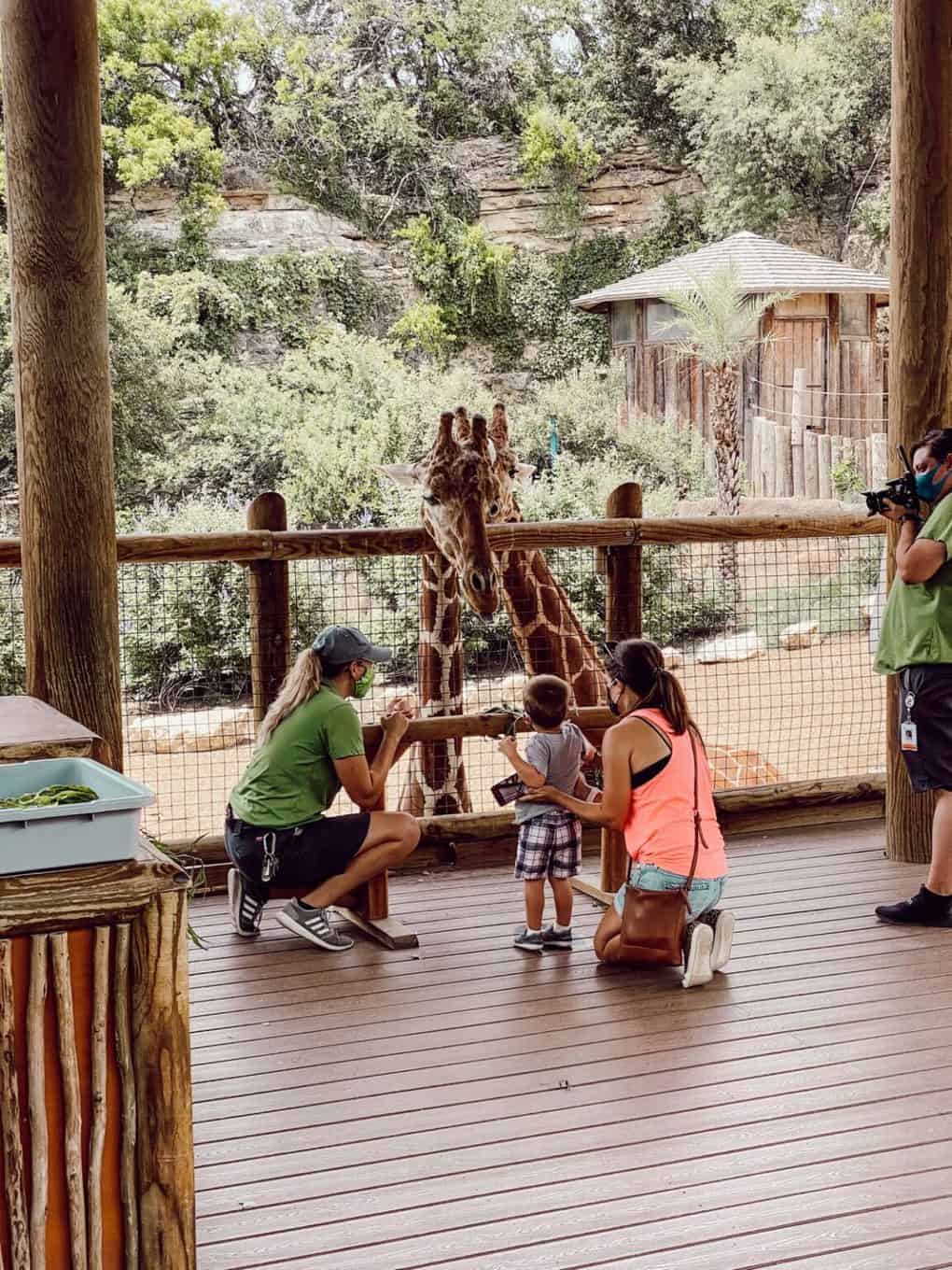 This is a newer attraction in San Antonio, and it was so fun! I think Corey was more excited about it than the kids were at first, but we all ended up having a great time. We were most impressed by the ginormous LEGO replica of downtown San Antonio. I could have hung out in that room all day looking at all of the tiny details and watching it change from day to night. The boys loved the little rides they had, playing on the LEGO-themed playscape inside, and the LEGO 4D movie theater. I liked that it didn't feel like you were nickel and dime-d when you got in. The only thing you had to pay extra for was a virtual reality ride that our kids weren't interested in. Everything else was included in the price of admission.
Right next to Legoland is the brand new SeaLife attraction. You can buy combo tickets to both (which is what we did), and you enter through the same entrance. It's a small aquarium with some really fun themed displays and a couple of interactive exhibits. Corey is a huge aquarium fan and thought this was really fun. I was a bit underwhelmed with it, but the kids had a good time. I don't know that I'd be eager to do this one again – next time I'd prefer to go to the actual San Antonio Aquarium.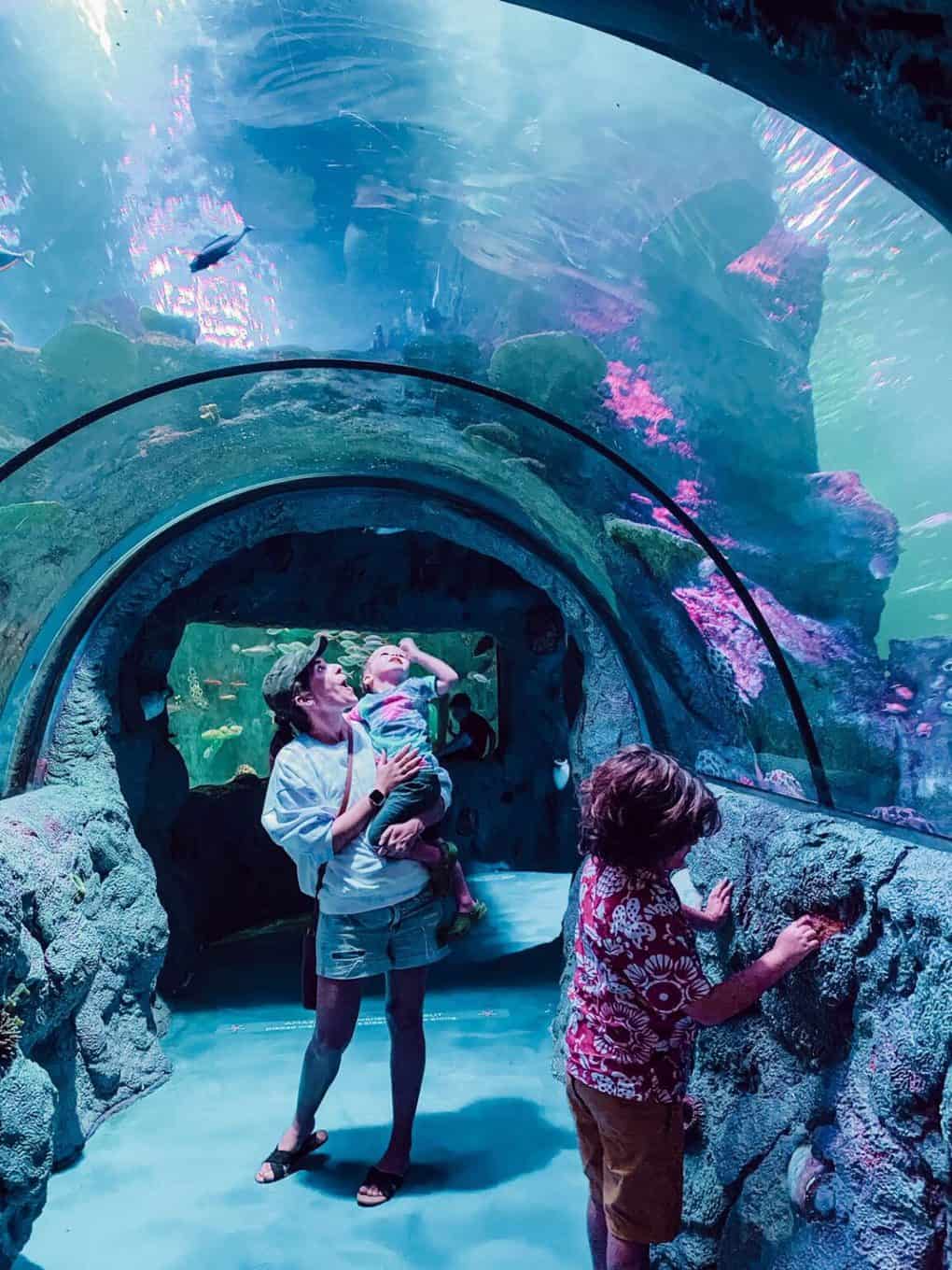 This was hands down Grant's favorite part of the entire trip and he kept asking to go back every time we saw another boat. Learning about the history of the riverwalk and seeing all of the sights makes this really enjoyable for the adults, and the kids just think it's cool to be on a boat! I highly recommend this little tour if you're going to be spending time on the Riverwalk. Try to go in the middle of the day when the crowds are a little smaller, and be sure to remember there are 3 or 4 different entry points. So, if the line is long at one of them, you can always walk a bit and try the next one!
We didn't originally realize that you have to pay just to enter the Tower of the Americas, but the kids were so excited to go up to the observation deck so we just rolled with it. This was a little expensive (and felt unnecessarily so), but it was fun! Plan on taking your time here if you go! There's a 4D theater that plays three different movies and you can watch them all if you want to. You have all day to. come in and out as you please after you get a wristband, so you can plan on coming back later in the evening for dinner in the restaurant or to just grab a drink and a snack in the bar.
Just about every kid who went to public school in Texas has visited the Alamo on a field trip. I somehow had never been for an official tour (even though I've been to San Antonio dozens of times over the years!), so we took the boys to walk around. It's free to visit, but to get an actual tour you have to get tickets ahead of time. We didn't realize that, so we ended up just walking around the grounds, watching the little movie that shares more about the history of the Alamo, and taking in all of the sights. It's truly a beautiful building and the grounds around it are absolutely incredible. The trees are magnificent and we had a great time just walking around and looking a bit.
If you're anywhere near downtown San Antonio, visiting the Riverwalk is a must. It's so incredibly gorgeous, there are tons of fun little shops and restaurants, and the atmosphere is just fun. We spent a ton of time just walking around and poking our heads into the stores.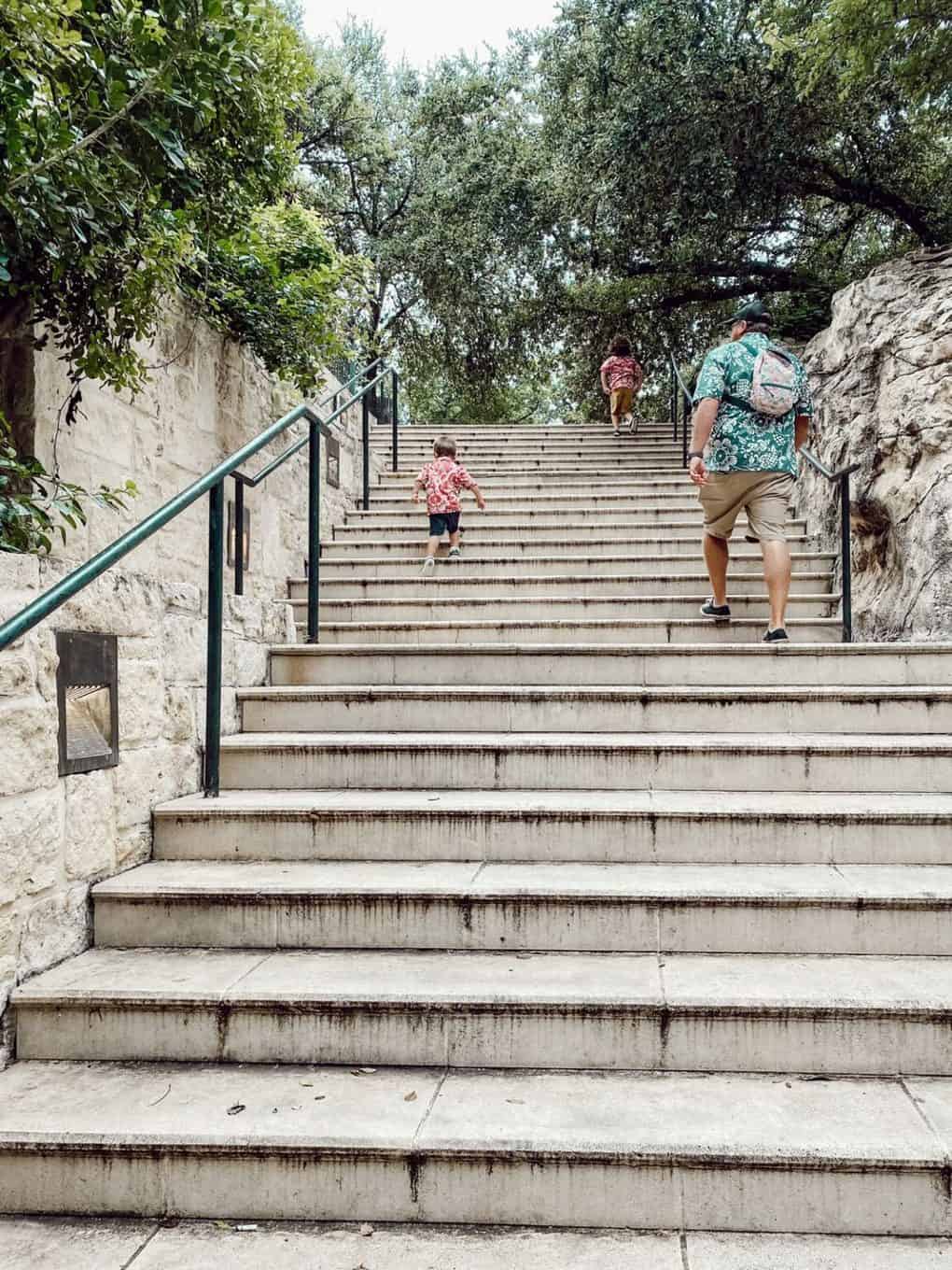 This was a new discovery for us but it's a must for every San Antonio trip from now on! This beautiful park is walking distance from the Riverwalk and was one of the most unique and creative playgrounds I've ever seen. It was so well-maintained and beautiful. The kids absolutely loved it, and it's right next to a really cute coffee shop that had delicious breakfasts. I'd love to explore this area more next time we're here. There's a splash pad, some really beautiful water features, and tons of games spread out around the area like chess, cornhole, and ping pong.
Other san antonio activities for families
That's all we did while we were staying in San Antonio for this particular trip, but that is obviously not a comprehensive list! Here are a few other fun things to do in San Antonio with kids:
Our favorite family-friendly san antonio restaurants
We were staying on the Riverwalk and wanted to avoid driving as much as possible. So, we mostly tried to stick to restaurants that were on the Riverwalk. The one big downside to this is that Riverwalk restaurants can be expensive, and they're not always known for super high-quality food. There are so many restaurants on the Riverwalk that it can get overwhelming – but here are a few we enjoy and can definitely recommend:
There are a ton of other great restaurants in San Antonio, but these are the ones we can personally recommend!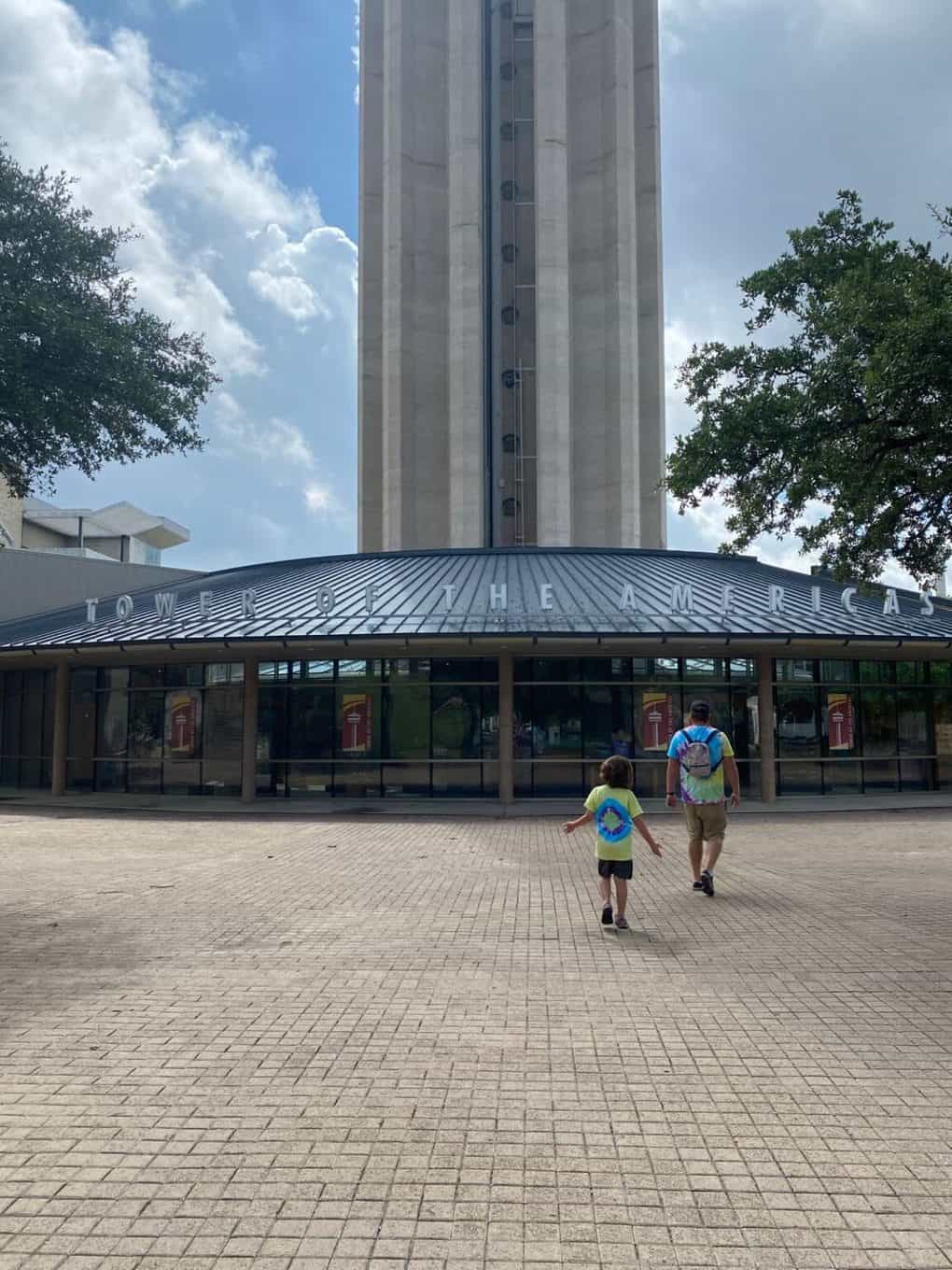 All in all we had a fabulous little family trip. I always love when we can take small vacations like this that don't require a ton of driving or effort. It feels so low key and fun, and it's a great way to create special memories without breaking the bank.
I hope this helps if you're considering a family trip to San Antonio! I'd love to hear about what you love to do when you're there, too!
Want to read about more family trips?
The post Fun Things to do in San Antonio with Kids appeared first on Love & Renovations.